What to Know
Monday marks exactly one year since Gov. Andrew Cuomo reported the state's first known COVID case -- a healthcare worker in NYC; he's added well more than 1 million to the toll since then
The slower-than-desired national vaccine rollout gets a major boost this week; nearly 4 million doses of the newly emergency-use approved Johnson & Johnson vaccine were shipped out Monday
NJ Gov. Phil Murphy said early Monday that pre-K-12 educators and support staff, along with childcare and transportation workers and others, would be eligible for vaccination starting March 15
The president's top COVID advisor, days after brushing off reports of a possible dangerous new virus strain circulating in New York, stood at a White House podium Monday and said the government was taking that variant "very seriously."
Dr. Anthony Fauci said the "B.1.526" strain likely originated in Washington Heights, a neighborhood in upper Manhattan, before spreading to "multiple boroughs." He said U.S. officials need to "keep an eye" on the strain, including to determine whether it poses any potential additional risk to the public or vaccine efficacy.
At this point, there's no evidence to suggest the variant identified in that Columbia University research has contributed to the city's trajectory of cases, which is on the downswing, the five boroughs' top health officials said last week. They asked New Yorkers to understand that not all variants are variants of public health concern. The lab-based research may have limited real-world impact, they said.
While they acknowledge a need to keep tracking that variant and others, top local and national officials urge people to continue undertaking the same precautions they've taken for months to curb viral spread. That will stop more contagious strains from spreading the same way they slowed the spread of the first strain.
On Monday, New York marked a fully year since it announced its first known COVID case. It was on March 1, 2020, that Gov. Andrew Cuomo confirmed the state's first known case -- a 39-year-old healthcare worker from Manhattan. The next morning, he and Mayor Bill de Blasio held a joint briefing in which they sought to reassure New Yorkers and talk about the importance of testing.
How much a facet of daily life the latter would become in this relentless war, no one knew then.
Three-hundred-sixty-five days later, New Yorkers know that 39-year-old healthcare worker was just the first reported case, hardly the first to exist in the city. The city has confirmed more than 715,000 cases since hers. Statewide, reported cases have topped 1.6 million -- and confirmed COVID deaths are on the brink of 40,000.
In his coronavirus briefing, de Blasio described Monday as a "day for reflection." He also said he wished the "shelter in place," which became a term and point of controversy for him and Cuomo back in March, had happened sooner.
"That was a huge mistake. We should have done it immediately. Thank God it happened," de Blasio said. Despite the struggles, he chooses to reflect on the higher nature of New Yorkers throughout this unprecedented challenge.
"This has been the longest year in the history of this city -- the longest year, the toughest year -- and a year where there was so much that we had to overcome together," de Blasio added. "What I reflect on after a year is the heroism of New Yorkers. I reflect on the strength of New Yorkers, the fact that this city came back time and time again. We still have a fight ahead, but this is the last great battle."
---
Not sure how the process works? Check out our handy tri-state vaccine site finder and FAQs here
---
New York City and New Jersey Vaccine Providers
Click on each provider to find more information on scheduling appointments for the COVID-19 Vaccine.
Data: City of New York, State of New Jersey • Nina Lin / NBC
Today, daily cases and hospitalizations are on the decline again from their latest respective peaks. The number of those getting vaccinated across America is rising at a faster rate each day, and New York City, ravaged by tragedy and pandemic-related anxiety earlier than most in this pandemic, is slowly beginning to regain some of the vitality that makes it one of the world's most vibrant places.
But New Yorkers -- and America -- will most certainly feel the incalculable human and economic impacts of this viral cataclysm for years and years to come.
Once the epicenter of the national crisis, New York's seven-day average COVID positive test rate is the lowest it has been in months, at 3.1 percent. Less than three months ago, that rate was closer to 8 percent following another rapid climb. Statewide hospitalizations have fallen to 5,307, a nearly 4,000 patient plunge from their latest peak near 9,300 on Jan. 19, which was only six weeks ago. Daily deaths have mercifully fallen below the triple-digit tolls that seized the state through most of winter, though New York is still losing dozens of people a day.
Daily Percentage of Positive Tests by New York Region
Gov. Andrew Cuomo breaks the state into 10 regions for testing purposes and tracks positivity rates to identify potential hotspots. Here's the latest tracking data by region and for the five boroughs. For the latest county-level results statewide, click here
Source: ny.gov
Cuomo has announced a slew of economic reopenings in the last few weeks, citing ongoing improvement in the state's data and the need to more aggressively start reviving the economy, with critical mass vaccination months away.
Last week, fans returned to the stands at Barclays Center and Madison Square Garden. The cap on indoor dining in New York rose to the highest level it is been since it was first shut down at the start of the pandemic. Some nursing home visitations resumed, the subway shutdown was halved and city middle schoolers returned to the classroom for the first time in months.
On Monday, de Blasio said the city would start to unpause $17 billion in capital projects, critical work that stalled throughout the pandemic. Those projects involve increasing school capacity and safety and mobility on city streets, building and preserving affordable housing and improving coastal resiliency, he said.
The mayor also announced applications had opened for the city's Open Culture Program, an effort designed to help revive the city's arts scene while protecting the public from the heightened indoor risk of COVID spread at the same time.
Later this week, New York City movie theaters can open at limited capacity. On Monday, sports and entertainment venues with a fixed-seating capacity of more than 5,000 people can open for spectators in New Jersey for the first time. Next week, wedding receptions and catering events return in New York -- all with critical COVID requirements in place. In some reopening cases, testing is also mandatory.
Both New York and New Jersey have hit several roadblocks in vaccine distribution since the first federal doses were shipped in early December. Supply shortages, weather delays, access and public skepticism all played a part in sluggish efforts to get shots in eligible arms. There are still challenges, but they are easing.
Nearly 4 million doses of the newly emergency-use approved Johnson & Johnson vaccine were shipped out Monday. States will start receiving their initial allocations of that single-dose treatment for injections starting on Tuesday. The White House said its entire J&J stockpile will go out immediately. J&J will deliver about 16 million more doses by the end of March and 100 million total by the end of June, but the distribution would be backloaded, federal officials said.
The White House and its top advisers encourage Americans to take whichever vaccine they can get when their turn is up, regardless of the manufacturer.
The J&J vaccine is different from the others because it's a one-dose regimen and does not require patients to return for a second dose. It can be stored at refrigerator temperatures for months. The shot has demonstrated 66 percent effectiveness overall, 72 percent in the U.S. and 57 percent in South Africa, which has seen a rapid spread of the B.1.351 variant. Most importantly, it has proven to be exceptionally effective at preventing serious illness caused by COVID-19.
New York's governor is hopeful that the emergency use authorization of a third vaccine (and the first single-dose one) for the U.S. will be a boon for the recovery process, helping to expedite an oft-criticized national rollout. Cuomo says he expects to get about 165,000 Johnson & Johnson doses this week. That, in combination with the expected Week 12 supply from Pfizer and Moderna, will mark New York state's highest-ever weekly vaccine allocation (878,000-plus).
Cuomo, who has drawn bipartisan criticism over nursing home COVID reporting and workplace harassment allegations, hasn't held a live on-camera COVID briefing with a Q&A since Feb. 19. Until last week, he had held at least three of those weekly since hospitalizations began to climb ahead of the holidays.
In a statement via press release Monday, the governor said New York was inching closer and closer to that metaphorical "light at the end of the tunnel."
"It's been exactly one year since we first identified COVID in New York, and while we've made incredible progress towards defeating it, testing and vaccinating more and more New Yorkers, we need to stay vigilant," Cuomo's statement said. "Our ongoing effort to get shots in arms is producing increasing numbers of sites where New Yorkers can get vaccinated, but we're going to need more supply to reach enough residents to put a serious dent in the virus' spread."
"It's critical that New Yorkers continue to practice safe behaviors—washing hands, wearing masks and social distancing—while we're still working to vaccinate a large portion of the population," he added.
---
Not sure how the process works? Check out our handy tri-state vaccine site finder and FAQs here
---
The number of people in New York eligible to receive their first dose increased again last week after Cuomo OK'd hotel workers for addition to the 1B priority group. Just as with restaurant workers and taxi drivers, the governor left it to local health departments to determine how, where and when to schedule the shots.
Teachers in New Jersey got their long-awaited answer on eligibility early Monday, when Gov. Phil Murphy tweeted that pre-K to grade 12 educators and support staff will be allowed to start getting their shots as of March 15. Childcare, transit and more public safety workers, including bus, taxi, rideshare, NJ Transit workers and airport employees will also be eligible for vaccination starting on that date, as will and more will be allowed to start getting their shots as of March. 15.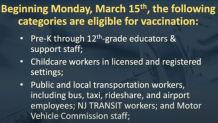 Later Monday, at his regular COVID briefing, Murphy said he'd also expand eligibility that day to migrant farm workers, public safety workers who aren't sworn law enforcement or fire professionals, tribal community members and those living in shelters, including domestic violence shelters, or are homeless.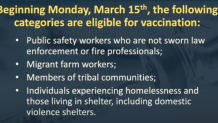 The governor also announced that starting March 29, the state's vaccine program would expand to more essential workers, including those in food production, agriculture and food distribution; eldercare and support; warehousing and logistics; social services support staff; elections personnel; hospitality; medical supply chain; postal and shipping services; clergy; and the judicial system.
New Jersey, which has significantly lagged its neighbor across the river in weekly dose allocation, has done 1.3 million first doses and about 691,500 second doses. The latter reflects nearly 8 percent more of the state's population.
To date, New York City has administered at least one shot to more than 1 million people, about 13.1 percent of the city's population. The five boroughs hit a new single-day record Friday at more than 76,000 shots, and hope to scale up more -- with the goal of vaccinating 5 million by June -- with the anticipated supply infusion. The city has the distribution capacity to inoculate a half-million a week; last week, it got the closest to that it has so far, with 338,000-plus shots done.
"New York City's getting back up and getting back up quickly right now. We're going to get those five million people vaccinated by June," de Blasio said Monday. "What we have now is a chance to do something historic, bring this city back strong but also address the mistakes of the past. It's a transformative moment. They only come around once every generation or two. This is our moment."
Statewide, about 14.8 percent of the population has had at least one dose, while more than 8 percent of New Yorkers have completed their vaccination series. Nearly 123,000 doses were administered in the last 24 hours alone, Cuomo said.
Nationally, the CDC reports about 7.5 percent of Americans are fully vaccinated. The U.S. has lost more people than any nation in the world to coronavirus, doubling the losses in the second-deadliest country (Brazil) with a stark toll above 513,000 as of Monday, according to Johns Hopkins. It also has reported the most cases -- 28.6 million, more than two and a half times India's 11.1, which is No. 2.
Copyright NBC New York