Checkey Beckford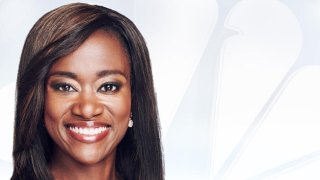 Checkey Beckford is an Emmy® Award-winning reporter for NBC 4 New York. She covers breaking news and general assignment stories, appearing weekdays at 5 PM, 6 PM and 11 PM.
Beckford's commitment to journalistic excellence has been recognized with two New York Emmys® for her coverage of the 2017 Tribeca terrorist attacks. She was also presented with ESSENCE Magazine's "Essential Heroes Award," recognizing her coverage of 2020's COVID-19 outbreak.
Throughout her time at NBC 4, Beckford has covered many of the region's most memorable news stories. In addition to the Tribeca attacks, Beckford provided breaking news coverage of Superstorm Sandy in 2012, New York City's Ebola scare in 2014, the deadly Metro-North crash in Valhalla in 2015, the twin murders of NYPD Officers Wenjian Liu and Rafael Ramos in 2015.
Checkey Beckford joined NBC 4 New York as a general assignment reporter in October 2012 from KOVR CBS13 in Sacramento, CA where she served as a live reporter for dayside newscasts. She began her career at WPTV in West Palm Beach, Florida, where she was hired as an associate producer. Here, Beckford was promoted twice in one year to weekend morning producer and then weekday morning producer.
Prior to joining KOVR CBS13, Beckford was a live reporter for WICD/WICS in Champaign/Springfield, IL where she shot, wrote and edited multiple stories for the 5 p.m., 6 p.m., and 10 p.m. newscasts.
Beckford grew up in Westchester County after emigrating from Jamaica when she was five. She attended Florida Atlantic University, where she received her Bachelor's Degree in Communications with Minors in Political Science and Sociology.
In her spare time, Beckford enjoys mentoring teenagers who aspire to go to college and begin careers in journalism. She resides with her family in New Jersey.
Follow Checkey on Twitter @Checkey4NY.