What to Know
Punishing rain walloped the tri-state area for nearly all of Tuesday, with heavy downpours and storms leading to flooded streets
Much of the area saw around 3-5 inches of rain by the time the system started to move out — totals the tri-state typically sees in a month. Flash flood watches remain in effect for the entire region
A high wind warning is in effect for southeast Suffolk County, with gusts approaching 60 mph; tornadoes and large hail are considered unlikely with this system; more nasty weather is on tap later in week
A powerful nor'easter descended on the tri-state Tuesday, unleashing punishing rains, strong thunderstorms and ferocious winds that started for many before dawn — and the dangerous winds will stay strong through Wednesday.
Wind advisories are in effect across the region, with damaging wind gusts expected to ramp up through the overnight hours into Wednesday. Areas east of New York City could see winds near 65 mph, particularly for Long Island's Suffolk County, which has a high wind warning in effect. Other areas, including the five boroughs, can expect gusts of 35-45 mph, which could result in a number of power outages.
Fortunately, tornadoes and large hail are considered unlikely with this system.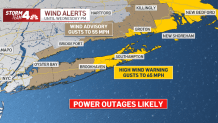 Suffolk County Executive Steve Bellone announced a state of emergency for his county Tuesday -- urging residents to "stay alert, as this storm is far from over." Given the strong winds, power outages are likely for places toward Montauk and the Hamptons. Crews faced 2,000 power outages by Tuesday morning.
Before the winds, a widespread 2 to 3 inches of rain fell across the tri-state area by Tuesday afternoon, with some spots seeing more than 4 inches already -- and totals were expected to climb even further. Ultimately, more than 5 inches is possible in some areas by the time the threat subsides. Parts of the tri-state have already seen a month's worth of rainfall in less than a day.
The highest rainfall totals are expected in the western part of the tri-state area.
---
Check the latest rainfall totals here
---
After dealing with heavy showers off and on since the early morning, a final band of rain spun back around from the east due to the low pressure front offshore in the Atlantic Tuesday night. The showers and storms from that final wave are not as intense and look to be the last real opportunity for additional flood warnings as it brings another 1 to 2 inches of rain.
The rain from that should move out of the city overnight, and out of New Jersey by Wednesday morning's commute.
Flash flood watches were in effect for the entire region Tuesday but all the remained Wednesday are flood warnings for several counties in northern New Jersey and New York's Hudson Valley.
Additionally, river flood warnings in New Jersey continue for Saddle (at Lodi), Passaic (at Chatham), Raritan (at Round Brook and Raritan), and Millstone (at Blackwells Mills).
Track live radar and check the latest severe weather alerts for your neighborhood here.
Torrential rain made for a difficult morning commute for tens of thousands, with rivers of water seen flowing down streets in Brooklyn and elsewhere, but no reports of serious flooding -- the kind many experienced in September when the remnants of Ida killed dozens locally -- have been reported. Get real-time transit updates.
Reports of flooding came in early from Greenpoint, where multiple cars were said to be stuck and people were seen exiting their submerged vehicles. The floodwater there receded by Tuesday evening. Early flooding reports also came in from New Jersey, stretching from Jersey City to Dunellen.
The city's Parks Department said that it responded to reports of 36 reports of downed three throughout the five boroughs, 13 of which were in Queens.
Keenly aware of the unexpected disaster wrought by Ida, both Gov. Kathy Hochul and Gov. Phil Murphy declared states of emergency for New York and New Jersey, respectively, as the storms approached.
In a mid-morning news briefing, Murphy urged people to use "common sense" as far as traveling to work or elsewhere throughout the day Tuesday. Murphy also warned escalating wind gusts over the course of the day could cause power outages.
Many New Jersey rivers and streams flooded roads, which forced street closures — although some drivers tried to risk it anyway, and in some cases with near-tragic results. Two people in Keyport had to rush to get out of a car that went up in flames after trying to drive through water but stalled out. The two were pulled out by first responders before the flames roared to life.
In the waters off New York's Long Island, the U.S. Coast Guard and local police searched Tuesday for a kayaker who did not return from a trip Monday night. He left a few hours before heavy rain started falling. Authorities said Laurence Broderick's body was later recovered by a Coast Guard unit in the Bronx.
In New York City, Mayor Bill de Blasio has pushed a hypervigilant approach to weather over the last month since the devastation wrought by Ida's and Henri's floods over the summer. Since those storms, de Blasio said that the city has brought in "forecasting beyond the National Weather Service" in order to be more thoroughly prepared.
He pleaded with people to avoid flooded areas when driving and urged those in basement apartments prone to flooding to be on alert.
The city's Office of Emergency Management issued a travel advisory ahead of the storm, urging people to stay inside during periods of severe weather. Those who must travel should do so cautiously and not drive (or walk) into submerged areas.
The MTA deployed hundreds of crews to more than 50 stations Monday afternoon to start the process of preventing potential flooding. Those crews cover vents, close valves, clear out catch basins and make sure all the water pumps and pump trains are ready to handle the rainwater, the agency said.
Over in New Jersey, flood-prone Hoboken deployed sandbags throughout the city before the rain arrived, as multiple school districts closed schools for Tuesday, with no remote or in-person instruction. See a full list of school closures here.
Despite the hours of rain, the flooding threats significantly subside once the final band of storms moves on. Some winds and showers could linger into Wednesday but most of that day and Thursday should be dry.
The National Hurricane Center is closely monitoring yet another off-shore system that could become a named storm at some point this week. Learn more here.
Another nasty weather system appears on tap for Friday, when the system now impacting the West Coast with torrential rains and wild winds hits the East Coast. While messy, that system will not be a nor'easter and won't be as intense as Tuesday's storm.
Some showers could stick around through Saturday as well, but the weather is looking up for Halloween, with partly sunny skies and highs in the low 60s.
Track any approaching storms using our interactive radar below.
Copyright NBC New York