A tempestuous storm wreaked havoc on the tri-state overnight, drenching the region with heavy rain and blasting the area with winds that sent the facade of a Queens building toppling over, caused a building to collapse, blew over a tractor trailer on the George Washington Bridge and caused tens of thousands of people to lose power for at least part of the day Thursday.
Gusts approached 60 mph as rain pounded the region into Wednesday night, with areas along the coasts of Long Island and New Jersey seeing the strongest winds, according to Storm Team 4.
In Queens, a huge chunk of a Verizon building — measuring 60 feet by 20 feet — fell to the street below. Pieces of the facade began falling at about 1 a.m. and at some point, a huge chunk crashed down. Police closed off Vietor Avenue at Broadway in Elmhurst following the partial building collapse, and eventually cordoned off the entire block, fearing more pieces might fall.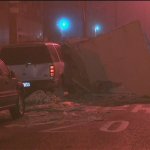 A vacant three-story building also collapsed in the Belmont section of the Bronx Wednesday night, also likely caused by high winds. No injuries were immediately reported, but East 183rd Street was closed near Belmont Avenue as police responded, according to buildings officials.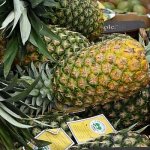 Winds also knocked over a tractor-trailer on the upper level of the GWB Wednesday night, according to a Port Authority official. No one was hurt and the trailer appeared to be empty, but police activity mucked up traffic on the bridge.
And in Westchester, a tree fell onto a Metro-North train near the Ardsley station. The Hudson line train received minor damage, and passengers were put on another train to resume their trips, according to rail officials.
In New Jersey, a tree crashed through the roof of a day care center in Vineland and brought down a power line in North Brunswick.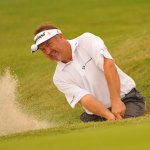 Objects were strewn about across Long Island; signs and trees were knocked over in Massapequa and Cold Spring Harbor. In Massapequa a massive tree toppled onto a home.
Also in Massapequa, toppled wires caused multiple cars to burst into flames. Video shows fire raging out of vehicles.
A Long Island business owner in Nassau County said that the power loss will hurt his business Thursday.
At the height of the storm, nearly 50,000 customers were without power.
The skies cleared Thursday for the most part, but winds stuck around. Gusts topped 30 mph early in the.
Then it should be a pleasant weekend, with temperatures rising to the mid 50s on Sunday after a brisk but sunny Saturday.