What to Know
Five New York regions -- the first to reopen when the state shutdown lifted May 15 -- enter the fourth and final phase of Gov. Andrew Cuomo's reopening plan Friday. It doesn't include malls, gyms or movie theaters
New York City is on track to enter Phase III on Monday, July 6, reopening indoor dining, personal care and more outdoor recreation, Mayor de Blasio said; he expects another 50,000 people to return to work at that point
The tri-state area is revealing preliminary school plans for fall. Connecticut requires districts to plan for all students to return for all-day learning with masks required, while New Jersey recommends a hybrid approach
New Jersey Gov. Phil Murphy unveiled preliminary guidance Friday for reopening the state's schools in the fall, one that involves a hybrid approach of in-person and remote learning but must include the first, as well as COVID screenings.
"We have every expectation that our kids will return to their schools come September," Murphy said Friday. "Today's guidance comes with one overarching requirement: that our public schools will open in some capacity with the health of students, their families, and educators being the top priority."
Given the uncertainty surrounding the virus, which is spiking to record numbers in many states across the country, Murphy said schools must be prepared for the possibility that they may have to transition to full remote learning at any point.
The governor admits there's no "one size" fits all approach to reopening schools. New Jersey's guidance was developed after surveying more than 300,000 parents and listening to key stakeholders, including 300 superintendents. (For full details, find the Department of Education's complete 104-page report here.)
Under the state's plan, all faculty, staff, and visitors will be required to wear face coverings. Students will be encouraged to wear masks if social distancing is maintained and required to do so if it's not possible, including on buses. Murphy acknowledged that might not always be doable, especially in elementary school.
"We recognize the challenge face coverings may pose for younger students, for certain students with special needs, or for those from whom wearing a face covering is discouraged because of a health condition," the governor said.
Class sizes should be limited where possible to better promote social distancing, Murphy says, and configured to that end as well, whether by moving desks or shifting late. Large school districts are allowed to rearrange student schedules. Murphy said the state expects each district to share its scheduling plans at least one month before the first day of school so families can plan ahead.
Districts must also adopt a policy for screening students and employees for COVID symptoms. Playgrounds are allowed, but the equipment must be sanitized after each period of student use. No determination has been made yet on organized athletics. Cafeterias can be open but the state suggests districts stagger meal time. Self-serve and buffet lines should be prohibited.
New Jersey's initial plan is in stark contrast to the one unveiled by Connecticut Gov. Ned Lamont a day earlier. Lamont said Connecticut is requiring school districts to plan to bring all students back for all-day learning, though class sizes might be smaller to accommodate social distancing. Masks will be required for students and staff, but temperature checks and COVID tests won't.
All plans are subject to change depending on Connecticut COVID-19 infection rates, which have been extremely low compared with its tri-state neighbors.
Meanwhile, parents in New York await clarity on what at least one elementary school principal described as a "grim reality" they'll face when students return.
Educators have indicated students may be subject to split schedules and return to the classroom in waves. They'll likely alternate days of remote and in-person learning. A Brooklyn elementary school principal's letter hinting kids may only be in-person one of every three days riled parents, a number of whom wondered rhetorically what would be the point of that kind of schooling. Masks would also be required for all except for while students are eating.
The city's Department of Education told News 4 this week those are simply scenarios officials are looking at as they evaluate the best ways to optimize student learning while preserving student health.
Asked about schools Friday, the last official day of class in the city for the 2019-20 year, Mayor Bill de Blasio said the city is currently in the process of retrofitting its schools so as many of its more than 1.1 million public school students will be able to return to in-person classes safely when school starts on Sept. 10. Some schools were overcrowded as it was before the pandemic, the mayor said -- and warned Friday that parents should "be ready for staggering as it's needed."
"We have a Plan A -- that's what every school has been instructed -- figure out the maximum number of students you can get in the school safely," de Blasio said, adding that all the necessary precautions, from PPE to social distancing requirements, were being incorporated into each district's planning process.
As the city looks ahead to September, it's also looking to the more immediate future -- and it's entry into Phase III of Gov. Andrew Cuomo's reopening plan, which de Blasio said the city is on track to start on Monday, July 6. He said Friday he expects another 50,000 to return to work when that happens.
Phase III reopens indoor dining and personal care services -- from nail and tanning salons to spas, massage parlors and tattoo spots -- with restrictions. (See a full breakdown of the latest reopenings across the tri-state area here.) De Blasio said he would also reopen more outdoor recreation, like basketball, tennis and handball courts, dog runs, Bocce, soccer and volleyball at that time.
Indoor dining must be limited to half capacity, by state guidelines. More than 5,500 restaurants have already applied to participate in the city's new Open Restaurants initiative, which turns sidewalks, curbs and more into temporary outdoor dining space. The city plans to expand its outdoor offerings starting the weekend of July 4. It will use its Open Streets program to give eateries even more space to accommodate al fresco diners while promoting social distancing.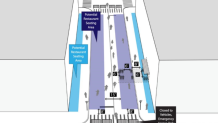 The initial rollout will be restricted to certain hours so that pedestrians can still take advantage of the open streets as well. Applications for the latest restaurant expansion program will open on Monday, de Blasio said.
Long Island, Mid-Hudson, Western New York and Capital Region are all currently in Phase III, though the latter two will likely take the next step soon. Half of the state's regions -- the Finger Lakes, Southern Tier, Mohawk Valley, North Country and Central New York -- transitioned into Cuomo's fourth and final phase Friday.
The fourth phase raises the limits on social gatherings and reopens low-risk indoor and outdoor businesses and activities with capacity restrictions. It does not, notably, open shopping malls, movie theaters or gyms, which Cuomo says come with unusually high exposure risk. He and his team are studying data from states that have reopened those venues to help them make "informed" decisions.
The group that owns the Palisades Center shopping mall bashed the decision, calling it "unfair and unjustified," while adding that the size of the area provides plenty of room for social distancing, and their fresh air circulation systems in place would prevent the coronavirus from spreading in their HVAC system.
"Logic suggests if you see a problem in other states, you explore it before you go ahead in our state," Cuomo said Friday. "Our Department of Health is trying to determine if there is any filtration system for an air conditioning system that can successfully remove the virus from air circulation."
The Great New York State Fair will likely fall victim to COVID this year, the governor said Friday, adding, "It breaks my heart but we're not in a position to go ahead." He plans to issue a final decision in the coming weeks.
Higher education does fall under his Phase IV umbrella, but primary and secondary education does not. It's not clear when Cuomo plans to provide some initial detailed guidance on schools as his cohorts will have done by Friday's end.
Daily Percentage of Positive Tests by New York Region
Gov. Andrew Cuomo breaks the state into 10 regions for testing purposes and tracks positivity rates to identify potential hotspots. Here's the latest tracking data by region and for the five boroughs. For the latest county-level results statewide, click here
Source: ny.gov
New York's phased reopenings haven't caused any significant infection spikes to date. The state's COVID hospitalizations fell below 1,000 Thursday for the first time since mid-March and plunged even lower Friday, Cuomo said, while the daily death toll hovers in the low double digits.
New York now has the lowest seven-day average positivity rate for daily testing in the United States, according to Johns Hopkins. Even the former epicenter of the national crisis, New York City, boasts one of the lowest COVID transmission rates in the U.S. America's two deadliest COVID counties, Queens and Brooklyn, are seeing daily positivity rates below 1.5 percent on a consistent basis.
New Jersey has also driven its infection rate down significantly, though Murphy has expressed concern about young people's rising share of COVID cases, a trend mirroring what health officials are reporting in many other U.S. states.
On Friday, the number of confirmed new coronavirus cases per day in the U.S. hit an all-time high. The surges in infections have prompted at least one state -- Texas -- to pause its reopening process completely. (Track the spread of COVID throughout the U.S. since March 1 here.)
"There's now undeniable, irrefutable evidence that the rushed reopening was a mistake. Now states are changing course. The debate is over. There is one right path and there is one wrong path," Cuomo said Friday. "We're not through the first wave. This is all the first wave. Facts matter."
The Lone Star state, which joined Florida in re-closing down bars in an effort to fight the spread of COVID-19, is one of eight U.S. states subject to the new quarantine restriction issued by the governors of New York, New Jersey and Connecticut this week. In an effort to sustain their low infection rates, Cuomo, Murphy and Lamont say travelers to their states from states with A) a seven-day rolling average of positive tests in excess of 10 percent of the population or B) number of positive cases exceeding 10 per 100,000 residents must isolate for 14 days.
As of Friday, the eight states under the travel restrictions are Texas, Arizona, Alabama, Arkansas, Florida, Utah, South Carolina and North Carolina.
Violators could face civil penalties up to $10,000, though enforcement will be a challenge. Cuomo acknowledged Friday that New York has no legal jurisdictional control. He said he's talking to airlines about the state's legal authority to question people coming into its airports and conduct temperature checks. The governor said he's also talking to federal officials about their willingness to help.
Copyright NBC New York