What to Know
New York is rolling out a new suite of incentives to encourage vaccinations among those less motivated as the state reports a drop of 41% in vaccination rates over the last month alone
The city is offering free tickets to popular attractions like Lincoln Center, NYC Aquarium and Bronx Zoo while the state is chipping in free 7-day MetroCards, among other bonuses, to sweeten the pot
Meanwhile, core viral metrics continue to improve; the state's rolling positivity rate is now at its lowest level since October while the rolling hospitalization average has plunged 49% in the last month alone
New York is trying to sweeten the vaccine deal even more, rolling out a slate of new incentives Monday that include free tickets to some of the city's most iconic attractions and free weekly MetroCards, while New Jersey's governor says he hasn't ruled out offering cash to get his state's shots rates up.
Those who get vaccinated in the city can get free tickets and deals for the NYC Aquarium, Brooklyn Botanical Garden, Bronx Zoo, Lincoln Center, Brooklyn Cyclones, NYC Ferry and the Public Theater among other popular attractions, Mayor Bill de Blasio announced.
At this point, encouraging vaccinations is a higher priority than verifying them to ensure some don't take advantage of the system, officials say. And de Blasio says he plans to add more incentives to the pot in the coming days as he inches closer to his goal of fully inoculating at least five million New Yorkers by June's end.
"From this point on there will be many, many opportunities to get great, great prizes when you get vaccinated," the mayor said. "We want people to know it's time."
Getting a vaccine at a subway, Long Island Rail Road or Metro-North hub this Wednesday through Sunday will come with benefits as well -- in the form of a free ride, Gov. Andrew Cuomo announced Monday. LIRR and Metro-North are offering vaccination sites at two stations in Ossining and Hempstead. Cuomo and transit officials said they hope pop-up vaccination sites will increase vaccination rates and ease riders' minds as New York City's subways prepare to resume 24/7, around-the-clock operations on May 17.
Anyone who gets vaccinated at a designated subway station during that window gets a free seven-day MetroCard and anyone vaccinated at an LIRR or Metro-North hub earn two free one-way trips anywhere in the service area, New York City Transit Interim President Sarah Feinberg said. Feinberg said subway ridership reached a recent high of 2.23 million riders on Friday.
Feinberg said the program is open to the public as well as employees. About 50%, or 35,000, of transit workers have received at least a first dose of a COVID-19 vaccine so far, according to New York Metropolitan Transportation Authority Chairman and CEO Pat Foye.
That program will use the Johnson & Johnson vaccine, which means people can leave for work, for example, get a shot at their usual commute spot and be fully vaccinated by the time they get to the office.
There are other bonuses, too. Cuomo said 50% of tickets for the New York Islanders' home playoff games will go to vaccinated people, with 3 feet of social distancing required at seats, while the other half will go to unvaccinated people. For the latter, 6 feet of social distancing is required. Everyone must wear masks.
Those tickets go on sale Tuesday; the first games will be at the end of May.
Monday's offerings add to a growing pool of incentives across the tri-state area -- one that includes everything from free beer to free tickets to upcoming Yankees and Mets games -- as elected officials seek to reach those less motivated to get shots.
Vaccination rates have slowed substantially across the board in recent weeks after the initial mad crush when each eligibility group first opened up. In New York, vaccine rates have dropped by 41% since April 12, a decrease Cuomo described Monday as not a local phenomenon but "a nationwide phenomenon."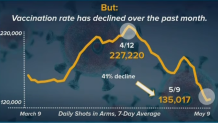 To date, New York state has administered at least one dose to 60.2% of residents age 18 and older and fully vaccinated 48.9% of that group. In the city, those numbers are 58% and 45.7%, respectively. The youngest residents eligible for vaccination, those aged 16 and 17, have the lowest vaccination rates by age group.
Nearly three-fourths of people between 65 and 74 years old are fully vaccinated, according to Cuomo, compared with one-fourth of people between the ages of 16 and 25.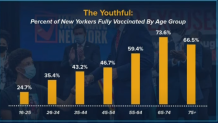 Rates for those age 18-29 are lower than desired, too, officials say. In New Jersey, where that age group represents just 11% of the more than 7.6 million total doses administered in the state, Murphy hopes the beer incentive will be a lure.
He also didn't rule out the idea of handing out straight cash to get people in the vaccine line, saying Friday, "All options are on the table. We're going to do what it takes to get our folks vaccinated."
Mayor de Blasio wasn't quite as bullish about the idea, but also didn't rule it out.
"I don't, at this moment, see cash incentives. Nothing is off the table, but our goal is to try and make it convenient," the mayor said.
New York state and city, along with New Jersey, have all made their locally run vaccine sites available to walk-ins of any eligible age, which tackles the "eliminate excuses" and "access" components that Cuomo says give some people pause.
Cuomo announced Monday that the boards of the state's and New York City's public university and college systems (SUNY and CUNY) will require all students to get vaccinated to attend in-person classes this fall, Cuomo said in a Monday press conference. Cuomo's office didn't immediately respond to question Monday about whether faculty and staff at public universities will have to get vaccinated, too.
The governor is encouraging all private colleges in the state to mandate vaccinations as well, for students and staff when they return to campus in the fall. A growing number of universities across America as well as summer camps are making that call.
The push and incentives for more people to get vaccinated comes as the Food and Drug Administration on Monday approved Pfizer and BioNTech's request to allow their COVID-19 vaccine to be given to kids ages 12 to 15 on an emergency use basis, allowing states to get middle school students vaccinated before the fall.
The U.S. agency granting use of the shot in adolescents will also accelerate the nation's efforts to drive down infections, public health officials and infectious disease experts say.
The two-dose vaccine is already authorized for use in people 16 and older. The Centers for Disease Control and Prevention's vaccine advisory committee has scheduled a meeting Wednesday to review the shots for kids. If approved by the CDC as expected, it could be distributed to adolescents as soon as this week.
The higher the vaccination rates the lower the risk, officials say. It's simple -- and the pathway back to a sense of normalcy last felt so very long ago.
---
Not sure how the process works? Check out our handy tri-state vaccine site finder and FAQs here
---
New York City and New Jersey Vaccine Providers
Click on each provider to find more information on scheduling appointments for the COVID-19 Vaccine.
Data: City of New York, State of New Jersey • Nina Lin / NBC
Coronavirus rates are on the downswing across the tri-state area. In New York, the rolling COVID positivity rate has been on the decline for 35 straight days. Average hospitalizations just snapped a 38-day streak of decline but have plunged nearly 50% in the last month alone.
With nearly all remaining business capacity restrictions in the tri-state area poised to evaporate in just 10 days, two questions seem to be top of mind for many: When can I take off my mask and will cases surge again come fall?
Dr. Anthony Fauci had an answer for both on Sunday, though he says the ultimate outcomes will depend heavily on vaccination rates.
Daily Percentage of Positive Tests by New York Region
Gov. Andrew Cuomo breaks the state into 10 regions for testing purposes and tracks positivity rates to identify potential hotspots. Here's the latest tracking data by region and for the five boroughs. For the latest county-level results statewide, click here
Source: ny.gov
"The larger proportion of the population that's vaccinated, the less likelihood that in a season like the coming fall or winter you're going to see a significant surge," Fauci said on "Meet the Press," noting higher vaccine rates could turn would-be spikes into "blips."
"There's no doubt about that. That's the reason why vaccinations are so important. That's the wild card that we have now that we didn't have last fall or last winter," the nation's top infectious disease expert added.
Fauci says clear evidence shows masks help diminish the risk of spreading viruses like the flu. Rather than throw their masks away entirely once the immediate risk subsides, Fauci suggested some Americans would elect to wear them at certain times of year.
"We've had practically a non-existent flu season this year merely because people were doing the kinds of public health things that were directed predominantly against COVID-19," Fauci noted. "So, it is conceivable that as we go on, a year or two or more from now, that during certain seasonal periods when you have respiratory-borne viruses like the flu, people might actually elect to wear masks to diminish the likelihood that you'll spread these respiratory-borne diseases."
The concerns ultimately lie in close, indoor spaces like offices, schools and homes where proper ventilation may be lacking. But that's why mask guidance is still in place for indoors and some outdoor spaces where social distancing isn't possible.
Those mandates remain in New York and New Jersey, though the governors of both states have said they'd reassess the social distancing rule if the CDC changes its guidance.
"With all the political garbage and all the different medical opinions, everyone agrees on one fact: As the vaccination rate goes up, the positivity rate goes down," Cuomo said Monday. "It's the one global fact -- if there are any facts in COVID -- it's the one global fact that everybody agrees on."
"That's why we're so aggressive on vaccinations," the governor added. "We're doing everything we can, every way we can."
New York City is now one of just over a dozen places across the U.S. that offers free vaccinations to non-residents age 16 and older. The five boroughs joined 18 states and one territory, including California, Pennsylvania, Michigan and Puerto Rico, in lifting residency requirements late last week.
Mayor de Blasio, who pitched a specific vaccine program targeting out-of-city residents at popular attractions, hopes the convenience of the shots will help encourage more tourists to flock to the economically starved city and create more peace of mind among the locals who already are beginning to move more within it.
Right now, that non-resident vaccine option, which uses the single-dose Johnson & Johnson regimen, is only available in the city, not for the rest of the state.
"It's a show of goodwill. It's a welcome," de Blasio said last week. He said the city has no plans to track tourists' vaccination status.
The push to vaccinate non-NYC residents comes as the city looks to recover about $60 billion worth of economic contributions from tourism and bring back nearly 90,000 jobs that were lost to the pandemic, according to state estimates. Much of the city's revenue relies on out-of-town traffic. That could soon get a boost, too.
In the latest effort to reopen, indoor dining capacity in the city expanded to 75% last Friday -- the highest limit Cuomo has allowed since first shuttering restaurants entirely as COVID seized the city last spring. Soon, longstanding statewide curfews on restaurant and catering services will evaporate as well.
Copyright NBC New York