What to Know
Gov. Andrew Cuomo says New York state, including the city, can fully reopen at some point within the next two months if vaccinations stay on track, meaning, "literally, everything back to normal"
He announced a joint plan with New Jersey to lift almost all capacity restrictions there and in New York on May 19; social distancing will remain in place in the Empire State with certain exceptions
Meanwhile, bar seating returns to NYC Monday for the first time in 14 months while indoor dining and personal care biz capacity go to 75% in days; round-the-clock subway service will return on May 17
Most pandemic-related capacity restrictions in New York and New Jersey will be lifted beginning May 19, Gov. Andrew Cuomo announced Monday. The plan employs the same regionally coordinated spirit the two neighboring governors deployed when they first shut down their states more than 13 months ago.
Some industry-specific requirements will remain in effect for a longer period of time around health screening, air filtration and contact tracing, for example, Cuomo noted, but from the statewide perspective, they will be essentially gone in barely more than two weeks. That means no executive-ordered limits to how many people can be in retail and food services establishments, gyms, amusement and family entertainment businesses, hair salons, barbershops, offices and more at one time.
Broadway effectively would be able to open that day, though it takes time to develop show schedules and sell tickets, Cuomo acknowledged. To hammer out the next steps, the state is in ongoing talks with the Broadway League, which applauded the easing of capacity limits, but didn't say exactly when it would be ready to return.
"We look forward to reopening at full capacity and are working to safely welcome audiences and employees back to Broadway this fall," the Broadway League said in a statement.
The only capacity limits that will remain in place across New York and New Jersey as of May 19 are for large-scale indoor and outdoor venues and indoor/outdoor social and residential gathering limits. Large indoor and outdoor venues will go to 30 percent and 33 percent max capacity that day. Proof of vaccination or recent negative COVID test will still be required in New York. Cuomo said the three tri-states are working to coordinate joint COVID protocol for those big arena spaces going forward.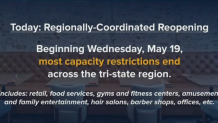 Outdoor and indoor social gathering limits in New York will increase to 500 on May 10 and 250 on May 19, while the outdoor residential gathering limit will vanish and the indoor one increase to 50 on May 19 in New York.
The Empire State will also keep its overarching social distancing requirement pursuant to CDC recommendations, as will New Jersey, except in the case of gatherings at New York events -- like big sports competitions or concerts -- where all those present provide proof of immunization or recent negative COVID test.
Indoor face coverings will remain the norm in the tri-state area for the time being.
Monday's announcement marks the single most significant step in fully reopening New York, which Cuomo said could happen within the next two months if the pace of vaccinations stays on track, meaning, "literally, everything back to normal."
Smaller steps on that path continue this week. The one-time epicenter of the pandemic inches closer to bringing its vibrant nightlife scene back as bar seating returned to New York City Monday for the first time in well more than a year, while Cuomo said 24/7 subway service will be restored in the five boroughs on May 17.
Also starting Monday: Catered events can resume at individual New York homes above the residential gathering limit of 10 people indoors (25 outdoors) with COVID protocol in place. Fixed dance zones can also come back to catering halls.
Come Friday, indoor dining capacity in New York City goes to 75 percent -- the highest limit Cuomo has allowed since first shuttering restaurants entirely as COVID seized the city last spring. In a matter of weeks, longstanding statewide curfews on restaurant and catering services will evaporate, marking the latest in a series of increasingly frequent and fast-approaching reopening measures fueled by viral rate declines and increased vaccinations.
Cuomo cited a data-driven and scientific reopening course once again as he delivered Monday's developments, reporting a statewide rolling positivity rate Monday of 1.79 percent, the lowest since Nov. 5 and a 50 percent drop over the last month.
Hospitalizations fell to 2,539, a 44 percent plunge since April 1 and the lowest seven-day average (2.839) since Thanksgiving, a steep trajectory Cuomo equated to "skiing down the mountain."
At the same time, the share of fully vaccinated New Yorkers continues to rise, albeit at a slower clip than earlier in the rollout. To date, 35.2 percent of New Yorkers are fully vaccinated, while 32.3 percent of New York City residents can say the same.
Nearly half of both New York state and city residents have gotten at least one dose.
Cuomo is launching a targeted outreach effort to New Yorkers age 16-25, who were among the last to earn vaccine eligibility and who have the lowest vaccination rates.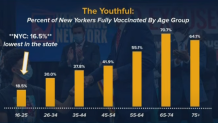 The governor has suggested high schools help increase vaccination rates by bussing eligible students to hubs as long as they have parental consent.
Mayor Bill de Blasio hasn't weighed in on that potential tactic in New York City, but he has said that all the arrows are pointing in the right direction.
"Right now, the data tells us we're in good shape and we can keep proceeding" on the reopening front, de Blasio said Monday when asked about the latest round of restrictions to be relaxed in the five boroughs. "If you want life to go more back to normal, get vaccinated. It's really a straightforward thing everyone can do to help move this along. Literally, it's never been easier."
And there may be more good news on the vaccine front soon coming, as the Food and Drug Administration is expected to authorize Pfizer's vaccine for youngsters ages 12 to 15 by next week, according to a federal official and a person familiar with the process. That could mean a large swath of students could be vaccinated by the time school starts back up in the fall.
Both Cuomo and de Blasio have taken a "no excuses" approach to expedite vaccinations, with the governor opening up all state-run mass sites to walk-ins of any eligible age last week and the mayor doing the same in the city the prior week.
It's a matter of making it as convenient as possible for people, they say -- and a strategy that Murphy announced Monday will roll out next in New Jersey.
On top of that, more than a dozen breweries will be participating in his free "Shot and a Beer" program to encourage vaccinations among younger people, echoing a tactic rolled out in Connecticut late last month to help inspire the same.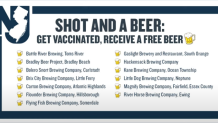 The Garden State governor had teased major reopening developments to come in his Monday briefing as well. Cuomo broke most of the major joint news ahead of Murphy's news conference, though the governor of New Jersey added a few intermediate measures of his own.
Murphy said previously announced measures to expand outdoor gathering limits and large-venue capacities, as well as indoor attendance limits at weddings, funerals, performances and more will now take effect three days early, on Friday.
"We feel confident in moving up this timetable by three days given the accelerated progress we are seeing in our vaccination program, in hospital metrics and lower daily case counts," Murphy said.
Also starting Friday: Indoor barside seating will return to New Jersey as it did to New York City on Monday, Murphy said. Proper social distancing is required, though if the CDC were to revise its social distancing guidelines, Murphy would too.
The New Jersey governor also confirmed the May 19 capacity changes Cuomo mentioned barely two hours earlier. Indoor mask requirements will stay in place.
"The steps announced today are the most aggressive steps we have taken to reopen to date," Murphy said Monday. "We feel confident we can do this safely because our numbers have trended decisively in the right direction over the last three weeks."
Like Cuomo, Murphy has credited sustained declines in core viral rates, particularly around hospitalizations and deaths, and increased vaccinations with allowing him to chart a more aggressive, yet safe, path forward in his state's recovery effort.
New Jersey has reported 14-day declines of 49 percent, 21 percent and 19 percent in new daily cases, hospitalizations and deaths, respectively, according to New York Times data, while nearly 36.8% percent of state residents are fully vaccinated. Murphy is about 69.5 percent of the way to his June 30 goal of fully inoculating at least 4.7 million Garden State adults.
By comparison, New York has notched 44 percent, 21 percent and 23 percent 14-day drops in new daily cases, hospitalizations and deaths, according to the Times.
In Connecticut, where hospitalizations and deaths are down 18 percent and 2 percent over the last 14 days, Gov. Ned Lamont lifted all remaining outdoor restrictions this past Saturday. He previously set May 19 as the date to start phasing out all other remaining coronavirus rules in the Constitution State except for indoor masking.
Nationally, new daily cases, hospitalizations and deaths are also down -- by 27 percent, 7 percent and 8 percent, respectively.
---
Not sure how the process works? Check out our handy tri-state vaccine site finder and FAQs here
---
New York City and New Jersey Vaccine Providers
Click on each provider to find more information on scheduling appointments for the COVID-19 Vaccine.
Data: City of New York, State of New Jersey • Nina Lin / NBC
More than 40% of U.S. adults age 18 and older are fully vaccinated as of Monday, CDC data shows, while almost 70% of people age 65 and older in the U.S. can say the same. Racial/ethnic gaps persist at virtually all levels of the rollout, though those have subsided a bit with enhanced outreach from community members and elected officials.
Nationally, white people account for 67.1% of fully vaccinated adults, despite representing 61.2% of the eligible population, CDC data shows. Latinos see the biggest gap in full vaccination (10.2% of U.S. adults) compared with their representation in the population (17.2%), according to the latest federal data.
Copyright NBC New York