What to Know
Gov. Andrew Cuomo says NYers age 16+ with underlying conditions are vaccine eligible starting Feb. 15; they'll have to bring some sort of proof of their comorbidity and the state will audit local systems
Appointments will be prioritized next week for NYC middle school staff, with the city allowing in-person learning to resume for grades 6-8 on Feb. 25; no date has been set for high schoolers' return to class
The Citi Field mega-site opens on Feb. 10. Half of the appointments will be reserved for eligible Queens residents, while the other half will be reserved for TLC licensees and food delivery workers
Gov. Andrew Cuomo said Monday that New York City restaurants can bring back indoor dining on Friday, a slight move-up from the previously scheduled Sunday reopening date but a tweak that allows eateries to reap the benefits of the full Valentine's Day weekend rather than just the holiday alone.
The governor had said he wanted to evaluate the data over the weekend when asked late last week about a potential date change and affirmed an ongoing stabilization, if not marked improvement, in the numbers on Monday.
In New York City, new case and rolling hospitalization averages are both down by double-digit percentage points over the last seven days compared with the weekly average for the prior four weeks. Deaths are down, too, though by a lesser degree.
"We respond to the data, we respond to the facts that we face today. The facts may change tomorrow and then we will change with the facts," Cuomo said Monday. "The enemy changes tactics, we adjust with the enemy. But the numbers are down now."
Statewide, data shows daily positivity rates have declined for a full month, while the number of people hospitalized (7,716) is the lowest total since Dec. 28. The state's rolling seven-day positivity rate is the lowest since Dec. 2 (4.42 percent).
New York City has only seen indoor dining return for about two months -- and at 25 percent capacity -- since it was initially shut down as the pandemic accelerated in March. Cuomo allowed it to return at the end of September, then banned it again citywide in mid-December as the post-Thanksgiving effect began to materialize -- a harbinger of the projected (and actual) post-Christmas surge.
When dine-in does return to the five boroughs on Friday, capacity will be limited to 25 percent capacity. Across the river, Gov. Phil Murphy only just raised the capacity limit for indoor service to 35 percent Friday. He also lifted the 10 p.m. indoor service curfew (although some mayors put local ones into effect), which Cuomo says will stay in New York.
The looming changes to coronavirus protocol in New York City will be applied citywide, since the governor lifted his micro-cluster zone designations (and their respective restrictions) late last month. Some boroughs still have sustained higher positivity rates than others, though those rates have been inching down on a daily basis virtually across the board. The Bronx, which has seen the highest rolling positivity rate average over the last month or so, is home to the state and city's first mass vaccination site targeted to residents of a single borough.
Daily Percentage of Positive Tests by New York Region
Gov. Andrew Cuomo breaks the state into 10 regions for testing purposes and tracks positivity rates to identify potential hotspots. Here's the latest tracking data by region and for the five boroughs. For the latest county-level results statewide, click here
Source: ny.gov
That site at Yankee Stadium opened Friday, with 15,000 appointments available for the first week. All of those appointments have been filled, despite a glitch in the system that mistakenly required health insurance. SOMOS Community Health, which runs the site, said Monday it was in the process of adding a "no insurance" button to the portal.
Mayor Bill de Blasio says Queens' Citi Field mega-site, which was shelved in January amid first dose supply issues, will open on Wednesday, Feb. 10. That site will be open 24 hours a day, Wednesday through Saturday. Half of the appointments will be reserved for eligible Queens residents, while the other half will be reserved for TLC licensees and food delivery workers.
To date, New York City has administered nearly 1 million total vaccine doses -- the vast majority of them (70 percent) first doses. City-run programs have administered nearly 705,000 of those so far, about 92.5 percent of the first doses delivered to those programs to date.
The city has fewer than 57,000 first doses left on hand as of Monday, but the Week 8 federal allocation -- which included a roughly 20 percent boost to states -- started to arrive at providers over the weekend and will help shore up the supply.
The city will also be prioritizing vaccination appointments for middle school staff during next week's mid-winter break, officials said. Miranda Barbot, chief spokesperson for the city's Department of Education, said Monday that in-person learning will return at middle schools on Thursday, Feb. 25. Staff will return a day earlier. Roughly 62,000 kids in grades 6-8 have opted for in-person learning.
COVID-19 at New York City Public Schools
This map shows all known cases of COVID-19 at New York City public schools. It is updated Sunday through Friday at 5:30 PM.
Building that has been closed
One or more classrooms has been closed
A member of the school community has tested positive but the school community was not exposed
Source: nyc.gov
Barbot said the city would increase weekly testing teams "as well as our situation room," which provides families email updates on positive cases in their schools, to keep up with the in-person learning expansion and maintain school safety. No timeline has yet been set for an in-person learning return at the high school level.
De Blasio said Monday he'd like to bring in-person learning back to high schools this academic year but said older grades bring more complexity as it relates to coronavirus rule enforcement. Classes for those students are less disruptive from an instructional perspective to run remotely than for younger kids as well.
The mayor expects to have all grade levels back in person five days a week when the next school year begins in September. Elementary and pre-K schools in the city returned in person Dec. 7 after a three-week hiatus.
The head of the city's largest teachers' union, Michael Mulgrew, said the union would monitor schools to ensure strict adherence to testing, PPE and social distancing protocol as more grades and buildings reopen for in-person learning.
"These strict standards, and the requirement that buildings close temporarily when virus cases are detected, have made our schools the safest places to be in our communities during the pandemic," Mulgrew said. "They will continue to be the strongest protections for the health and safety of students and staff."
Statewide, more than 2.4 million total vaccine doses have been administered to date, including 1.8 million-plus first doses. It has 5,000 distribution centers ready for additional vaccine supply, but as of Monday, about 90 percent of the first dose allocation received to date had been used, Cuomo said. That's why it's so difficult to get an appointment in the near future, even as eligibility continues to expand.
Roughly 7 million people are now eligible to receive their vaccinations in the Empire State, though that number will grow considerably in exactly one week. Starting Feb. 15, people with any of more than a dozen comorbidities identified by the CDC as causing heightened risk of severe illness from COVID will be eligible for vaccination in New York. That group was eligible to sign up for vaccines starting Sunday, putting further pressure on the state's vaccine finder to handle more traffic, a fact Cuomo conceded.
"Ten million New Yorkers are chasing 300,000 vaccines," the governor said.
That list does not include smoking, which New Jersey listed as a qualifying underlying condition in accordance with CDC guidelines, but does include pregnancy, diabetes, heart conditions, cancer and other common comorbidities. Cuomo says 94 percent of all COVID deaths in the state have involved people with at least one underlying condition. See the full list of qualifying conditions here.
That next group of soon-to-be eligible New Yorkers will be able to schedule vaccination appointments at state mass vaccination appointments starting Sunday, with the first appointments available to them once they become eligible the following day. State officials warned to expect a potentially frustrating "crush" of huge amounts people attempting to sign up for appointments simultaneously.
"This will not be perfect. There are people constantly on a daily basis right now, hundreds of thousands of people on that website now, refreshing -- that traffic is only going to increase," Secretary to the Governor Melissa DeRosa said. "Everybody should go into this with their eyes wide open. It's going to be frustrating. It is going to be a crush. Everyone is going to do their best to try to in real time catch glitches and get things up and running. But it's going to be a tough period."
Local health departments will determine how, where and when to schedule appointments in their jurisdictions beginning Feb. 15, DeRosa said.
Cuomo also clarified some guidelines around eligibility Monday, saying people will have to bring some sort of proof of their underlying condition, whether by doctor's letter, medical information or signed certification to their appointments. Again, Cuomo left the means of proof up to local governments and said the state would audit the local systems via the federal government's tracking operation.
"The rules should be followed," the governor said. "We don't want people abusing the system."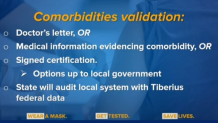 Unlike New Jersey, New York doesn't offer the option to pre-register prior to eligibility. As it is, wait times just for those people who are now eligible have stretched past mid-April. Delays from last week's powerful nor'easter -- and supply issues before that -- have forced the postponement of some first dose shots.
Scheduled appointments at state-run COVID-19 vaccination sites in Long Island and community-based "pop-up" locations throughout the New York City area had to be pushed for the second time in a week Sunday as yet another winter storm dumped more snow across the tri-state. Those sites will reopen on Monday.
---
Not sure how the process works? Or when you might be able to get an appointment? Check out our handy tri-state vaccine site finder and FAQs here
---
New York City and New Jersey Vaccine Providers
Click on each provider to find more information on scheduling appointments for the COVID-19 Vaccine.
Data: City of New York, State of New Jersey • Nina Lin / NBC
Cuomo had been further hesitant to expand eligibility to other groups because he wanted to ensure frontline health and hospital workers had not just access, but prioritization. Citing hesitancy on behalf of a number of them to receive the shots, he asked hospitals to go back to those reluctant workers over the course of this week one more time to encourage their participation in the vaccine program.
After that, he'll reallocate excess statewide doses for the first group, 1A, to local governments to begin vaccinating those with underlying conditions. Cuomo said local governments should have preparations for that shift underway.
He also noted some ongoing discrepancies in vaccination performance data on health workers by and within the state's regions. The state's health department will be reviewing what Cuomo described as "slow-vaccinating hospitals."
As of Monday, 75 percent of hospital workers statewide had received at least one shot, while 72 percent in New York City had done the same. The highest hospital worker vaccination rates in the five boroughs are in Staten Island (81 percent), followed by Manhattan (75 percent), with the Bronx (71 percent), Queens (69 percent) and Brooklyn (62 percent) rounding out the list. On Long Island, both Nassau and Suffolk counties report 74 percent of hospital workers vaccinated.
Of all the vaccinated adults in New York City, the number of white residents is four times higher than Black residents, city data released earlier this month showed.
State statistics released Friday showed even more extensive disparities, especially among hospital workers and people 65 and older. Both Cuomo and de Blasio have launched aggressive community and other outreach campaigns in an effort to reduce skepticism over the vaccine and ensure equitable access.
---
Not sure how the process works? Or when you might be able to get an appointment? Check out our handy tri-state vaccine site finder and FAQs here
---
New Jersey has also seen stark racial and ethnic disparities within its vaccination program, which crossed the 1 million total dose milestone Monday. Nearly 815,000 of those have been first shots. Of the total doses administered to date, just 3 percent have gone to Black people, while 49 percent of recipients have been white, 5 percent Latino and 6 percent Asian. A total of 36 percent are listed as "other" or unknown," according to New Jersey's latest data.
Murphy has said he wants to vaccinate 70 percent of the state's adult population within six months. It's unclear whether the state will reach that goal, though. Meanwhile in Connecticut, residents 65 and older will now be able to register for vaccine appointments starting Thursday, as the state goes into the next part of its phase 1b. That opens the vaccine up to 350,000 more people; previously, the vaccine was only open to those 75 and older.
Both Murphy and Cuomo, along with de Blasio, say their respective vaccination programs have ramped up considerably over the last two or three weeks. It took New Jersey nearly 40 days to hit a half-million vaccine doses administered, for example, but just 16 days to get from that point to 1 million, Murphy said.
The pace of the rollout -- both nationally and at the individual state level -- is expected to accelerate further over the course of this month, given the three-week boost in federal allocation and new potential vaccines coming to market.
Johnson & Johnson applied for FDA emergency use authorization for its single-dose vaccine late last week. Officials have called that a potential game-changer. The Moderna and Pfizer vaccines both require two shots for full inoculation and a gap of about three to four weeks in between doses.
The J&J vaccine has proven only slightly less effective than the others in clinical trials; it has also proven less effective in places like South Africa, where one of three more transmissible variants dominates. Overall, vaccines are expected to work on these emerging strains and new mutations that will develop over time.
Moderna has said it is working on a booster shot to improve efficacy of its vaccine against the South African variant, which has additional mutations on top of the ones identified in the more contagious U.K. strain.
Neither the South African variant nor the highly transmissible Brazilian strain has been identified locally yet. The former has been detected in South Carolina, Virginia and Maryland, while the latter has been found only in Minnesota and Oklahoma. The CDC confirmed the first U.S. cases of those two strains only in the last two weeks or so. It believes community spread of those strains, which emerged in their respective countries months ago, has already happened.
Nearly 700 cases of the three main variants of concern have been detected in 33 U.S. states so far, the vast majority of those (690) being the U.K. strain, according to the CDC. Those include at least 59 U.K. strain cases in New York state, with Cuomo adding another 15 to the tally Friday, 31 in New Jersey (another 12 since Friday) and 17 in Connecticut, though officials believe the actual number of variant cases in their respective states is higher than reported.
The CDC has warned the U.K. variant could become the predominant strain in the U.S. by March, potentially leading to another spring spike in cases. A new study found cases of the U.K. variant in the U.S. are doubling every 10 days.
Murphy said New Jersey may have moved to increase indoor dining capacity earlier or to a higher degree if not for his concern over the variants. While he remains acutely attuned to that threat, he says he hopes to be able to raise indoor dining capacity more in the coming months if COVID rates continue to decline.
Some experts fear more contagious variants could cause yet another spike in U.S. hospitalizations and cases -- and potentially deaths -- this spring, just as the nation begins to climb down from its alarming post-holiday viral peak. And mounting evidence indicates that having COVID-19 may not protect a person against getting infected again with some of the new variants emerging globally.
To date, America has seen a world-high 464,000-plus virus-related deaths since the pandemic's onset and more than 27 million cases, according to NBC News.
COVID-19 is the leading cause of death so far in 2021, according to the Kaiser Family Foundation. It outpaced average daily U.S. fatalities for the second leading cause of death, heart disease, by 47 percent, in January, Kaiser data shows.
Copyright NBC New York