What to Know
The CDC says people don't need to wear masks outside if alone or with family whether they're vaccinated or not; non-vaccinated people should still mask up at outdoor restaurants and gatherings, though
NYC's mayor says the city "can certainly work with that," while the governor said NY will adopt the new CDC mask guidelines and opens all state-run mass vaccine sites to walk-ins for age 16+ Thursday
Mask mandates and other mitigation protocol have remained in effect across the tri-state for more than a year; Connecticut is poised to drop all remaining business restrictions except indoor mask rules on May 19
Gov. Andrew Cuomo said Tuesday that New York state has adopted the CDC's updated mask guidance for fully vaccinated and non-vaccinated people, indicating the change would take effect immediately. It's the most significant recovery step from a daily life standpoint for the one-time epicenter of the pandemic so far.
The governor described the change as "liberating" as he made the announcement barely an hour after the CDC issued its updated guidance and several hours after Mayor Bill de Blasio said he was open to moving up New York City's timeline for losing face masks outdoors in line with the latest federal recommendations.
The mayor's top public health adviser said the city wants to review the new recommendations in more detail before rolling out any sweeping changes to citywide COVID protocol. It wasn't clear if the state health department would issue updated guidance as early as Tuesday.
According to the new CDC guidance, people don't have to wear masks outside when they walk, bike or run alone or with family members whether they are fully vaccinated or not. Fully vaccinated people don't need to wear masks at outdoor gatherings or at outdoor restaurants, the CDC says. Non-vaccinated people should.
And everyone should mask up in crowded outdoor situations regardless of vaccination status, the CDC says. That raises some challenges for places as dense as New York City, where "crowded outdoor situations" are a practical norm.
Dr. Jay Varma, the mayor's senior public health adviser, made that point Tuesday during de Blasio's COVID briefing before the updated CDC guidelines dropped.
---
Fully vaccinated or not: Here's a simple breakdown of what the new CDC mask guidelines mean for you
---
New CDC Outdoor Mask Guidance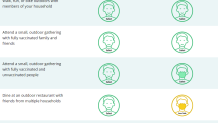 "Our environment is very different from most parts of the United States, where people are driving cars and they're not walking on a crowded, busy street with lots of other people," Varma said. "We also have to factor in things like norms, politeness, getting people habituated with the fact that they still need a mask if they're going to be entering indoor settings."
Varma said city health officials look forward to reviewing the new CDC guidance in more detail and "seeing how best to apply it to New York," which means there could be some local modifications. He didn't hint at what those could potentially be, nor did he or the mayor share a potential timeline for releasing new city mask guidance.
Overall, Varma said the CDC change was logical, given evidence that shows fully inoculated people are much less likely to transmit COVID and data that shows outdoor environments to be much less of a viral spread risk than indoor ones.
De Blasio, who told New Yorkers last week to expect to "hold the line" on mask requirements at least through June (the same month he expects to hit his goal of fully vaccinating 5 million people), says the city can accommodate the change.
"We've said all along the difference between outdoor and indoor is really so much of this ballgame so outdoor is a much better situation. I think it will be the choice of each New Yorker what they're more comfortable with outdoors," de Blasio said.
Asked if he would stop wearing a mask outdoors immediately as a fully vaccinated individual, de Blasio described the issue as a matter of personal choice.
"The federal government is saying you don't have to. I think a lot of people will still choose to. I expect a lot of the time I will for sure but it will depend on the circumstance," he added. "What we do want to focus on intensely is keep people in the habit of wearing masks indoors for at least the next couple of months. We've talked about June as an important turning point. Then we'll reassess from there."
Even as New York continues to ease virus restrictions -- and Biden seeks to restore some semblance of normalcy nationally as more Americans get vaccinated -- it's not clear how quickly a city so dense will officially adopt relaxed mask guidance.
The city's density -- and the packed lifestyle scene that operates within it -- is partly what makes it one of the world's most vibrant places. It also makes it more vulnerable to viral spread, a fact of which de Blasio is keenly aware.
"We're going to have to keep mask restrictions in place until we're 100% sure we're out of the woods, and the best way to know we're out of the woods is to see those vaccination numbers go up and up and up," he said earlier this week. "Just with the number of people vaccinated so far, it is just pushing down COVID, pushing down the cases and making the city safer."
So far, New York City has fully vaccinated more than 2.4 million people, 28.8% of its population. That's almost exactly halfway to de Blasio's June goal.
Statewide, 31.9% of New Yorkers are fully vaccinated -- and Cuomo simplified the process again Tuesday in announcing all state-run mass vaccine sites will allow walk-ins for New Yorkers age 16 and older starting on Thursday. Previously, that option was limited to 16 state-run vaccine sites and for people age 60 and older.
"All the obstacles are removed. All the barriers are removed," Cuomo said Tuesday. "Just show up and roll up your sleeve and the mass vaccination sites have the capacity to handle it. If you were intimidated by the process of making an appointment, that's gone -- no appointment needed. Come in and get a vaccine."
---
Not sure how the process works? Check out our handy tri-state vaccine site finder and FAQs here
---
New York City and New Jersey Vaccine Providers
Click on each provider to find more information on scheduling appointments for the COVID-19 Vaccine.
Data: City of New York, State of New Jersey • Nina Lin / NBC
De Blasio expanded walk-ins to all New York City-run sites for people of any eligible age last Friday.
Nationally, 37.3% of adults age 18 and older in the U.S. are fully vaccinated, well short of the oft-stated goal of herd immunity. Cuomo puts the low threshold for that at 75%.
Indoor mask mandates will likely be in place for some time, especially in places like New York, New Jersey, which still have among the highest infection rates per capita in the country. Gov. Phil Murphy hasn't released a statement yet on the new CDC mask guidance but will likely address it at his next COVID briefing on Wednesday.
Connecticut is already poised to lift its outdoor mask requirement next month, joining two dozen other states that have lifted that restriction. The only COVID rule Gov. Ned Lamont will leave in place starting May 19 is the indoor mask mandate.
Nationally, the CDC continues to recommend masks at indoor public places, such as hair salons, restaurants, shopping centers, museums and movie theaters.
New CDC Indoor Mask Guidance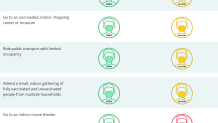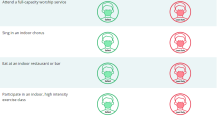 Experts and elected officials have long said life in the U.S. won't feel truly "normal" until herd immunity is achieved via vaccination or infection antibodies. As vaccination numbers stand, it's going to be quite some time before that happens.
The nation's top infectious disease expert, Dr. Anthony Fauci, acknowledged as much on Monday.
"If you're waiting for classic measles-like herd immunity, that's going to be a while before we get there," Fauci said. "But that doesn't mean we're not going to have a significant diminution in the number of infections per day and a significant diminution in all of the parameters, namely hospitalizations and deaths."
Fauci did say, however, that he expects the U.S. to reach a turning point in the pandemic within a few weeks if the current pace of vaccinations -- about 3 million shots a day -- holds. He said the U.S. should focus on vaccinating as many people as it can, in part because it's not clear how long immunity from infection could last.
It's not even known exactly how long immunity from vaccination will last, though one study found Moderna's regimen likely protects people for at least six months.
Both Pfizer and Moderna have talked about the possible need for booster shots. Pfizer's CEO recently said people would likely need a third dose of that vaccine within 12 months.
The Biden administration has said it is preparing for the possibility.
"Requiring additional shots in the future is obviously a foreseeable potential event," Andy Slavitt, senior adviser to Biden's COVID response team said earlier this month.
Copyright NBC New York