What to Know
Improvements in core COVID rates, like hospitalizations, for New York City and state have been fueled by the vaccination rollout, officials say -- and they, in turn, are fueling more reopenings
16 NYS mass vaccine sites now accept walk-ins for people age 60+; NYC Mayor Bill de Blasio expanded the walk-in option to all city-run sites and for people of any eligible age on Friday as well
NYC opened a new vaccine hub Friday at the iconic American Museum of Natural History; getting dosed can get you free museum tickets, too
Any eligible New Yorker can now get vaccinated at any city-run site in any borough without having to make an appointment, Mayor Bill de Blasio announced Friday. It's the most significant effort yet at the state or city level to simplify the process.
Initially, the city launched a pilot walk-in program for New Yorkers age 75 and older. Touting its success, the mayor expanded that program to all New Yorkers age 50 and older and offered walk-ins at 31 sites six days ago. Friday's announcement takes the ballgame to a whole new level -- and the mayor lifted geographic restrictions so people can get dosed in any borough regardless of residence.
"You can just walk up and get vaccinated," de Blasio said, adding he was encouraging community health centers, including federally-supported centers, to permit walk-ins as well. "We think this approach is exactly right for this point as we continue to move forward. A lot of people just want it to be convenient and easy."
"We intend to reach millions more people, and I think the more new approaches we bring in the more people will want to come forward," he added.
---
Not sure how the process works? Check out our handy tri-state vaccine site finder and FAQs here
---
New York City and New Jersey Vaccine Providers
Click on each provider to find more information on scheduling appointments for the COVID-19 Vaccine.
Data: City of New York, State of New Jersey • Nina Lin / NBC
New Yorkers who are 16 and 17 years old must still get the Pfizer vaccine, which is the only one federally emergency-use authorized in the U.S. so far. But as long as they go to a city site that offers it (and the city lists brands by site), they can walk in with a legal guardian and get vaccinated as well, no appointment necessary.
A handful of state-run mass vaccine sites -- 16 of them -- make their foray into walk-ins Friday as well. Gov. Andrew Cuomo announced the looming change earlier this week, making a once maddeningly process for many that much easier.
It marks the first general walk-in option Cuomo has rolled out at the state level since the vaccination effort started. New Jersey hasn't yet opened walk-in vaccinations but asked about it Friday, Gov. Phil Murphy said "stay tuned."
Cuomo, meanwhile, added another component to the walk-in plan Friday, announcing the launch of five state-run popups at places like grocery stores to vaccinate essential workers on a walk-in basis who may not otherwise seek shots out or think they have the flexibility in their job schedules to make it work.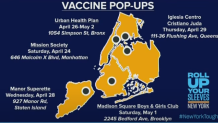 The five pop-up sites will be open to all New Yorkers by appointment but the walk-ins will be reserved for bodega, grocery store and supermarket workers. Proof of employment is required. Each site will receive a total of 400 doses.
"We want to make it easy, we want to make sure they're safe, we want to make sure the people they're dealing with are safe, we want to make sure the delivery workers are safe," Cuomo said Friday. "We want to get those vaccinations up because that's what works for everyone. When do we beat COVID? That's when we hit herd immunity. That's when we beat COVID. That's when we all together as a community decide we're going to get this vaccine done and we're gonna crush COVID."
"It's about us. And you have a responsibility as a citizen, because you contact me and then I contact other people and we are not living on a desert island," he added. "If I'm infected I infect you, I infect you, I infect you. I have a responsibility to you and we have a responsibility to each other. That's community. That's the connection."
He is launching new sites regularly to fortify the network as is the city, which opened a particularly intriguing new venue Friday.
The new American Museum of Natural History site prioritizes public housing residents and cultural institution workers but is open to all city residents. It initially had been slated to open as an appointment-only site, but Health Commissioner Dr. Dave Chokshi said Friday that hub would move immediately to a walk-in site.
To sweeten the pot, people who go there can get free museum tickets, too.
The museum hub is the latest addition to a rollout that already has spawned hundreds of pop-up sites throughout the city as the mayor aims to achieve his goal of inoculating at least 5 million New York City residents by the end of June.
That's the same time when de Blasio says he's willing to "reassess" mask and social distancing rules in the city, at least as they apply to the outdoors.
He has repeatedly said relaxing such restrictions is contingent upon vaccinations and low viral rates. As of Friday, all three core COVID metrics -- new daily cases, hospitalizations and deaths -- are down over a seven-day rolling period compared with the weekly average the prior four weeks, by 29%, 34% and 42%, respectively.
Right now, the mayor is nearly halfway to his goal of fully vaccinating 5 million New York City residents by the end of June. To date, almost 2.3 million have been fully vaccinated, about 27.1% of the city's population. Statewide, more than 6 million New Yorkers, 30.2% of the population, can say the same.
Connecticut leads the tri-states in terms of percentage of population age 18 and older fully vaccinated (42%), followed by New Jersey (40%) and New York (38%).
More than 30 colleges and universities now say COVID-19 vaccination is mandatory for students and staff returning to campus in the fall, and a growing number of states are escalating their outreach and targeted programs accordingly.
Nationally, more than a third (35.2%) of Americans age 18 and older are fully vaccinated, while 52.6% have had at least one dose. The ratio is even higher among those age 65 and older, 66.6% of whom are fully vaccinated, according to CDC data.
Daily Percentage of Positive Tests by New York Region
Gov. Andrew Cuomo breaks the state into 10 regions for testing purposes and tracks positivity rates to identify potential hotspots. Here's the latest tracking data by region and for the five boroughs. For the latest county-level results statewide, click here
Source: ny.gov
The pace of vaccinations in the U.S. has slowed a bit in recent weeks, partly because of the Johnson & Johnson pause. National health advisers lifted that pause late Friday after an expert panel ruled the benefits of the single-dose vaccine outweigh a rare risk of blood clots.
City officials said they were planning for a number of scenarios, depending on what may come out of that meeting. If the feds were to recommend lifting the Johnson & Johnson pause, potentially ascribing certain warnings or restrictions to its use, Chokshi says the city would operationally be ready to start using it again Saturday.
Asked the same question at a separate media appearance Friday, Murphy and his health commissioner also said they could reimplement Johnson & Johnson single-dose vaccines as early as Saturday if the feds approve it for use again.
Federal, state and city agencies paused use of J&J shots April 13 due to concerns about blood clots. The CDC warned that if people have symptoms within three weeks after receiving the vaccine they should contact their health care providers.
Officials are now examining 15 reports of unusual clots, including a fatality, out of more than 8 million Americans given the one-dose vaccine so far. All of the cases involved women; 12 of the 15 involved clots in the brain. The pause caused some concern about whether some Americans would be more hesitant to get vaccinated. Officials have stressed daily, if not multiple times daily, since the pause that the risk of not getting vaccinated is much higher than the clot risk for the vast majority.
The rare clot condition is called cerebral venous sinus thrombosis. Here's what means and what signs you should look for if you're concerned.
President Joe Biden on Wednesday acknowledged entering a "new phase" in the federal vaccination effort that relies on increased outreach to Americans to get their shots, both to protect them and their communities. He announced new employer tax credits and other steps to encourage people reluctant to be inoculated to get the COVID-19 vaccine as his administration tries to overcome diminishing demand.
"Vaccines can save your own life, but they can also save your grandmother's life, your co-worker's life, the grocery store clerk or the delivery person helping you and your neighbors get through the crisis," Biden said. "That's why you should get vaccinated."
Copyright NBC New York