Marc Santia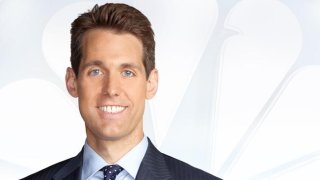 Emmy® Award-winning journalist Marc Santia reports on criminal justice, security and general assignment issues for NBC 4 New York. He regularly appears weekdays at 4 p.m., 5 p.m. and 6 p.m.
Since joining NBC 4 New York as a general assignment reporter in July 2012, Santia has covered many of our region's most memorable stories. Shortly after joining the station, Santia was one of the first reporters on scene at the Empire State Building shooting. When Hurricane Sandy hit the Tri-State later that year, Santia was on Staten Island where his crew car fell underwater. After losing the car and belongings, Santia and his crew found themselves under the care of a friendly family to ride out the storm.
Santia's reporting was a key component of NBC 4 New York's award-winning COVID-19 coverage, honored in January, 2021 with the prestigious Alfred I. duPont-Columbia University Award for "creat(ing) a 360 view in real time of the coronavirus pandemic, with courageous and thorough reporting on the virus's explosion in New York City." The duPont has long been recognized as the broadcast, documentary and on-line equivalent of the Pulitzer Prize, also awarded by Columbia University.
Santia has also travelled to cover major stories outside of the Tri-State market. In 2012, Santia covered the deadly movie theater shooting in Aurora, Colorado. In 2017, he travelled to Las Vegas to cover the deadly concert shooting outside the Mandalay Bay casino. One year later, Santia traveled to North Carolina where he covered the impact of Hurricane Florence. Santia was embedded with the NYPD during the coverage and chronicled their frequent swift water rescues for Tri-State viewers.
In 2016, Santia was awarded a New York Emmy® for the story, "Walking Again, For the First Time," chronicling one man's fight to walk again. Two years later, Santia was awarded two New York Emmys® for his investigative reporting. This included "Hijacking Hollywood," a look at a rash of thefts which impacted film production companies on location in New York City. It also included "The Gold Bucket Bandit," where Santia tracked an alleged gold heist thief to Ecuador and took viewers on a memorable journey throughout the accused deed. The story subsequently received national and international coverage.
Prior to joining NBC 4 New York, Santia spent more than 15 years at WDIV-TV in Detroit, where he began his career as an intern, subsequently became an investigative reporter and later earned an Emmy® Award for journalistic excellence. While in Detroit, Santia covered the investigation, arrest, trial and sentencing of former Detroit Mayor Kwame Kilpatrick. He also covered Koran-burning pastor Terry Jones' visit to Dearborn, Michigan. In 2018, CNBC's "Deadly Rich" series spotlighted Santia's coverage of the infamous Bob Bashara murder case in Michigan.
A graduate of Wayne State University in Detroit, Santia resides in Westchester County with his wife and two kids.