Julio "Gaby" Acevedo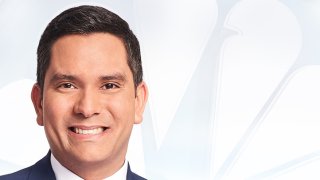 Veteran reporter Julio "Gaby" Acevedo covers the Tri-State viewing area for NBC 4 New York viewers, appearing weekdays at 4 PM, 5 PM and 6 PM.
A broadcast veteran, Acevedo led both NBC 4 New York and Telemundo 47's coverage of Puerto Rico's post-Maria recovery from their San Juan bureau. Both NBC 4 New York and Telemundo 47 were the only Tri-State local television stations that established and led a Puerto Rico-based news bureau devoted to the island's recovery effort.
Acevedo's reporting was a key component of NBC 4 New York's award-winning COVID-19 coverage, honored in January, 2021 with the prestigious Alfred I. duPont-Columbia University Award for "creat(ing) a 360 view in real time of the coronavirus pandemic, with courageous and thorough reporting on the virus's explosion in New York City." The duPont has long been recognized as the broadcast, documentary and on-line equivalent of the Pulitzer Prize, also awarded by Columbia University.
Acevedo's post-Maria coverage and commitment to journalistic excellence was recognized by the National Puerto Rican Day Parade Committee, which honored him as an "Ambassador" for the 2018 parade in New York City. He was also feted by Comite Noviembre in November, 2018 for his service to Puerto Rico and lasting contributions to the recovery process.
Prior to joining NBC 4 New York, Acevedo spent more than a decade working in local radio and television in Puerto Rico. He served as the News Correspondent for the Puerto Rico Olympic Committee in the London 2012 and Río de Janeiro 2016 Olympic Summer Games, as well as the Toronto 2015 Pan American Games for Telemundo.
Acevedo was a member of the Puerto Rico Men's Volleyball National Team; played 15 years as a pro athlete and as a student-athlete at UCLA. He earned a Bachelor's Degree from Colegio Marista de Guaynabo in Puerto Rico.