What to Know
A powerful nor'easter arrived Wednesday and continued overnight, dumping at least 10 inches of snow on Central Park; NYC public schools moved all-remote for the day but resume in-person Friday
Outdoor dining resumed Thursday evening in NYC, as the city and beyond were digging out from the storm
While heavy snow fell at times, damaging winds were an equal threat; a gust of 70 mph was reported on Orient, Long Island overnight
A powerful nor'easter battered the tri-state area with heavy snow and raging winds Wednesday into Thursday, a more than 12-hour siege that left at least 10 inches in Central Park and downed power lines and trees across the region.
It was the biggest December snowstorm in New York City in 10 years (20 inches fell during the blizzard of 2010). Mayor Bill de Blasio said it was the most snow the city had seen since Jan. 2016.
This time around, the heaviest snow fell overnight and continued pounding the city and most of the tri-state area as the sun came up. Swirling, windswept snow covered shoveled streets and sidewalks within minutes at times. Intense wind gusts caused blowing and drifting snow, which made for perilous travel conditions. Check here for real-time updates from all your key transit sources.
While heavy snow throttled the region, damaging winds were a key threat. The highest wind gusts reported through the night was 70 mph on Long Island. Stony Brook, New York, saw one near 70 mph as well. Along the shores of Mantoloking, New Jersey, a gust of 62 mph was reported.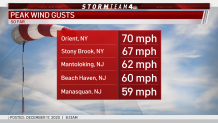 Power outages peaked above 10,000 but had been significantly reduced early Thursday. By 3 p.m., utilities reported about 1,200 power outages in New York, with the vast majority of those coming from customers of Con Ed and PSE&G Long Island, the latter of whom said they expected to have all customers fully restored by the end of the day. Both New Jersey and Connecticut had less than 500.
Scenes from Tri-State's First Winter Storm of 2020
Only a very small few local spots saw the worst-case scenario 2 feet of snow that had been possible for some, but some areas did see significant accumulation. Three towns (Rhinebeck, Millerton and Hopewell Junction) in New York's Dutchess County reported more than 20 inches of snow, with the latter getting 25 inches. Many spots across the tri-state reported between 12-18 inches of snow from the storm that packed a powerful punch. More snow dropped on New York City in 12 hours than had fallen over the course of the entire year.
Gov. Andrew Cuomo declared a state of emergency in Ulster, Sullivan, Orange and Dutchess counties, along with 14 other far upstate counties, after the storm. The highest totals were well northwest of the city, in New York's Southern Tier region, where spots like Newark Valley and Binghamton saw more than 40 inches.
There was some significant structural damage caused by the storm to buildings across the region. On Long Island, the brick façade of a Central Islip building came crashing down onto cars in a parking lot, leaving some smashed with extensive damage; no injuries were reported. In New Rochelle, a building's roof collapsed — possibly from the weight of the snow — Thursday afternoon while workers were inside. All the employees were able to get out unharmed, and while fire officials didn't know the extent of the damage inside, the fire chief believes that the building will likely have to come down.
By contrast, little accumulating snow was reported in other areas. Parts of southern and central New Jersey into the Philadelphia area saw much reduced totals as rain and sleet mixed in with snow for periods of time. In coastal towns like Sea Bright, there was some minor flooding on streets near or along the water, but many residents parked their cars overnight on higher ground downtown,.
The snow finally tapered off late Thursday morning, but temperatures stayed frigid throughout the day and felt even colder, as wind chills aren't expected to escape the 10s.
Travel conditions were also treacherous. Multiple vehicle accidents have been reported amid visibility concerns, including a 19-car pileup on the Henry Hudson Parkway that left six people hurt. New Jersey State Police said they had responded to more than 200 crashes between 11 a.m. Wednesday and 8:30 a.m. Thursday as the nor'easter tore through. Connecticut police say they responded to nearly that many; several people were hurt. In Pennsylvania and Virginia, at least four people died in storm-related crashes.
Most public transportation resumed regular service on Thursday, with the exceptions of NJ Transit rail service, which operated on a severe weather schedule, and Amtrak. As far as air travel, flight cancellations abound at local airports, so be sure to check with your carrier if you have plans to fly even through Friday.
A state of emergency is in effect in New Jersey by order of the governor. Other localities, like Newark and Mt. Vernon, New York, have declared local states of emergency. Check the latest severe weather alerts for your area here.
The storm could also have some implications on Christmas for some in New York and Connecticut. Because of the road and weather conditions both during and after the storm, UPS put out an alert that their delivery service would be effected in 342 ZIP codes in New York and 425 in Connecticut. While there there is still a week until the holiday, pickups and deliveries were halted for the day Thursday, meaning it's possible some packages that were supposed to be sent out may not reach their destination in time.
Final Snow Totals from December Nor'easter
In New York City, all outdoor dining was suspended as of 2 p.m. Wednesday, but returned as of 6 p.m. Thursday. Mayor Bill De Blasio said that most restaurants' outdoor structures held up despite the significant accumulation and strong winds. The mayor also said public schools would resume in-person learning Friday after an all-remote day Thursday.
Alternate side parking remains suspended through Saturday to facilitate snow removal. COVID-19 testing sites, which were closed citywide Wednesday afternoon, reopened throughout the day Thursday, officials said, and many saw lines form hours before opening.
This nor'easter brought the most December snow to the city since 2010. Historically, the snowiest December day in Central Park was Dec. 26, 1947 (26.1 inches).
With the storm out of the way, the coldest air of the season moves in. Temperatures are expected to drop to 30 degrees Friday with wind chills in the 10s, or even single digits at the start of the morning rush hour, which could cause freezing problems on top of the snow. They'll stay below freezing on Saturday before bumping up a bit Sunday. Expect temperatures at or below 40 degrees, though, possibly through Christmas Eve.
And for those who didn't get enough snow with this storm, some in the tri-state could be seeing a white Christmas, with a slight chance for rain or snow next Friday.
Stay with Storm Team 4 and News 4 New York for the latest and track the precipitation using our interactive radar below.
Copyright NBC New York