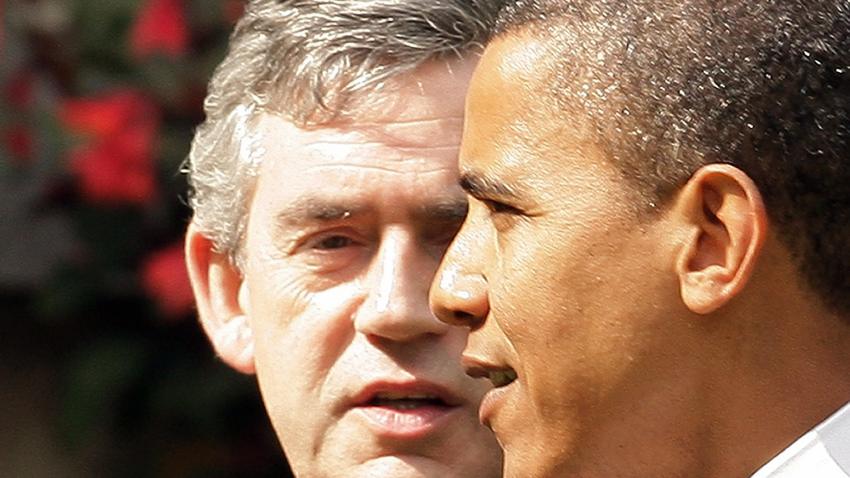 Last week President Obama talked about a new era of fiscal responsibility in the White House. Then he jumped right in.
Obama spared plenty of expense when he gave British Prime Minister Gordon Brown a DVD set of 25 classic American films as a gift to mark his visit to the White House.
The set included classics such as "Star Wars," "The Godfather" and "Citizen Kane," and was produced by the American Film Institute as a "special request" for the White House last month, according to
London's Daily Mail
, but Downing Street declined to say what movies were included, the British paper
the Mirror reported
.
"One reason for the secrecy might be that the gift seems markedly less generous and thoughtful than the presents taken to Washington by the Prime Minister,"
London's Evening Standard
newspaper reported.
Other British papers suggested the gift might border on insulting. And perhaps they're right considering the fancy swag that Brown gave to Obama.
The prime minister lavished the Obamas with historical gifts like a pen holder fashioned from the oak timber of HMS Gannet, a Navy vessel that served on anti-slavery missions off Africa; a framed commissioning paper for HMS Resolute, a Royal Navy ship that came to symbolize British-American goodwill when it was rescued by the
U.S.
from icebergs and given to
Queen Victoria
; and a first edition of Martin Gilbert's seven-volume biography of Winston Churchill, whose World War II partnership with President Franklin Roosevelt symbolized the U.S.-Anglo alliance.
Brown also gave the First kids some outfits from the a British clothing store along with a set of six children's books by British authors which have yet to be published in the U.S..
Michelle Obama
returned the good will by giving Brown's two boys replicas of the Marine One Helicopter.
Obama was reportedly so enamored by the Brit's gifts that he had the White House issue a press briefing to put on record how much he appreciated the booty.
"The pen set is being displayed on the Resolute Desk (made from the timbers of the famed ship) in the Oval Office and the books are in the President's personal study adjoining the Oval Office," the White House said in a statement.
A statement is nice, but Blu-rays would have been better.