St. Louis County police are in a spat with the Rams over whether a team official apologized after five players made a "Hands Up, Don't Shoot" gesture on Sunday in support of protesters in Ferguson, Missouri.
Police Chief Jon Belmar sent an e-mail Monday night notifying staff that the Rams' chief operating officer called to apologize, according to the St. Louis Post-Dispatch.
Kevin Demoff later said to the publication that a conversation did occur, but said he didn't apologize for the gesture.
"I expressed to both of them that I felt badly that our players' support of the community was taken as disrespectful to law enforcement," Demoff said. But he said that "in none of these conversations did I apologize for our players' actions."
The St. Louis County Police responded to Demoff's comments in a Facebook post:
On Twitter, the department also posted a dictionary definition of apologize, along with a part of Demoff's comments to the publication.
Apology: "expression of regret for not being able to do something" @kdemoff: "I regretted any offense their officers may have taken."

— St. Louis County PD (@stlcountypd) December 2, 2014
Rams tight end Jared Cook and receivers Kenny Britt, Tavon Austin, Stedman Bailey and Chris Givens gave the "Hands Up, Don't Shoot" signal in pregame introductions ahead of their match with the Oakland Raiders on Sunday.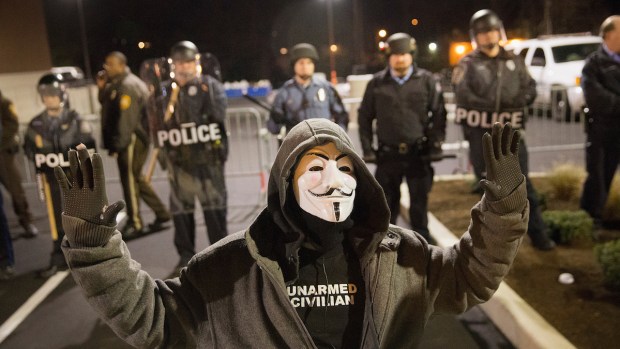 Dramatic Photos: Ferguson on Edge
The St. Louis Police Officers' Association condemned the gesture, saying the players "chose to ignore the mountains of evidence" released from a grand jury that decided against indicting former officer Darren Wilson over Michael Brown's shooting death on Aug. 9, in Ferguson, Missouri. They also demanded "a very public apology."
The NFL said the players would not be punished. Brian McCarthy, VP of communications, said in a statement Monday: "We respect and understand the concerns of all individuals who have expressed views on this tragic situation."