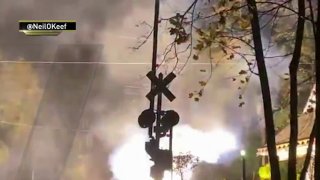 What to Know
Tornado warnings were issued for half a dozen counties in and around New York City Sunday night
Tri-state utilities reported an estimated 101,000 customers without power just before 10 p.m.
Strong winds knocked down power lines and trees, causing delays to train service
Powerful winds that pushed through the tri-state late Sunday not only prompted tornado warnings for a handful of counties in and around New York City, it also left more than 100,000 customers without power.
Hurricane-strength wind gusts of to 75 mph were reported in Greenwich, Connecticut, and 60-65 mph winds were reported throughout New Jersey but reports of wind damage came from many corners of the region. The quick-passing storm also caused delays to several train lines after it brought down powerlines and toppled trees. More than 14,000 homes and businesses were without power as of Monday morning.
Storm Team 4 says no tornadoes were confirmed in the tri-state area from Sunday night's storms. Straight-line winds of up to 80 mph appear responsible for the damage.
New York City and most of the surrounding area were put on alert shortly before 8 p.m. Sunday as the first storms moved into the region. Officials did not confirm whether there was actually a tornado but the powerful winds made walking down the street a daunting task.
Tornado warnings were briefly issued Sunday night for Suffolk, Putnam, Westchester, Bergen, Fairfield, Bronx and New York County -- all warnings ended by 10 p.m. By that time, tri-state utilities had already reported an estimated 101,000 customers without power.
The line of storms moved into NBC New York's radar from west to east and after entering the region around 6 p.m., and clearing east off Long Island just after 11 p.m.
New York City's fire department said it received reports of glass debris falling from a building on 57th Street in Midtown, forcing street closures around the same building where a crane was seen spinning from strong winds just over two weeks ago. The reports of debris also forced the F train to bypass the 57th Street station in both directions.
After not being able to find where the debris initially came from, a spokesperson with the Department of Building DOB said that upon further review a broken glass curtain wall panel was found on the 56th floor of 111 West 57th St. A partial work stop order was issued while repairs were made, and the DOB said that an investigation into the incident was ongoing.
In Carlstadt, New Jersey, a stretch of road will be closed in both directions until Monday night due to damage to power poles. Photos posted by the police department shows several damaged utility poles on Route 120.
Winds toppled a tree in Neptune Township, landing on a home and causing significant damage but no one was hurt. A similar situation unfolded in Paramus, where a tree crashed into a home's living room, but the couple who lives there were fortunately upstairs in their room at the time. In Glen Ridge, a blown transformer sent sparks flying into the air.
Fortunately, there have also been no reports of injuries but there are concerns for residents of nursing homes and assisted living facilities in Mount Vernon, New York, where half of the building complex lost power. One witness reported seeing a downed wire igniting a fire and the power immediately went out.
With the storms gone, nicer weather conditions will aid in the cleanup of the damage left behind. Monday stayed breezy, cool band dry with plenty of sunshine. The winds gradually diminish into the night, and temperatures fall into the 30s with some spots getting below freezing. Tuesday will be mostly dry, but a few scattered rain (and even snow) showers are possible.
Copyright NBC New York