A man tied himself to a hose and made his way through a chimney in a daring attempt to burglarize a Long Island business back in August, police say.
The burglar tied a hose to piping on the roof and lowered himself into Amvets Thrift Store in Copiage back in the early-morning hours of Aug. 9, according to cops. However, he eventually fled empty-handed after he was startled by the alarm, Suffolk County police said.
The frightened and trapped burglar then quickly found a ceramic container, threw it through the front glass door and ran away from the scene, officials said.
Video posted by police shows the suspect doing his best Spiderman impression by slowly lowering himself into the store through the roof. After only a few minutes of walking around the store, the man, who held some sort of cloth or shirt over his face, eventually is seen throwing the container through a glass door and leaving the store, the video shows.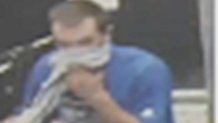 Police said they are offering a $5,000 reward for information that will lead to the man's arrest.
Top Tri-State News Photos