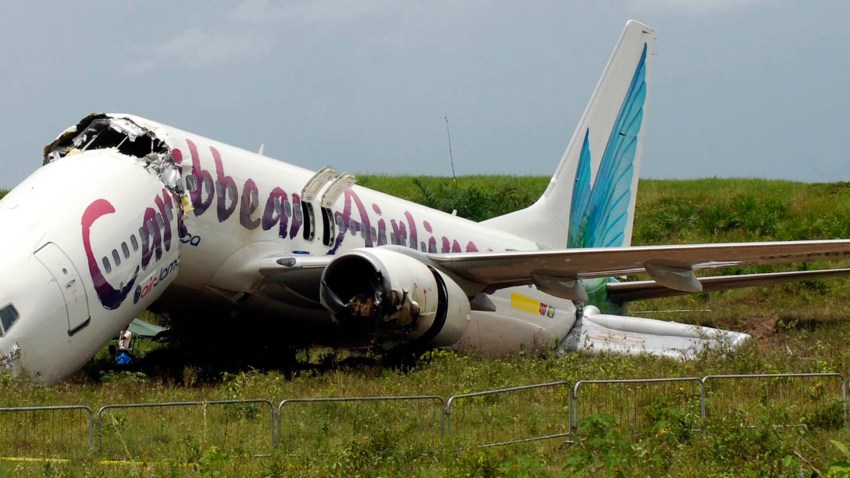 A Caribbean Airlines airliner coming from New York touched down on a rainy runway, then slid through a chain-link fence and broke apart just short of a ravine on Saturday in Guyana.
There were no immediate reports of casualties among the 163 people aboard, despite several dozens of injuries.
Passengers aboard Flight 523 said they had begun to applaud the pilot's landing when suddenly things when wrong.
The plane apparently overshot the 7,400-foot runway at Cheddi Jagan International Airport in rainy weather. It barely missed a 200-foot ravine that could have resulted in dozens of fatalities, said President Bharrat Jagdeo, who came to the crash site before dawn.
"We are very, very grateful that more people were not injured,'' he said as authorities closed the airport, leaving hundreds of passengers stranded and delaying dozens of flights.
About 100 people received medical attention, with four hospitalized for serious injuries, said Devant Maharaj, transportation minister in Trinidad, where Caribbean Airlines is based.
Geeta Ramsingh, 41, of Philadelphia, said passengers had just started to applaud the touchdown "when it turned to screams,'' she said, pointing to bruises on her knees. She said she hopped onto
the wing and then onto the dirt road outside the runway fence.
She was returning to her native country for only the second time in 30 years.
The plane had left New York and made a stop in Trinidad before landing in Guyana.
Jagdeo said he has asked the U.S. National Transportation Safety Board to help investigate the crash. He said crews were pushing to reopen the airport as soon as possible.
The crash of Flight BW523 is the worst in recent history in Guyana, and only one of the few serious incidents involving the Trinidad-based airline. It is the single largest carrier in the region, operating at least five daily flights.
Copyright AP - Associated Press