Police increased security at tourist hot-spots and other heavily-trafficked areas of New York City after an explosion outside an Ariana Grande concert killed nearly two dozen people and injured scores more at an arena in Britain on Monday, senior law enforcement officials told News 4.
ISIS has claimed responsibility for the attack. The officials said there were no new specific threats to New York and that the increase in security is precautionary.
At Least 22 Killed, Dozens More Hurt After Explosion Outside Ariana Grande Concert: Officials
Gov. Cuomo said that state law enforcement officers will step up security and patrols in response.
Manchester Mourns Victims in Attack at Ariana Grande Concert
In a statement, Cuomo called the explosion "an inexplicable and abhorrent assault on our universal values as human beings."
Officials said New Yorkers should expect to see additional counter-terrorism officers, explosive detection dogs and subway bag-check points.
The NYPD said it's monitoring the events in Manchester, where a blast outside an Ariana Grande concert killed at least 22 people, including some children, and injured at least 59 more people on Monday night.
Evidence Indicates Suicide Bombing Outside Ariana Grande Concert: Investigators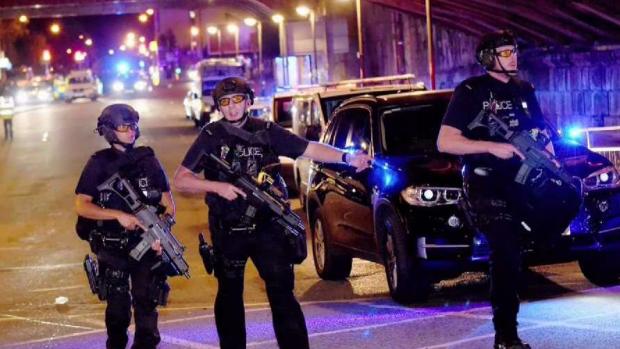 Law enforcement sources familiar with the investigation told NBC News that British authorities believe the explosion in Manchester was a suicide bombing. Authorities in the UK say one person was arrested in South Manchester in connection with the attack; additional details weren't immediately clear.
NYPD Commissioner James O'Neill wrote on Twitter on Monday night that the department is closely monitoring the events to "determine any possible implications" for the city.
I am heartbroken by the horrific explosion in Manchester. As a precaution, state law enforcement will step up security and patrols.

— Andrew Cuomo (@NYGovCuomo) May 23, 2017
.@NYPDCT@NYPDChiefPatrol@NYPDChiefofDept closely monitoring events in Manchester, England, to determine any possible implications for #NYCpic.twitter.com/ElJVcg0gFr

— Commissioner O'Neill (@NYPDONeill) May 22, 2017
Additional heavy-weapons NYPD teams are being sent to Times Square, Penn Station, bridges, tunnels, mass transit systems and Yankee Stadium, where a game took place Monday evening.
"In addition to our heavy weapons teams, New Yorkers will also see vapor wake explosive detection dogs, highly trained counterterrorisim officers, and random bag checks at transit locations," the NYPD said in a statement.
Police said there are no concerts at major venues, like Madison Square Garden and Barclays Center, on Monday.
UK Attacker Had Improvised Explosive Device, Investigators Say