What to Know
Mayor Bill de Blasio says NYC will run out of first doses by Friday; he said 23,000 appointments for this week have had to be rescheduled for lack of supply. NY state supply is days from emptying
Positivity rates appear to have leveled off from the winter surge, but hospitalizations are still up; statewide, they are at their highest total since May 4; new daily admissions in NYC are at late April highs
Officials fear more contagious strains like the U.K. one will compound containment efforts; that variant has now been found in at least 60 countries while 23 have detected the South African strain
Coronavirus hospitalizations in New York state have soared above 9,000 after appearing to level off slightly below that for most of this month, while new daily admissions in the five boroughs continue to trend upward -- a potentially ominous sign as officials try to accelerate a vaccine rollout with insufficient supply.
Statewide, Gov. Andrew Cuomo said Wednesday that just 145,780 first doses remain on hand. New York state has been averaging about 65,000 dose administrations a day. At the current rate, the governor says New York's supply will be exhausted in two or three days -- maximum.
"What is clear now is we're going to be going from week to week -- and you will see a constant pattern of, basically, running out, waiting for the next week's allocation and then starting up again," Cuomo said Wednesday. "We're trying to smooth it out, but we're also trying to get it out as fast as possible."
At this point, the governor says distribution sites shouldn't schedule out appointments unless they know their allocation for the next week. Otherwise, they run the risk of having to cancel them. That's already happening in New York City.
The city has had to cancel tens of thousands of scheduled appointments this week alone for lack of supply, Mayor Bill de Blasio said Wednesday as he reported yet another day of above-threshold new hospital admissions and a rolling hospitalization rate per 100,000 residents of 5.08. That's the highest number since he debuted that metric as part of his regular reporting last month.
At his briefing a day earlier, de Blasio said the city was closely monitoring the hospitalization numbers. That is the red line for Cuomo, who has tied regional hospitalization rates to the potential for new economic restrictions.
Cuomo appears more concerned lately about hospitalization rates on Long Island as well as the Finger Lakes and Mohawk Valley regions, which had their names shaded red in the hospitalization graphic he shared at his Wednesday briefing.
"That means more people are going to die, that means more elderly people are at risk and that's a function of your behavior," the governor said of the Finger Lakes region, which has held that dubious red distinction for at least a month now.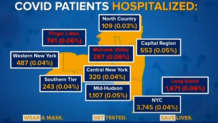 Statewide, hospitalizations are climbing across the board. They now stand at 9,273, the highest total since May 4.
Thus far, no hospital has notified the state it is within 21 days of hitting 85 percent capacity. That would put the wheels in motion. Statewide, the rolling average of percent hospital beds available is 32 percent, indicating they're at 68 percent capacity. New York City has 31 percent of hospital beds available, data shows.
Rolling positivity rates, though, are declining across almost all, if not all, if the state's 10 regions, an indication the post-holiday surge may be leveling off. Hospitalizations lag increases in cases; deaths lag increases in admissions.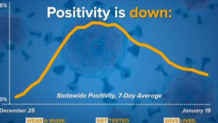 The hope, officials say, is to manage these latest increases, along with the threat of more contagious viral strains, long enough to keep pace with the vaccination rollout, which has encountered problems from the start -- both in New York and across the country. De Blasio says the city will have "zero" first doses left by Friday without a major federal infusion; he warned vaccine sites will have to start closing on Thursday because there won't be shots left after that.
Already, the city has had to reschedule 23,000 appointments this week alone for lack of supply, the mayor said Wednesday. The New York Police Department suspended first-shot vaccinations for its officers.
Wait times for appointments have stretched out to mid-April, at least, across the state. With 7 million New Yorkers now eligible for vaccination (an increase of 5 million in just the last 10 days) and no corresponding increase in federal supply, Cuomo says it'll take half a year to dose just those currently eligible.
He has asked Pfizer for the opportunity to purchase more doses directly. They are not currently licensed to do so, and it is contingent upon federal approval. The plight is similar in neighboring New Jersey, where Gov. Phil Murphy said Tuesday the state continues to add more vaccination access points, including mega-centers and county-run sites.
"All we are missing are vaccine doses," he said.
Elected officials in both states have expressed confidence the Biden administration will accelerate the process and provide the volume of vaccine they say they need. While a boon for the near future, that likely won't help New York City get through the rest of this week at its current pace of vaccination.
---
If you live or work in the tri-state area, you can get details on available sites and how to register or pre-register for shots here.
---
Last week, the city administered more than 220,000 doses alone, the equivalent of one shot every three seconds, de Blasio said. De Blasio said the city will pass the half-million mark on doses administered Wednesday. He said nearly 40,000 doses had been administered in just the last 24 hours and his goal of 1 million doses this month is still possible if the federal supply is there.
At this point, it's not. Compounding the problem, de Blasio said Moderna's delivery was delayed this week. The city's top doctor identified distribution-related issues as the reason; he said the shipment of more than 100,000 first and second doses had been expected to arrive Tuesday but instead will arrive over the course of the next two days. The delay amounts to a seemingly small amount of time, but in this race at this crucially vulnerable period, officials say each hour is critical.
As it is, the entire state has only been allocated 250,000 this week from the federal government, a drop of 50,000 from its allocations in prior weeks.
Cuomo said 84 percent of the vaccine allocated to New York state distribution sites from the feds (excluding long-term care facility allocations) had been administered as of 1 p.m. Wednesday. That includes at least initial doses for nearly two-thirds of hospital workers statewide, the governor said.
New York City has administered 82 percent of doses allocated to it by the state from the federal supply, state data shows, though lags seven other regions in vaccination administration, by the same data.
Part of that is due to population in places like the North Country, for example. Cuomo has attributed other variances to performance -- or lack thereof -- in administration. Overall, he acknowledges the pace of distribution is up markedly over the last few weeks. First-dose administration at state distribution sites is up 40 percent this week over last and 852 percent of week 1 of the rollout, he said.
"Week 6 is going to be even higher, and dramatically so," Cuomo said.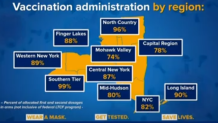 New York City and New Jersey Vaccine Providers
Click on each provider to find more information on scheduling appointments for the COVID-19 Vaccine.
Data: City of New York, State of New Jersey • Nina Lin / NBC
Nationally, 46 percent of the nearly 36 million doses distributed have been administered, according to CDC data. Just over 2 million people have received their second doses, while about 14.2 million have received one or more doses. Former President Donald Trump had vowed to inoculate 20 million in December.
With the unprecedented national rollout still in its relative infancy, the already staggering U.S. coronavirus death toll continues to rise. Dr. Robert Redfield, the head of the Centers for Disease Control and Prevention under Trump, warned in early December that the U.S. could hit 450,000 coronavirus deaths by February without more aggressive mitigation efforts. His projection, which seemed almost unthinkably grim at a time the toll was around 275,000, could now be exceeded.
It took more than 16 weeks for the U.S. to hit the 100,000-death mark but fewer than five weeks for it to soar from 300,000 to 400,000, which it topped Tuesday. Coronavirus deaths are rising in nearly two-thirds of U.S. states amid this winter surge; some experts fear the toll will surpass a half-million next month. Wednesday was the deadliest day for the U.S. since the start of the coronavirus pandemic, with more 4,131 deaths reported nationwide, topping the previous single-day record set on Jan. 7.
Copyright NBC New York