What to Know
Gov. Andrew Cuomo says there's been improved compliance in New York's hotspots, but he hasn't yet set a timeframe to relax new rules; the mayor's office says he won't recommend one way or another
The new restrictions have been imposed in red, orange and yellow zones in Brooklyn, Queens, Rockland, Orange and Broome counties for more than a week now; they're in place for a minimum of 14 days
Meanwhile, New Jersey is facing some upticks of its own; daily case totals have doubled in the last month and virtually the entire state is experiencing some level of increase, like many other U.S. states
Gov. Andrew Cuomo said Monday he expects to announce a realignment of New York's cluster zones later this week, touting the effectiveness thus far of his acutely targeted approach that stamps out hotspots on a "block-by-block" level.
Any shift in mapping would likely affect restrictions in certain areas, the highest risk of which have seen schools move all-remote and nonessential businesses closed for nearly two weeks. That 14-day period is the minimum window Cuomo had set for the closures; it will be up in New York City on Thursday.
"We have total flexibility in these zones," Cuomo said Monday. "As discrete areas get better, you can rewrite the size of the zones. That's what we're looking at doing now. If we know certain activities are going to be curtailed, which we believe have been significant generators, then we can do even more."
Cuomo said his team was working to develop appropriate reopening benchmarks for the cluster zones. The benchmarks will differ substantially from the standards he used for the statewide reopening process earlier this year. Cuomo said the micro-cluster strategy will remain his approach through the fall, when he said he expects to see more viral flare-ups. Data indicates it's working.
The average red zone positivity rate in Brooklyn, Queens, Rockland and Orange counties dropped to 3.3 percent, Cuomo said -- about half the number it has been in recent weeks and further indication of improvement. New hospital admissions also declined, though the daily death toll hit 14 -- a far cry from the 800 people dying a day in New York in April but still higher than it's been in recent months.
In New York City, Mayor Bill de Blasio cited measurable progress in the central Queens cluster particularly. He said Monday it's possible that cluster zone could see restrictions lifted as early as the end of this week, but noted that all those discussions would be made in coordination with the state. It's Cuomo's call.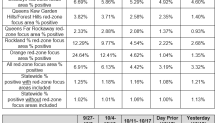 New Jersey, meanwhile, could be nearing a situation that warrants reinstatement of some COVID restrictions in certain areas. Gov. Phil Murphy reported nearly 1,200 new cases Monday, one of New Jersey's highest daily totals in five months as the statewide positivity rate topped 11 percent -- more than a full point over the threshold for the tri-state quarantine list -- over a seven-day rolling average per 100,000 people.
A similar, albeit less extreme situation is developing in Connecticut as well, where the number of cases per 100,000 people just over 10. That led Gov. Ned Lamont to adjust the state's travel advisory metrics which determines whether or not travelers coming to Connecticut will have to quarantine upon arrival.
Initially, a state with 10 cases per 100,000 people or a 10 percent positivity rate met the standards for being on the travel advisory list for Connecticut, as well as the rest of the tri-state. Now, a state with 10 cases per 100,000 people and a 5 percent positivity rate will be added to the state's travel advisory list, Lamont said.
The governor said this metric brings the number of states on the travel advisory list down to about 33.
"I thought the other threshold was so broad, that it was including about 85% of our states across the country and it was becoming unenforceable. So we thought about 'ok, maybe we will just make this general guidance for all of our states' and then everybody persuaded me, 'no, we still have some states as you heard from the previous question that has a 50% positivity rate,'" Lamont said.
Cuomo spokesman Peter Ajemian said Lamont was speaking for Connecticut but said New York is reviewing its metrics "and should have more info tomorrow." Gov. Murphy said he hasn't spoken directly with Cuomo on the advisory.
Despite the neighboring upticks, Cuomo has said it's not practical to "do border control" with New Jersey and Connecticut, though he acknowledged the surge in cases is problematic. New York itself is at seven per 100,000, twice what it was at the end of August. However, he said given how much cross-border commuting goes on between the three states, travel restrictions might be unenforceable.
"So, it's complicated and we're working with them, but we don't have any final conclusion yet but for a practical matters, you can't do border control with New Jersey and Connecticut," Cuomo said.
Five counties in New Jersey (Ocean, Essex, Union, Middlesex and Bergen) each reported more than 100 new cases Monday, Murphy said. Positivity rates have been rising in virtually every part of the state. Essex County now has one of the 20 highest positivity rates among counties nationwide, according to Covid Act Now, which uses real-time data to assess risk.
"While these numbers are a far cry from where we were at our springtime peaks, they are also significantly higher than where we were throughout much of the summer and where we were until a few weeks ago," Murphy said Monday.
When asked previously, as cases first started to show an uptick in Ocean and Monmouth counties, whether he would impose new shutdowns, Murphy said "everything is on the table." He noted that indoor dining did not appear to be a factor, pointing instead to small family gatherings where guards are let down.
Parties have also contributed extensively to the rise in cases, which have doubled over the last month, New Jersey's health commissioner said Monday.
Asked Monday about new potential restrictions and what the threshold would be to impose them, Murphy said it comes down to what the state can regulate and what it can't. It can't regulate what happens in people's private homes, he said -- and noted "we don't have the evidence right now to lead to reversing" any reopening on any grander scale. That doesn't change his level of concern, though.
Previously, Murphy has said that should he have to reinstate restrictions, that would likely be done similarly to the narrowly targeted geographic ones in New York. The New Jersey governor compared it to using a "scalpel" to carve out certain COVID blights in highly specific areas within specific communities.
Daily Percentage of Positive Tests by New York Region
Gov. Andrew Cuomo breaks the state into 10 regions for testing purposes and tracks positivity rates to identify potential hotspots. Here's the latest tracking data by region and for the five boroughs. For the latest county-level results statewide, click here
Source: ny.gov
That's more or less precisely how Cuomo has approached the New York clusters, which have driven statewide and citywide hospitalizations to their highest levels in months. Overall, the numbers remain significantly better than those nationwide.
"When we put our infection rate in context, we're doing well - and we're doing well because we're aggressive when we see hot spots. Our micro-cluster approach for the fall targets outbreaks sooner, and with a targeted focus," Cuomo said.
The rules were put in place for a minimum of two weeks; the city hits that window on Thursday. While de Blasio reiterated in his Monday briefing the same cautious optimism on Brooklyn and Queens hotspots he spoke of last week, he said the city still has work to do -- and it may take another week or so to ensure the trends are moving in the right direction. He urged people in Brooklyn clusters especially to get tested if they haven't recently to give officials a more complete picture.
The ongoing uptick in cases may have drawn more parents citywide to opt for in-person learning rather than risk sending their children to school. As of Friday, 46 percent of NYC public school students were still enrolled in in-person learning — down from around 66 percent toward the end of the summer when the city was first getting ready to have students back in school, which of course was later pushed back due to fears that schools were properly equipped to best fight and prevent the spread of COVID.
"We've still got a lot of work to do," the mayor said. "This next week or two will be crucial to make sure we consolidate our progress and retain the progress we have had previously."
The city's daily case averages have leveled off since the cluster spikes, though are still higher than they've been in months. The rolling seven-day positivity average (1.62 percent) also appears to have plateaued but at a level precariously close to the 2 percent-threshold that de Blasio set as the measure to close indoor dining citywide. That's still infinitely better than what most of the country is seeing.
According to data from Johns Hopkins on Monday, New York, the former epicenter of the national crisis, has the third-lowest infection rate among U.S. states. Only Massachusetts and Maine have lower positivity rates. The state with the highest, Iowa, has a seven-day rolling positivity average about 50 percent higher than New York's (50.58 percent). New Jersey and Connecticut, despite recent upticks, both still fall within the top 10 lowest U.S. transmission rates.
Cases have been soaring globally and nationally in recent weeks. At least seven U.S. states have recently set new records for single-day increases in coronavirus cases, prompting some to set new restrictions as concerns mount over possible "superspreader events" during the upcoming holiday season.
Worldwide, the COVID case total topped 40 million Monday. Some countries have reinstituted sweeping closures, while others opt for smaller-scale shutdowns.
Public health experts say the message behind the measures is key for the hotspot-targeted approach to work.
"Lead with: 'Here's a community in need. ... We should be empathetic,'" said Rutgers University epidemiology and biostatistics professor Henry F. Raymond. "It's not a criticism of those people's behaviors. It's just saying, 'These communities might need more attention.'"
Cuomo has faced a series of emergency court orders against the state over the last two weeks, primarily from religious institutions trying to block the capacity limitations on houses of worship. Judges have sided with the state in each case.
The state also moved over the weekend to shut down a planned Brooklyn wedding that up to 10,000 people were expected to attend Monday. The nuptials are still permitted to proceed, though just close friends and family can attend.
De Blasio said he would have a "backup plan" in place to ensure those involved in the wedding adhere to COVID requirements later Monday.
Copyright NBC New York