Truck Driver Pleads Not Guilty in Kerry Kennedy Case
A court clerk says Rocco Scuiletti of Poughkeepsie entered his plea during a brief appearance Friday in North Castle Town Court
Friday, Sep 7, 2012 | Updated 5:07 PM EDT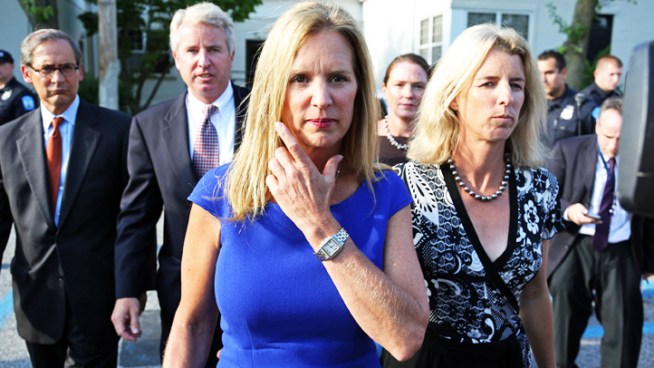 AP
Kerry Kennedy, ex-wife of New York Gov. Andrew Cuomo, flanked by her brother Christopher Kennedy, center left, and sister Rory Kennedy, right, walks from the North Castle Justice Court in Armonk, N.Y. Tuesday, July 17, 2012. Kennedy was arrested Friday after state police said her Lexus struck a tractor-trailer on Interstate 684 north of New York City. Police said she drove the damaged car off the highway before it became disabled.
The New York driver whose tractor-trailer was hit by a weaving Kerry Kennedy has pleaded not guilty to leaving the scene of an accident.
A court clerk says Rocco Scuiletti of Poughkeepsie entered his plea during a brief appearance Friday in North Castle Town Court.
The clerk says the next step is a trial.
Tests found a small amount of a sleeping drug in Kennedy's blood. She says she believes she accidentally took a sleeping pill.
Kennedy, who has pleaded not guilty, is due in the same court on Tuesday.