What to Know
Punishing rain walloped the tri-state area for nearly all of Tuesday, with heavy downpours and storms leading to flooded streets
Much of the area saw 3-5 inches of rain by the time the system started to move out -- totals the tri-state typically sees in a month. Some spots had 6+. River flood warnings remain in effect for a number of counties
Stony Brook, in Suffolk County, saw wind gusts near-hurricane strength (topping out at 73 mph) on Wednesday, though that threat has begun to subside across the tri-state area
A powerful nor'easter descended on the tri-state Tuesday, unleashing a month's worth of rain in 24 hours -- nearly 7 inches in parts of New York -- and the intense winds associated with the back end of the storm wreaked havoc on Wednesday.
Intensifying gusts tore down tree limbs and power lines across the tri-state area throughout the morning into early afternoon. In New Jersey, a woman died when a large tree branch came crashing onto her car as she traveled eastbound on Morris Township's Mendham Road, near Washington Valley Road, around 7:30 a.m.
Police say it was windy at the time but they say they're not sure if that's what made the tree limb fall. The dead woman's name has not been released. The same tree branch hit another vehicle traveling in the opposite direction at the same time, police said. That driver, also a woman, was taken to a hospital with a head abrasion. No passengers were in either car. The road was closed for hours as a result of the incident.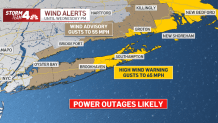 Some tri-state communities were walloped by power woes late Tuesday into Wednesday, though the threat began to subside by early Wednesday afternoon.
Nearly 24,000 tri-state customers were without power as of mid-morning, the vast majority of them in the Rockaways and Putnam County, where hard-hit Mahopac saw the most rainfall in the tri-state from this system (6.80 inches). By the evening, outages were down to about 8,000, most of which were in Connecticut.
Wind advisories remain in effect for parts of Long Island and Connecticut, while river flood warnings are ongoing for nearly a dozen tri-state counties. Parts of Suffolk County saw a wind gust topping 70 mph earlier Wednesday. Max gusts topped out around 47 mph in New York City (Queens) around the same time.
In New York City, the Parks Department said that it responded to reports of 36 reports of downed three throughout the five boroughs, 13 of which were in Queens. Check the latest severe weather alerts for your neighborhood here.
As far as rainfall, that threat has ended for now. Most of the tri-state area saw a widespread 3 to 5 inches of rain. New York City reported about 3.5 inches.
Some hard-hit spots, including Mahopac, saw more than 6 inches, recording well more than a month's worth of rainfall in less than a day. Areas in Suffolk County, like Ridge and Centereach, saw similar amounts,
---
Check the latest rainfall totals here
---
Both Gov. Kathy Hochul and Gov. Phil Murphy, keenly aware of the unexpected devastation wrought by the remnants of Ida in September, declared states of emergency for New York and New Jersey, respectively, as the storms approached.
Many New Jersey rivers and streams flooded roads, which forced street closures — although some drivers tried to risk it anyway, and in some cases with near-tragic results. Two people in Keyport had to rush to get out of a car that went up in flames after trying to drive through water but stalled out.
The two were pulled out by first responders before the flames roared to life.
In the waters off New York's Long Island, the U.S. Coast Guard and local police searched Tuesday for a kayaker who did not return from a trip Monday night. He left a few hours before heavy rain started falling. Authorities said Laurence Broderick's body was later recovered by a Coast Guard unit in the Bronx.
Clouds will linger through much of Wednesday, but some sunshine should return in the late afternoon. Winds stay gusty throughout all of Wednesday for most.
The weather calms down Thursday -- but it'll only be a brief reprieve.
Yet another system is expected to bring more rain and some wind Friday -- mainly in the late afternoon and evening hours -- though it's not expected to be nearly as intense as the nor'easter that thrashed the tri-state area Tuesday and Wednesday.
Some showers linger into Saturday, but Sunday is expected to be mostly dry for Halloween festivities with highs in the low 60s. Expect similar weather Monday before temperatures fall into the high 50s through the better part of next week.
Track any approaching storms using our interactive radar below.
Copyright NBC New York