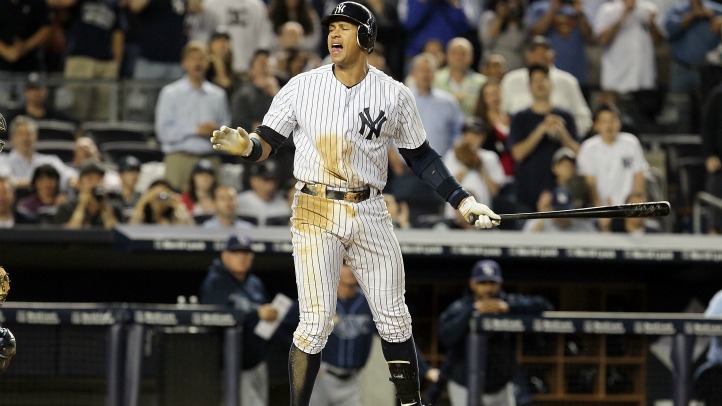 There have been one-sided routs, nailbiters and everything in between when David Price and CC Sabathia have faced off against one another over the years.
No matter what kind of game unfolded, there has been one common thread linking all of them together. Price winds up shaking hands with his teammates at the pitcher's mound while Sabathia has to shake his head and try to figure it all out for reporters in the locker room.
Nothing changed on Thursday night. For the sixth time in seven matchups, Price bested Sabathia as the Rays avoided a sweep and blocked the Yankees from grabbing first place in the AL East in a 7-3 win.
Sabathia was hardly terrible -- seven innings, seven hits, one walk, 12 strikeouts -- but the Rays were able to do two things that the Yankees could not. They got hits when runners were on base and they didn't make errors that opened the doors to big Yankee innings.
Alex Rodriguez was the poster boy on both fronts on Thursday. He struck out with one out and the bases loaded in the fifth inning after an 11-pitch battle with Price, part of a 1-for-10 night for the Yankees with runners in scoring position.
The Rays were 4-for-11 in those situations, including a run-scoring single and sacrifice fly in a third inning altered completely by a Rodriguez throwing error. Instead of having two outs and no one on, Sabathia had Elliot Johnson on second and he gave up two hits and the sacrifice fly to give the Rays a 3-1 lead that they'd extend even further with a two-run double last inning.
Price threw so many pitches escaping the fifth inning that the Rays pulled him from the contest, but the Yankees couldn't muster anything meaningful against the bullpen either. It was another night when victory played Road Runner to the Yankees' Wile E. Coyote, lurking just tantalizingly out of reach with every attempt to grab it ending with a puff of smoke and a little bit of shame about screwing up such a sure thing.
The loss leaves the Yanks a half-game back, which isn't a terrible place to be all things considered. The problem comes when you consider just two things.
How close the Yankees were to being a half-game in front and how often they've blown similar opportunities this season.
Josh Alper is a writer living in New York City. You can follow him on Twitter and he is also a contributor to Pro Football Talk.
Copyright FREEL - NBC Local Media