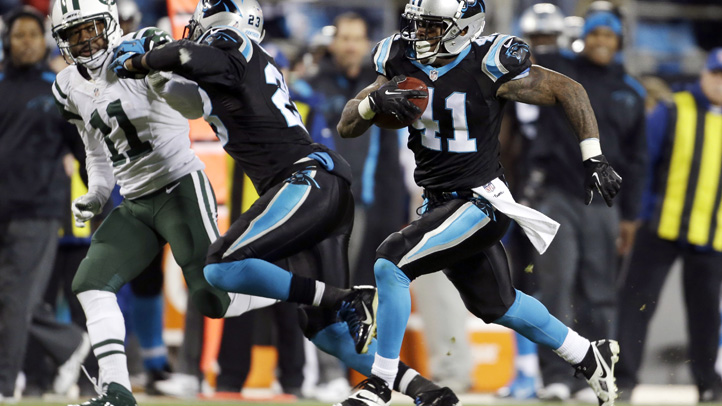 J-E-T-S: Just end the season.
When the Jets lose by 10 points and it is considered a moral victory, it's time to cut your losses and go home.
But that's how bad things have gotten for a franchise that only a few years ago fell one game shy -- in consecutive seasons -- from heading to the Super Bowl.
Nowadays, not getting blown out is cause for celebration.
The Jets did at least look competitive for much of Sunday's 30-20 loss to the Carolina Panthers – which could not be said for many of their other road performances in 2013.
Week 15 featured a couple of staples from this season: namely, giving up a long touchdown reception and a Geno Smith pick-six interception.
When Cam Newton evaded defenders and threw a short pass to running back DeAngelo Williams on the first play of a drive late in the second quarter, it seemed harmless enough. But a 72-yard touchdown later, there were a handful of Jets who were to blame for a defensive breakdown that simply cannot happen.
No one is denying that the Jets need to make some personnel changes in the secondary come the offseason, but considering head coach Rex Ryan is thought of in such high regard when it comes to defense, the unit sure does make a lot of plays that make you scratch your head.
Until the fourth quarter, that gaffe had been the only touchdown the Jets allowed on the day.
Carolina's first three trips into the red zone resulted in just two field goals and a turnover on downs as the Jets defense bent but didn't break. The Jets were actually hanging around and making things interesting before the roof caved in.
Down three points with about 13 minutes left in the game, the Jets had a punt blocked, leading to an eventual touchdown, and on the very next drive, Smith threw an interception into double coverage – giving the Panthers another easy score.
What was once a three-point game ballooned into a 17-point deficit in a matter of minutes.
Sunday wasn't exactly Smith's best performance, but it certainly wasn't his worst.
The rookie quarterback didn't get much help from his receivers, who were shut down by the so-called weak link of Carolina's defense.
Santonio Holmes, who unnecessarily took a shot at the Panthers secondary earlier in the week and labeled them as such, proved to be a weak link himself by dropping two easy passes while recording just 14 receiving yards on two receptions.
Running back Chris Ivory, the one player who has consistently shined on offense for the Jets, was somewhat disrespected himself in the third quarter by his own coaching staff.
Using defensive lineman Sheldon Richardson to rush for a one-yard touchdown might make for fun television, but not rewarding your workhorse running back with the carry is questionable at best.
The Jets have enough trouble scoring as it is. There was no reason to give Richardson one attempt, let alone two.
Since things like moral victories and feel-good moments from letting a defender score a touchdown don't show up in the standings, the Jets fell to 1-6 on the road this season. In their six road losses, they've been defeated by 10-points or more on five different occasions.
Should the Baltimore Ravens win tonight's Monday Night Football matchup with the Detroit Lions, the Jets will officially be eliminated from the playoffs for the third year in a row.
Who wanted to play a home game in Super Bowl XLVIII at MetLife Stadium, anyway? Jets fans can beam with pride knowing they didn't get blown out in a game with their season on the line.
That's the new definition of success around here, isn't it?