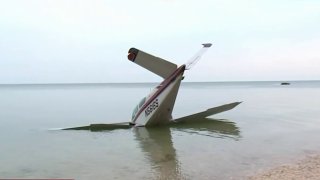 The pilot behind Friday's emergency beach landing on Long Island has been revealed.
A New York state assemblyman was piloting the single-engine Beechcraft when his aircraft started experiencing engine failure. The pilot and a passenger on board both survived the unplanned touchdown on a beach in Shoreham.
"This afternoon, I went out to practice maneuvers in my airplane," Clyde Vanel, who represents Queens, wrote on Twitter. "Unfortunately, the aircraft experienced engine failure."
The two men aboard the aircraft seemingly walked away unscathed, a feat Vanel credits to emergency training for such eventualities.
"I am thankful that I was able to walk away without injury. The FAA's training on emergency procedures works," he wrote.
A woman walking her dog along the beach spotted the descending plane and pulled out her phone in time to capture the aircraft seconds before making contact with the ground. The plane is seen landing on the sand and skidding several feet before sliding into the water where its nose came to rest.
"I'm thinking he's too close to me, I'm thinking to hide behind that stone just in case and then next thing you know, they crash," Caelyn Canace said, describing the tense moments watching the plane come down.
The men exited the aircraft and reportedly told Candance the plane was experiencing engine troubles and the pilot decided the beach was the best place to try and touch down. The men apparently walked away with only cuts and bruises.
Canace loaded the men into her car and drove them to Brookhaven Calabro Airport where they apparently took off from.
Copyright NBC New York