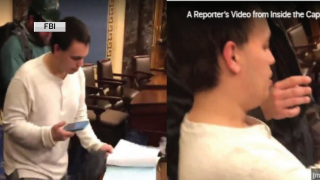 A man accused of walking onto the Senate floor last month and taking photographs of election-related documents is facing charges for his alleged participation in the deadly riot at the U.S. Capitol, federal officials say.
Christopher Moynihan, 30, was arrested Thursday by the FBI at his residence in Salt Point, New York, in Dutchess County.
Moynihan is charged in a federal criminal complaint filed in Washington, D.C. with entering a restricted building without authority, engaging in disorderly conduct, and impeding an official government proceeding, court papers say.
Two witnesses and former colleagues identified Moynihan as the person depicted on a videotape using his cellphone to take pictures inside the Senate chamber of official congressional notes and documents relating to the certification of electoral results. He was also identified on the videotape as standing on the dais inside the Senate chamber, court papers say.
The witnesses also identified Moynihan's voice on the videotape saying, "There's got to be something we can use against these f---ing scumbags."
An FBI agent said in the complaint that a former coworker of Moynihan identified him after seeing a video of the events at the Capitol last month.
Moynihan appeared via teleconference in federal court in White Plains Friday afternoon, and was ordered released on a $50,000 bond with electronic monitoring and travel restrictions. He is scheduled to appear remotely at a hearing next week in Washington. Moynihan's lawyer declined to comment.
Moynihan has joined a long list of tri-state area residents arrested and charged for their alleged involvement in the Jan. 6 attack. Days earlier a retired NYPD officer was accused of using a pipe to attack a U.S. Capitol officer.
Copyright NBC New York