What to Know
In addition to public and private schools, nonessential businesses in some hotspot ZIP codes in Brooklyn and Queens have been ordered to close; indoor dining will be shuttered in some places as well, while mass gatherings have been banned
The clusters' effects are starting to become more tangible; ER visits for COVID-like illnesses are on the rise. The city's daily case average has soared and its rolling positivity rate continues to inch up
The NYC clusters and those in Rockland and Orange counties are also affecting statewide numbers; hospitalizations hit their highest number Tuesday since July 22 (705) and the positivity rate is up
UPDATE: NYC Shutdowns in Cluster Zones Start Thursday; Fines Up to $15,000 a Day Apply for Violations
New York is ramping up its crackdown on COVID-19 hotspot "clusters," with new rules that include closures of schools and businesses, bans on mass gatherings and restrictions on restaurants, Gov. Andrew Cuomo said Tuesday.
Cuomo announced what he called a "Cluster Action Initiative" to try and combat the virus's spread -- essentially, concentric shapes with different levels of restriction, centered on clusters based on the number of cases. He identified one such cluster in south Brooklyn and two in Queens, with a central area (red), a surrounding area (orange) and a precautionary area (yellow). There are other clusters outside the city as well, in places like Rockland and Orange counties where the rollbacks will take place as well.
Here are maps of the areas, broken down by colors indicating the level of rollbacks that will be initiated: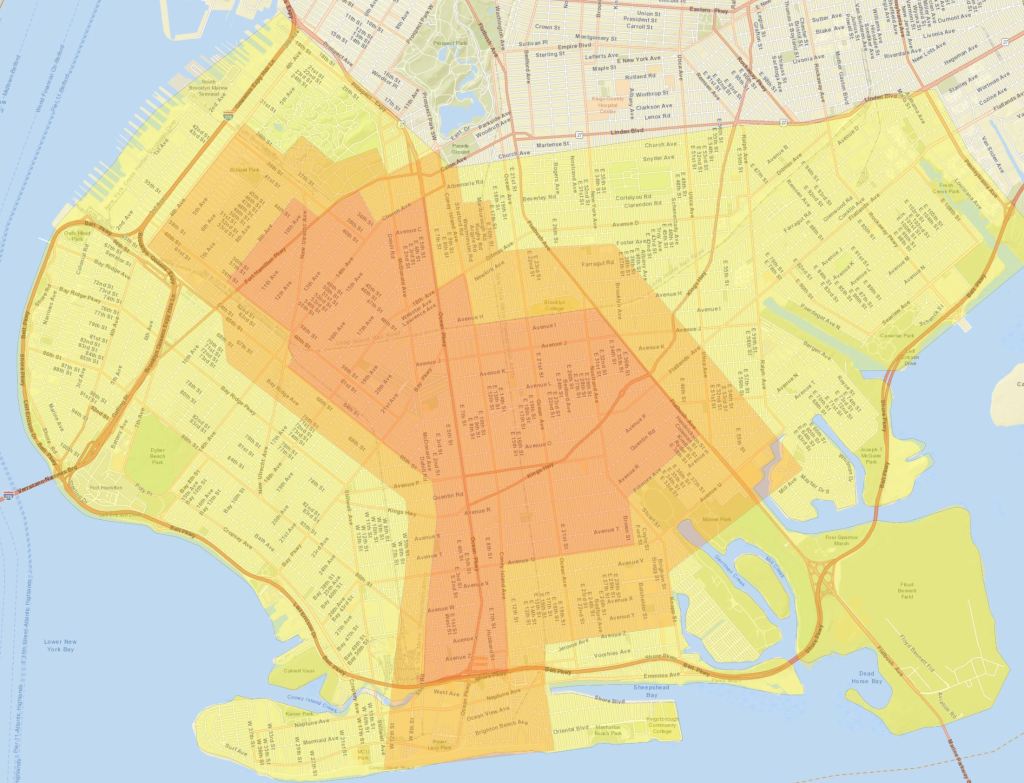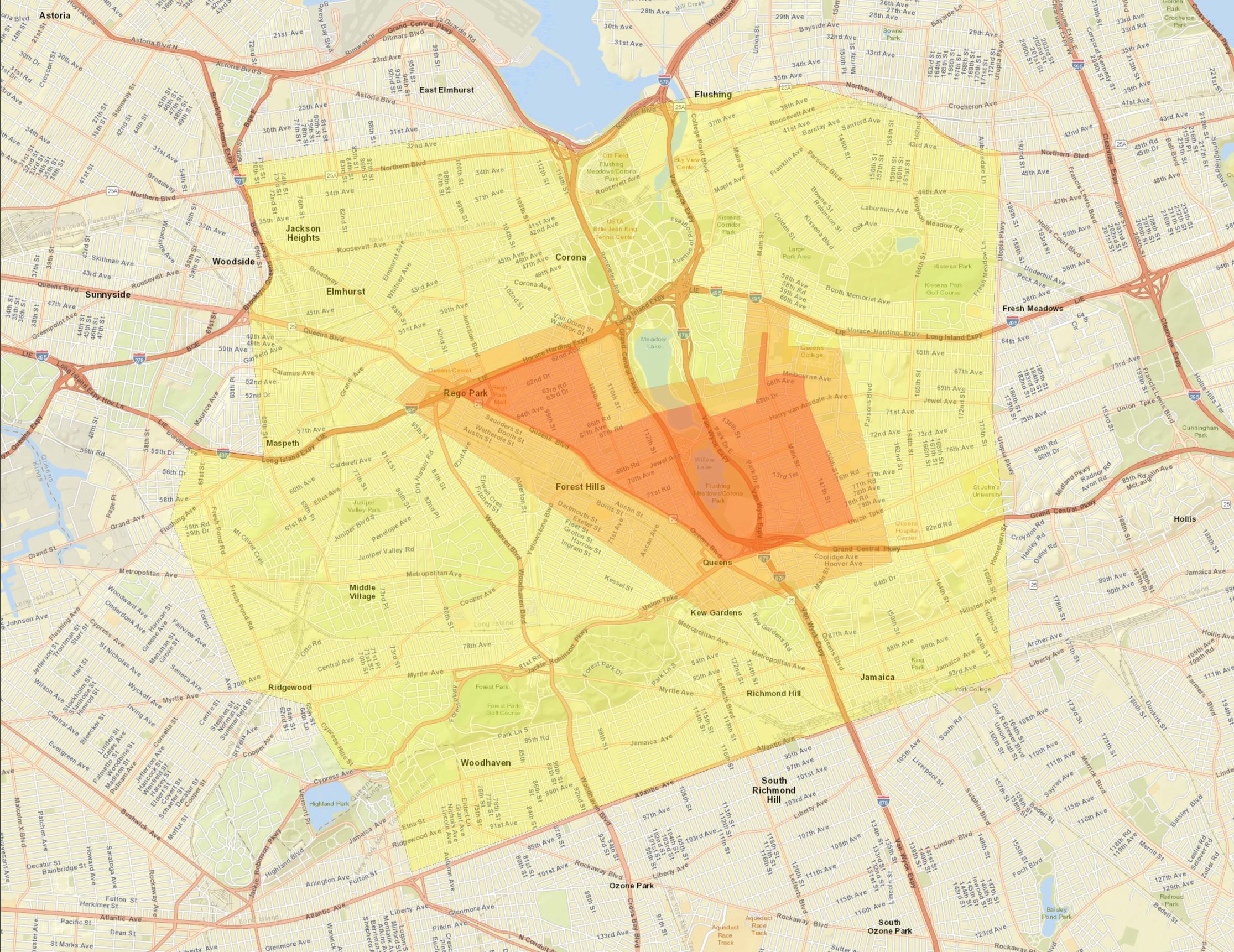 In red areas, mass gatherings are prohibited, schools and non-essential businesses are closed, dining is takeout only and houses of worship are limited in capacity. These are the areas that have been deemed to be most at-risk of spreading COVID-19, with numbers already spiking.
Schools in orange zones would also be closed and mass gatherings limited to 10 people maximum, indoor or outdoor. Places of worship would be limited to 33 percent capacity or 25 people, whichever is fewer, and high-risk businesses (like gyms and salons) would have to close, though others could stay open. Only outdoor dining would be allowed in orange areas, with each table limited to 4 people maximum.
Schools in the yellow zones can be open with mandatory weekly testing for students and staff, and all businesses can remain open as well. Places of worship can maintain 50 percent capacity, and gatherings are limited to 25 people. Indoor dining will also be also to continue in those areas.
Cuomo also announced that fines for those who sponsor large gatherings in violation of the state rules will be increased to $15,000.
The rules changes will last for at least two weeks and will go into effect on Thursday, according to the mayor's office, after the city does some outreach into the communities to educate residents about the changes. In his press conference, Cuomo advised that the non-essential businesses "get adjusted but no later than Friday," creating more mixed messages from the governor and mayor.
While the governor's office said that the zone maps are "final," the new rules from the state will be implemented in consultation with local governments in the surge areas. Localities will be required to provide the state with personnel to enforce compliance, with New York City on the hook to contribute 400 people to a task force, Cuomo said.
"There is no one who can say they didn't see this coming," the governor said at a news conference from Albany.
Cuomo stressed that houses of worship are a significant source of spread for the virus, and that the new rules will apply equally to them. He specifically mentioned the Orthodox Jewish community, whose leaders he met with Tuesday to ensure compliance in communities at the heart of some of the state's clusters.
"The Torah speaks about religious obligations can be excused if you save a life. No large gatherings in synagogues to save a life," Cuomo said.
Some parents who children go to a different religious school are upset that they fall under the school closure, even though there have been few cases in their community. Students at Good Shepherd Catholic Academy near Sheepshead Bay begrudgingly began remote learning after starting in-person learning five weeks ago, believing they're being punished unnecessarily even though they were complying with COVID safety measures.
"We have zero cases and we shouldn't get shut down for nothing," said 4th grader Liliana. She and other students went to the school not for class on Tuesday, but rather to protest and plead with Cuomo to let them reopen.
The parent who organized the rally said he and others are discussing a potential lawsuit to reopen, while the Diocese of Brooklyn asked the governor to examine individual school data instead. The Department of health visited four Catholic schools in the affected ZIP codes last week, finding just one positive case among more than 1,000 students and 100 teachers.
Cuomo's actions, the harshest in months, came as the situation in New York City worsened. Mayor Bill de Blasio added a 13th ZIP code to the watchlist Tuesday as daily case averages topped 500 for the first time in some time, and doubled down on the need for severe restrictions to contain further spread. Combined, new cases from the watchlist ZIP codes and the nine hotspots have accounted for more than 40 percent of all citywide cases over the last two weeks, officials said.
"The facts on the ground are clear. We need restrictions to stop this problem," de Blasio said in his daily briefing. "If we all do what's right as we did before, we keep moving forward. If we do it wrong, it endangers the whole city."
New York state reported its highest total hospitalizations Tuesday (705) since July 22 and its rolling seven-day positivity rate is slowly inching up as well. The change is even starker in the city.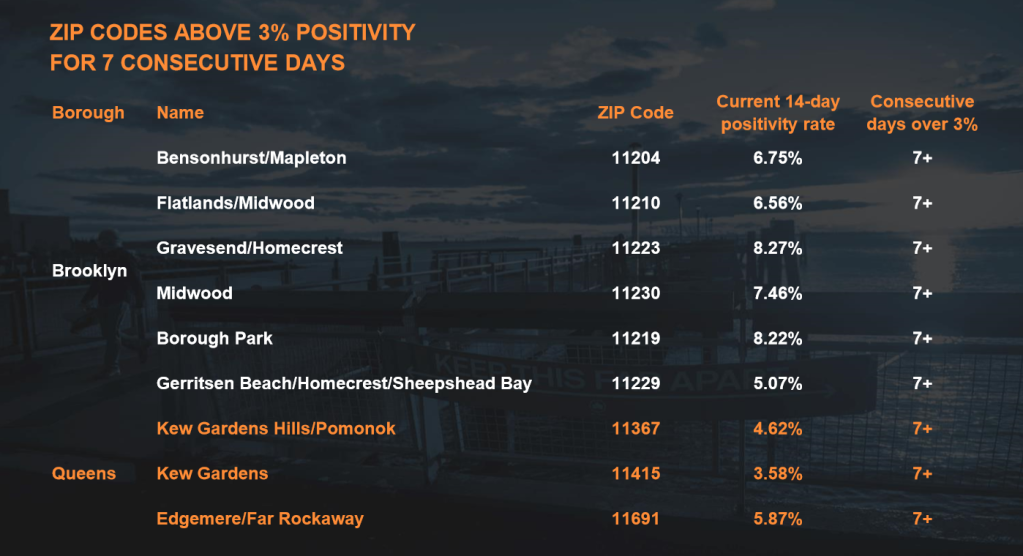 The mayor described the shutdowns Tuesday as a "necessary rewind" to prevent a potential second wave from overspreading the entire city like the first one did this spring. In an interview with NY1 the night before, de Blasio said he had been hopeful outreach and enforcement efforts would work as they did in some other neighborhoods in August and September. They have failed in this case, he said.
There was one somewhat encouraging sign from Tuesday. The mayor said that out of 35 schools where they did testing in the key ZIP codes, only two people were COVID positive out of more than 1,300.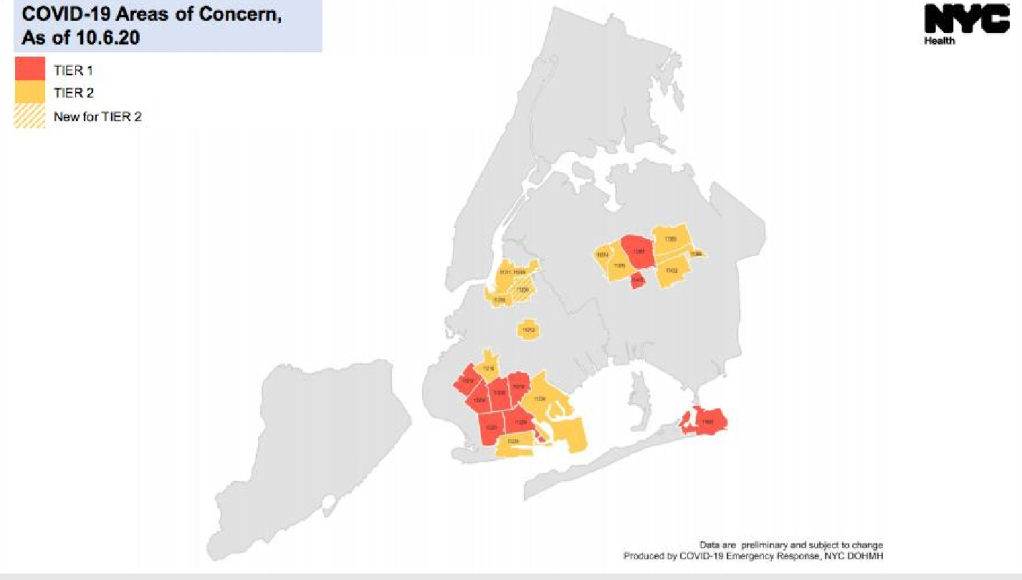 Still, the nine hotspots account for a quarter of new COVID cases citywide over the last two weeks, despite representing just 7.4 percent of the population. The clusters have already begun to expand to nearby neighborhoods; two of the now 13 ZIP codes on the watchlist are on the brink of the shutdown threshold. South Williamsburg (11206) became the latest addition to the watchlist Tuesday.
The initial slate of governor-ordered school closures targeted nine ZIP codes where the COVID positivity rate has topped 3 percent over a seven-day rolling period. Many of the ZIP codes have been well above that threshold for some time.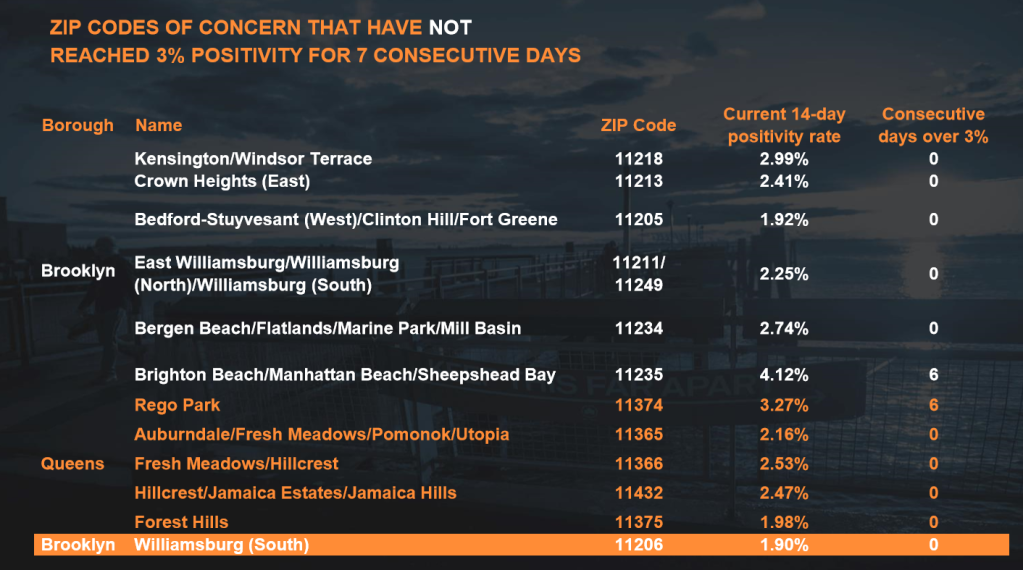 While some of the watchlist ZIPs have yet to see a single day with positivity rates of 3 percent or higher, two have seen six straight days of that as of Tuesday, meaning new shutdowns could come by Wednesday if the trend continues.
Daily Percentage of Positive Tests by New York Region
Gov. Andrew Cuomo breaks the state into 10 regions for testing purposes and tracks positivity rates to identify potential hotspots. Here's the latest tracking data by region and for the five boroughs. For the latest county-level results statewide, click here
Source: ny.gov
The clusters have most certainly become a problem -- one that becomes more apparent with each passing day, as the health indicators show. The city's daily average COVID caseload has ticked up steadily over the course of the week and topped 500 for the first time Tuesday after averaging about half that for quite some time. Emergency departments citywide are seeing a slight uptick in visits for COVID-like illnesses over the last week, the health department said.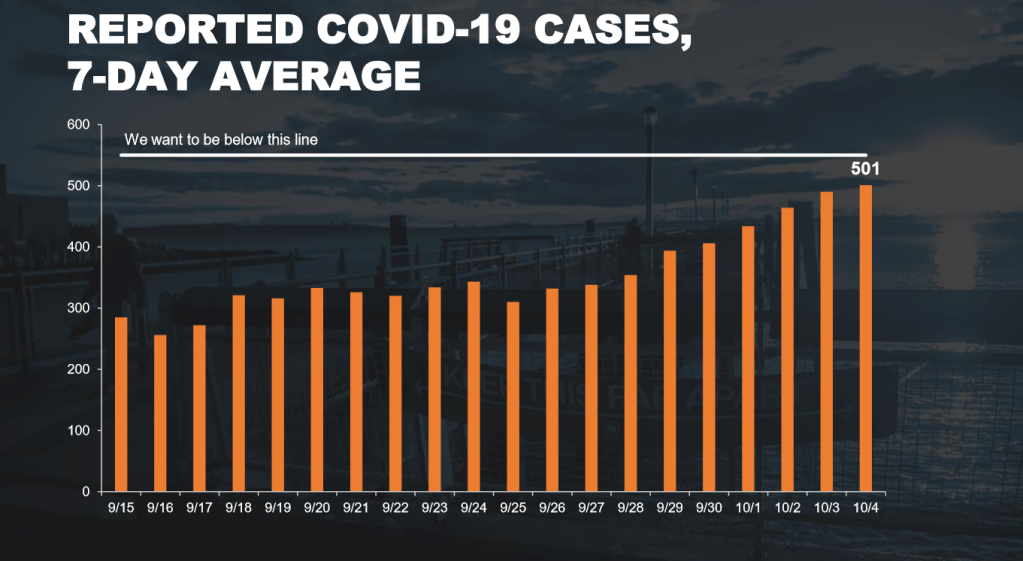 Health officials declined to identify specific hospitals seeing ER visits rise, though said in a statement, "With COVID19, increases in hospital visits generally follow an increase in cases. Data show we are starting to see an uptick in the number of hospitalized patients in two hospitals in Brooklyn and at least one in Queens."
The city's seven-day rolling positivity rate is also up. It hit 1.65 percent Tuesday and is inching closer and closer to 2 percent, which is de Blasio's threshold for shuttering indoor dining across all five boroughs.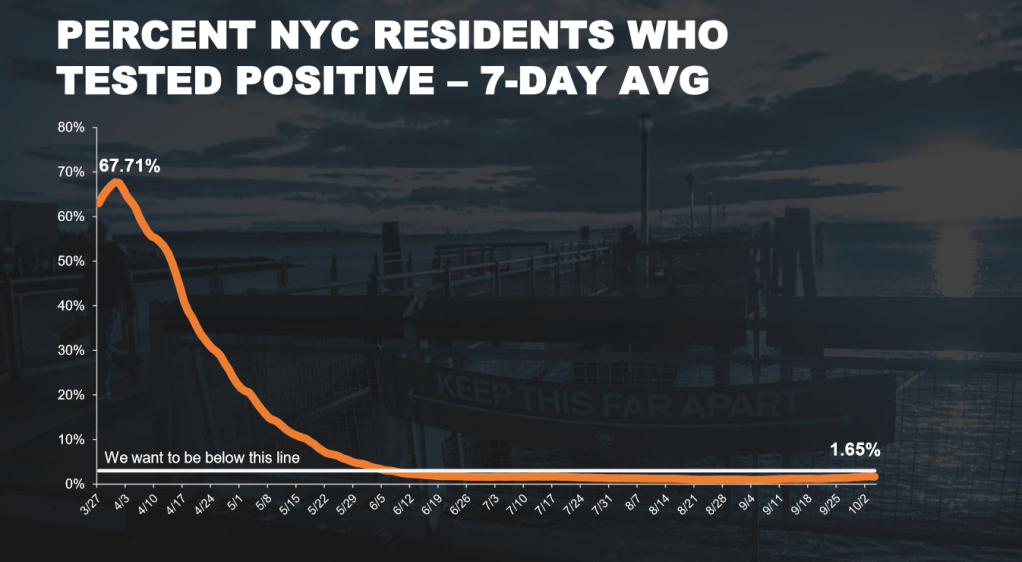 Statewide, New York's infection rate remains relatively low though is ticking up, hitting 1.4 percent Tuesday. The seven-day rolling positivity rate remains at 1 percent, though will likely increase in the coming days -- a hard turn just weeks after the state came off a 38-day stretch of infection rates below 1 percent. Statewide, there are 20 ZIP codes in areas with hotspots, the governor said. Excluding those areas, the rest of the state appears to be in good shape, with a positivity rate of 1.2 percent.
Even without the clusters, Cuomo has said he doesn't believe that the low infection rate, one of the lowest in the United States, is sustainable through fall. Fall means chillier weather and more indoor activities. It means flu season. It means schools -- if they can manage to safely stay open.
In Orange County, the health commissioner issued an order Monday mandating the closure of all public, private and religious schools if the seven-day rolling positivity rate exceeds 9 percent in a given area.
As of the state's last update, one ZIP code in the county (10950) had far exceeded that metric already. The county health department said that the area around Monroe, including the village of Kiryas Joel and the town of Palm Tree, had a 3-day positivity rate of 27.6 percent, three times the limit set by officials. The health commissioner didn't attribute the spike to any one event in particular, instead saying the spread comes from all types of mass gatherings, although the department does get dozens of non-compliance complaints in the county every day.
The health commissioner also warned for other parts of the county to take warning, calling the mandate there a "blanket order, meaning it's a template order that would pertain to any area of the county with that test positive rate."
Other hotspots have sprung up on Long Island. Mount Sinai South Nassau Hospital has seen a slight increase in COVID cases in recent days, while places like the village of Lawrence have been labeled hotspots — an increase the governor attributes to large religious gatherings. The community in the village has a large Orthodox population, who said they feel they are being scapegoated.
At the same time, COVID cases around the country and the world don't appear to be on the decline either. President Donald Trump and many in his inner circle have now been diagnosed with the novel coronavirus. The World Health Organization estimates up to 1 in 10 people worldwide may have had COVID-19 at some point, which is more than 20 times higher than the number of confirmed cases.
Travel is a continued threat to the tri-state area's progress, even as New York and New Jersey grapple with concerning upticks anew at home. The quarantine order Cuomo, Gov. Phil Murphy and Gov. Ned Lamont jointly implemented in late June remains in effect, requiring travelers from U.S. hotspots to isolate for 14 days before entering the tri-state area. Travelers must also fill out contact tracing forms; the order applies to local residents who have visited hotspots as well.
The number of U.S. states and territories from which travelers arriving to the tri-state area must quarantine for 14 days stands at 35. It was updated Tuesday, with the quarantine order now covering Alaska, Alabama, Arkansas, Colorado, Delaware, Florida, Georgia, Guam, Iowa, Idaho, Illinois, Indiana, Kansas, Kentucky, Louisiana, Minnesota, Mississippi, Missouri, Montana, Nebraska, Nevada, New Mexico, North Carolina, North Dakota, Oklahoma, Puerto Rico, Rhode Island, South Carolina, South Dakota, Tennessee, Texas, Utah, West Virginia, Wyoming and Wisconsin.
Copyright NBC New York