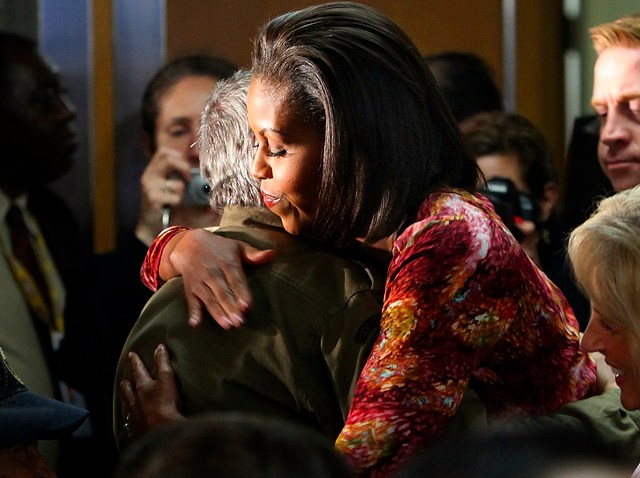 First Lady Michelle Obama and Dr. Jill Biden, wife of Vice-President Joe Biden, were greeted with cheers in the Bronx this afternoon, hours before tonight's first World Series game.
The two dignitaries were accompanied by members of championship Yankees teams while visiting patients at the James J. Peters Veterans Affairs Medical Center in the Bronx.
Mrs. Obama and Mrs. Biden shook hands with wounded veterans and handed them goody bags stocked with New York Yankee caps and teddy bears.
The First Lady expressed her gratitude to the crowd of servicemen and women for their sacrifice and said each of us "can reach out and do something really small" to help veterans by simply saying "thank you". That remark was followed by applause.
Dr. Biden said she and the First Lady are "overwhelmed by the courage of our men and women in uniform and are inspired by their sense of service."
Both Mrs. Obama and Dr. Biden are attending Game One of the World Series at Yankee Stadium.
For the first time, Major League Baseball is dedicating the first four games of the World Series to community service. Game One will focus on welcomebackveterans.org, with special recognition during pre-game ceremonies and during the 7th inning stretch.
Through tonight's events, Mrs. Obama said "we want to urge all Americans...to never forget.. That we owe them for what they've done for us".
Mrs. Obama and Dr. Biden is escorting Yankees legend and World War Two veteran Yogi Berra and Iraq veteran Tony Odierno, for thr first pitch. Odierno graduated from West Point and lost his arm in service in Iraq. He received the Bronze Star with Valor and a Purple Heart. Odierno now works for the Yankees in Stadium Operations. His father is General Raymond T. Odierno, the Commanding General of the Multi-National Force in Iraq.