Lynda Baquero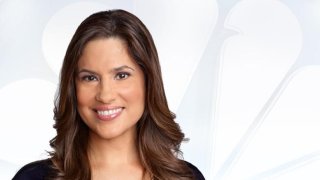 Emmy® Award winning Lynda Baquero is NBC 4 New York's consumer reporter. Lynda's "Better Get Baquero" segments resolve consumer complaints and provide updates on the latest consumer alerts. "Better Get Baquero" can be seen Monday through Fridayduring the 4 p.m. and 5 p.m. newscasts.
Baquero's reporting was a key component of NBC 4 New York's award-winning COVID-19 coverage, honored in January, 2021 with the prestigious Alfred I. duPont-Columbia University Award for "creat(ing) a 360 view in real time of the coronavirus pandemic, with courageous and thorough reporting on the virus's explosion in New York City." The duPont has long been recognized as the broadcast, documentary and on-line equivalent of the Pulitzer Prize, also awarded by Columbia University.
She is also host of the long-running series "Visiones" which highlights issues that affect the Hispanic community by presenting informative conversations from newsmakers, community leaders and celebrities on arts, education and health.
Baquero has been with NBC 4 in a variety of high-profile positions and has filed reports both at home and abroad. Lynda reported live from Puerto Rico on the country's economy and tourism and President Obama's visit to the island in 2011; Pope John Paul II's visit to the Holy Land; Cuba's economy and the state of religion as the country prepared for the Pope's historic visit. She covered the Salt Lake City and Atlanta Olympic Games; traveled to the Dominican Republic, Haiti and Puerto Rico to cover the arrival and devastating aftermath of Hurricane Georges and to Fort Bragg, North Carolina for a series of reports titled "Women in Combat." Lynda covered also covered President Obama's 2012 visit to New York.
Baquero has co-anchored NBC 4's "Weekend Today in New York;" "News 4 New York at 6 P.M." and "NewsChannel 4 at 6 P.M.". She has also served as host of the nationally broadcast business program, "Hispanics Today". The recipient of a 1998 local Emmy Award for "Religious Programming" for her coverage of the Pope's visit to Cuba, Baquero also received a 2006 Emmy award for "Best Evening Newscast" with Chuck Scarborough.
Lynda joined NBC 4 from NY1 News where she was an anchor, consumer reporter and video journalist responsible for researching, writing, shooting and editing her own stories. At WCBS-TV, she worked in every aspect of the newsroom from desk assistant, to researcher, to assignment editor, and finally associate producer of the daily consumer action segment, "Troubleshooter." Baquero was an associate producer of "NELY!" a talk show produced at WCAU-TV, Philadelphia, and for Telemundo where she wrote and co-produced various Spanish-language network specials.
Baquero has received numerous awards and recognitions. She was named one of El Diario La Prensa's "Mujeres Destacadas" (Outstanding Women) and received the Consulate General of Israel's "Woman of Valor" award. She was honored by New York University College of Arts and Sciences with their "Alumni Achievement" award and received the "Excellence in English Language Media" award from the Hispanic Organization of Latin Actors.
Dedicated to helping young people achieve their potential, Baquero is on the Board of Directors of Let's Get Ready, a non-profit organization that serves the educational needs of New York City students. She also serves on the Board of the Byram Hills Education Foundation, supporting students in Westchester County. She is also an active supporter of El Museo del Barrio's arts and education programs.
Fluent in Spanish and French, Baquero is a graduate of New York University and holds a Bachelor of Arts degree in Broadcast Journalism. She delivered the 2013 Commencement Address at St. Patrick's Cathedral for her alma mater Cathedral High School.
Baquero and her husband have two daughters.
Follow Lynda Baquero on Facebook and Twitter.
Need help on a consumer issue? You can reach out to Lynda and her team at NBCNEWYORK.COM/GETHELP or by calling the Consumer Tipline at 1-866-NEWS-244 and pressing 2 for consumer.