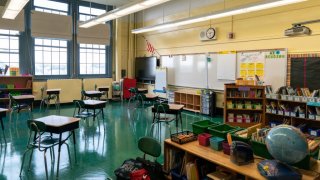 New York City Mayor Bill de Blasio announced major changes on Friday to the way schools in the country's largest district admit some of its students by reforming the screening process at selective schools throughout the five boroughs.
The changes, taking effect for the upcoming academic year in selective middle and high schools, "ensure our classrooms reflect the great diversity that is New York City."
The decision follows what de Blasio calls "the hardest of all school years."
Middle schools throughout the city that rely on a screening process to admit students will pause the practice for at least one year, the mayor said Friday. In its place, a lottery system will be implemented to target equal opportunity for student applicants.
That means that academic records, auditions and other assessments will no longer be used by schools to skim off the top-performing elementary school kids and segregate them from other children.
One of the key performance indicators of screens for incoming middle schoolers was standardized exams, which had been canceled district-wide since the early days of the pandemic.
The change is meant to address a pattern that has led to highly sought-after schools filling up with white, wealthier students.
"It's time to start using every tool at our disposal to address inequality," de Blasio said. "The status quo in New York City public schools cannot continue."
Admission applications for middle schools open Jan. 11, the Department of Education says. High school applications open one week later.
In the city's high schools, geographic priorities will be eliminated in the admissions process over two years. The DOE said district priorities for admissions will be eliminated in high schools in the first year. By year two, all other geographic priorities will be eliminated, like borough residence requirements.
High schools are invited to remove screen processes now, Cancellor Richard Carranza said Monday. If high schools wish to maintain academic or other screens, they will use the previous years' grades, tests, and grades from first part of last year as screening criteria.
Carranza called the changes "a common-sense approach" to tackling two issues: the challenges arising from the pandemic and longstanding patterns of racial concentration that leave many schools less diverse than the student population as a whole.
"These changes will help ensure that our classrooms reflect the great diversity that is New York City, and it's also a true representation of the values that we hold dear as a city — that equity, inclusivity and excellence for all children is at the cornerstone of what we do," he said.
New York City's school system has more than 1.1 million students. About 41 percent are Hispanic, 26 percent Black, 16 percent Asian and 15 percent white. Despite various administrations' professions of commitment to diversity and changes over the years to the system for assigning students to schools, many coveted schools fill up with white, wealthier students.
The specialized high school admission tests will continue as required by state law. Registration will open Dec. 21, Carranza announced Friday.
City Council Member Brad Lander called the announcement "a huge and important step towards fairness and integration in our schools and fundamentally necessary this year to mitigate the inequalities of pandemic school."
Copyright NBC New York/Associated Press