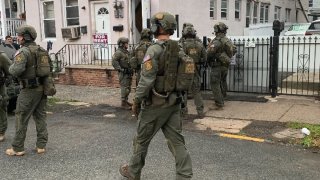 Agents from the ATF, DEA, Passaic County Sheriff's Office, Passaic County Prosecutor's Office and Paterson Police took part in a significant gang round up Thursday morning in Paterson.
Ten people have been charged for their roles as members and associates of "UpTop," a street gang involved in the distribution of drugs, including heroin, fentanyl, and cocaine base, Acting U.S. Attorney Rachael A. Honig announced Thursday.
Corey Boyd, 23, Leo Edwards, 27, Kwame Ellis, 30, Sean Morgan, 21, and Brent Staton, 20, and Kassan Drakeford, 31, all of Paterson, and Stefan Cameron, 25, of Hackensack, are charged with one count of conspiracy to distribute heroin, fentanyl and cocaine base. Six of the defendants were arrested Thursday morning. Ellis remains at large.
Also charged in the same complaint, and already in state custody on other charges, are Devin Kyle, 21, Edwin Diaz, 19, and Anthony Herring, 38, all of Paterson.
The count of conspiracy charged in the complaint carries a maximum penalty of 40 years in prison and a fine of at least $5 million, with a mandatory minimum prison sentence of five years.
Attorney information for the accused was not immediately known.
One source described some of the suspects as "Paterson's worst of the worst" while another source said some of the suspects were "major drivers of crime" in New Jersey's third largest city.
ATF, DEA, Passaic County Sheriff's Office, Passaic County Prosecutor's Office and Paterson Police officers were seen searching for gang suspects in Paterson, with a number of the arrests taking place in Paterson's Fourth Ward.
According to the complaint, the accused are members and associates of the UpTop street gang, which operates primarily in the Fourth Ward of Paterson. Prosecutors allege that through numerous controlled purchases of drugs, consensually recorded telephone calls and text messages, physical surveillance, and the analysis of telephone records, the investigation uncovered evidence that from January 2020 through April 29, 2021, they conspired to distribute heroin, fentanyl and cocaine base.
Members and associates of UpTop sometimes compete with each other for narcotics customers within the gang's turf, according to the complaint. However, the investigation has shown that UpTop members work together to ensure that outsiders are unable to distribute narcotics within the turf by working together to preserve and protect the power, territory, and reputation of the gang, and to hinder, obstruct, and prevent law enforcement officers from identifying their alleged criminal activities.
"Today's takedown of gang members is a major victory for the residents of Paterson. Public safety has been a critical component of the foundation of my administration's agenda and today's charges speak to the need for aggressive measures against those who strike fear in our residents and violate our quality of life," Paterson Mayor Andre Sayegh said. "I'd like to offer my gratitude to the U.S Attorney's Office, ATF and the other agencies that were involved in this operation. I look forward to hosting a press conference, tomorrow, to divulge what this means for Paterson."