What to Know
Cleveland Butler, 85, died after a stroke at a Brooklyn nursing home and his son and daughter brought him to NJ to be buried
After a brief service, they say a cemetery caretaker dropped some items into the grave and when he went to get them, they noticed the foot
James Shmergel, owner of the cemetery, said he didn't find such an incident in a graveyard to be unusual -- or newsworthy
WARNING: Some may find the photo toward the bottom of this page disturbing.

Grieving New York City siblings are demanding answers after they say the decaying foot of a corpse from an adjoining grave appeared on top of their father's blue casket as they were laying him to rest at a New Jersey cemetery last week.
Cleveland Butler, 85, died after a stroke at a Brooklyn nursing home and his son and daughter, Alonzo and Sandra, memorialized him at a Bedford-Stuyvesant service last week before heading to Mount Holiness Memorial Park in New Jersey where their mother and grandparents are buried, according to the Daily News.
[NATL-NY]40 Years After Son of Sam's Arrest, Archive Photos Show Dramatic Scenes From One of the Most Notorious Killing Sprees in American History
There was a brief service at the graveside, then Butler's casket was lowered into the ground. At a news briefing Friday, a family representatives said a cemetery worker dropped a pack of cigarettes and his phone into Butler's grave and when he used a rake to haul the items back up, the mourners were stunned: a human foot wrapped in cloth jutted out from the dirt and onto Butler's casket.
"Imagine you're at your father's funeral in the cemetery and they're lowering his body in the grave and all of a sudden one of your loved ones look down into the grave and see a leg on top of your father's casket," Sandra Butler said. "I'm so beyond overwhelmed, I'm very stressed, I'm very depressed because I've never ever been to a funeral and seen anything like this before. It's just too much."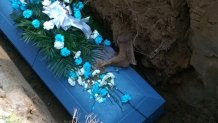 Sandra Butler called for a local and federal investigation -- a sentiment echoed by her brother, Alonzo Butler. Their great-grandparents are also buried there.

"Nobody's limbs should be sticking out from any other object or thing or nature in that form," Alonzo Butler said. "We have a cemetery of veterans, I am a veteran, and we need an investigation to make sure that because this is a predominantly black cemetery, that this is not a normal thing that occurs over there, that you just throw bodies into the ground and you take the caskets."

Relatives say the workers quickly started to fill the grave in with dirt as if to cover up the gruesome find, but a cemetery caretaker told the News he didn't want to get into an argument with grieving people and just wanted to get the process over "as soon as possible."
James Shmergel, owner of the cemetery, said he didn't find such an incident in a graveyard to be unusual -- or newsworthy. A cemetery caretaker told the News the casket from which the foot was protruding was put in the ground in 1969 and had deteriorated.
Top Tri-State News Photos