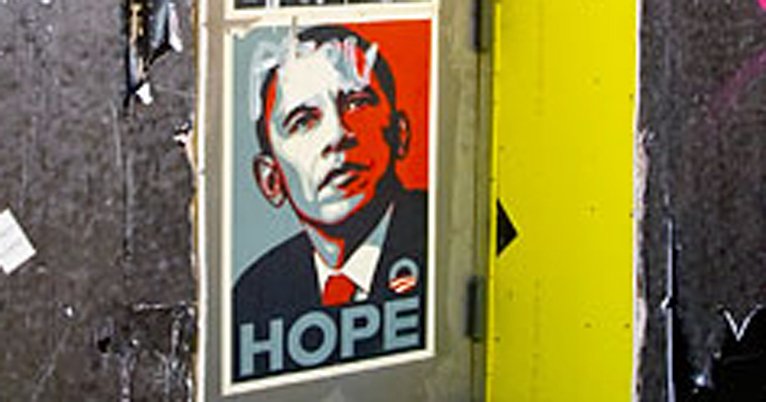 The Associated Press has sued Urban Outfitters and other clothing retailers in federal court, accusing them of selling T-shirts that violate the news agency's copyright of a photograph of Barack Obama that an artist's "HOPE" image was based on.

The news agency filed separate lawsuits Wednesday against Urban Outfitters Inc., Nordstrom Inc. and Zumiez Inc., seeking unspecified damages for products using the image that were sold at stores nationwide.
In each lawsuit, the AP said the retailers had engaged in willful and blatant violation of the AP's copyright to a photograph that artist Shepard Fairey's "HOPE" image was based on.
The AP and Fairey settled copyright claims against each other this year. A trial over copyright claims brought against a clothing company that sells apparel bearing graphics created by Fairey is scheduled to go to trial March 21.
"We're aware of the lawsuit and are reaching out to our vendor to determine next steps," said Tara Darrow, a Nordstrom spokeswoman.
Representatives of the other retailers did not immediately respond to several messages left for comment.
AP spokesman Paul Colford said in a statement that the copyright issue was important to the not-for-profit news organization.
"When a commercial entity such as these retailers, or the company that sold the shirts to them, gets something for nothing by using an AP photo without credit or compensation, it undermines the AP's ability to cover the news and devalues the work that our journalists do, often in dangerous locations where they may literally risk life and limb to cover a story," he said.
The lawsuits resulted from a continuing effort by the AP to protect the copyright of a 2006 picture taken of Obama at the National Press Club in Washington while he was a U.S. senator from Illinois.
Fairey used the picture, which became an iconic image in Obama's presidential campaign, as a basis for the red, white and blue image showing a determined Obama gazing upward, with the caption "HOPE."
Apparel manufacturer One 3 Two, which does business as Obey Clothing, has said in court papers that it began manufacturing T-shirts based on the image after one of its largest customers, Urban Outfitters, requested the shirts.
Copyright AP - Associated Press