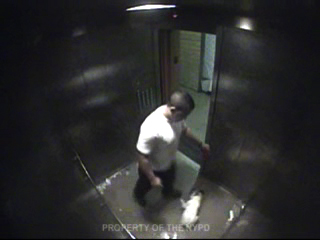 If animal cruelty turns your stomach, you should not watch this video.

The NYPD took a good look, and what they saw -- a 21-year old man violently kicking a tiny dog -- led to criminal charges.

Chris Grant now stands charged with torturing and injuring the animal. Police say the little pooch, a 12-pound Pomeranian-Chihuahua named Chuvi-Duvi, belonged to Grant's girlfriend.
And there's a twist: cameras captured the attack while police scoured surveillance tapes for a killer in the same apartment complex, Grant Housing Development in upper Manhattan.

They later found the man accused of stabbing nine-year old Anthony Maldonado, the victim of one of the city's first homicides of 2010.

The two crimes are not connected, but Police Commissioner Ray Kelly says solving them involved the same basic tools: a camera, and a cop paying attention.

In condemning the alleged dog-kicker, Kelly called Grant "an abusive individual who repeatedly and brutally beat a small defenseless dog."

See for yourself, but if you're an animal lover, be advised: it's tough to watch.