Andrew Siff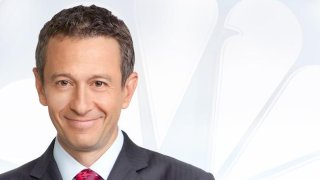 Edward R. Murrow and Emmy® Award-winning journalist Andrew Siff reports on transportation, governmental affairs, politics and general assignment issues for NBC 4 New York. He regularly appears weekdays at 4 p.m., 5 p.m. and 6 p.m.
Siff's reporting was a key component of NBC 4 New York's award-winning COVID-19 coverage, honored in January, 2021 with the prestigious Alfred I. duPont-Columbia University Award for "creat(ing) a 360 view in real time of the coronavirus pandemic, with courageous and thorough reporting on the virus's explosion in New York City." The duPont has long been recognized as the broadcast, documentary and on-line equivalent of the Pulitzer Prize, also awarded by Columbia University. Siff chronicled the COVID-19 outbreak and response of the Cuomo and DeBlasio administrations, including the impact on public transportation, local businesses and both students and teachers at New York City public schools.
Siff was awarded a national Edward R. Murrow Award for 2016 for "Mother Nature, Let Up," a feature story which took a deeper look at extreme weather throughout the Tri-State. He also received a national Edward R. Murrow Award and a national Emmy® in 2014 for NBC 4 New York's team coverage of Superstorm Sandy. Additionally, Siff was honored with two regional Edward R. Murrow Awards in 2019 for feature reporting, with his profile of a veteran's fight against PTSD awarded a third regional honor in 2020.
Winner of 12 New York Emmy® Awards, Siff was recognized as the market's top transportation and traffic reporter in both 2018 and 2019. He was also honored for "General Excellence in Reporting" in 2013.
Additionally, Siff's reporting was an important contributor to a second prestigious station honor. His work during the deadly December 2019 Jersey City shootout was recognized by the Radio Television Digital News Association (RTDNA), which awarded NBC 4 New York the 2020 National Edward R. Murrow Award for Top Television Newscast.
A daily subway commuter who frequently utilizes all modes of public transportation, Siff has taken viewers on a tour of New York's largest public construction projects in recent years, including the Second Avenue Subway, the East Side Access Project and the new Kosciuszko Bridge. He also travelled to London to investigate the impact of congestion pricing, in advance of New York's new rules.
Siff has covered the Tri-State's biggest stories throughout his time at WNBC. He delivered up-to-the minute updates throughout the Eric Garner case – including being the first to report on 'how' the departmental Judge reached her verdict. Siff also provided complete coverage of Sean Bell "50 shots" trial in 2008, including being the very first television journalist to report the verdict.
He has also extensively covered the political scene at all levels of government – from City Hall to the White House. Siff covered President Biden's campaign from Wilmington, Delaware and his Inauguration from Washington, D.C. In 2020, he covered President Trump's Impeachment trial from Washington, D.C and presidential primaries live from New Hampshire and South Carolina. One year earlier, he was also in Washington, D.C. to cover the 9/11 Victims Compensation Fund's extension and the Congressional testimony of former Special Counsel Robert Mueller. Siff delivered live reports from then-presidential candidate Donald Trump's 2016 election night party at the New York Hilton.
In 2013, Siff covered the New York City mayoral primary which featured a memorable, one-on-one interview with former Congressman and then-candidate Anthony Weiner. He later chronicled then-Public Advocate Bill De Blasio's election as Mayor, along with De Blasio's transition into office and his re-election campaign, four years later.
Siff has also filed several memorable feature stories. These include a look at Olympic boxer Marcus Browne from Staten Island, a behind-the-scenes portrait of Marcus Robinson who created works-of-art inspired by the men and women who rebuild the World Trade Center, and an NYU Langone Medical Center/Bellevue Hospital project known as "The Harlem Barber Shop Project," where customers received life-saving preventive health screenings.
A native New Yorker and Hunter High School alumnus, Siff graduated from Wesleyan University with a bachelor's degree in English. He is a member of the Inner Circle Show, a group of seasoned reporters and media personalities which raises money for local charities. He has also been recognized by the New York Press Club, The Press Club of Long Island, and the Syracuse Press Club for feature reporting.
Siff is an avid Yankees fan who covered the historic 2019 "London Series," featuring the Bronx Bombers and Boston Red Sox. He is also a passionate fan of the New York Giants. Siff lives with his wife and two children in Queens.