What to Know
Strong thunderstorms, possibly bringing hail and gusty winds, are likely for much of the tri-state over the next few days

While any strong storms are expected to be isolated, the places that do get hit will likely see extensive rain

Forecasters say the best chance for widespread showers and storms is late Friday into Saturday as a cold front approaches
A line of strong storms bringing gusty winds, hail and torrential downpours pummeled the tri-state area Wednesday, toppling tree branches and power lines in parts of New Jersey, causing hours-long airport delays and prompting flash flood warnings in several cities and the boroughs of Manhattan and the Bronx.
Hail Falls, Power Lines Topple Over Amid Wicked Weather
Thunderstorms began to develop across northeastern New Jersey around noon Wednesday; menacing clouds rapidly emerged over Top of the Rock in the city and shortly thereafter, torrential rain started falling. Hail the size of golf balls was reported in Westchester County by early afternoon; other reports of hail came in from Brooklyn and Wayne and Denville in New Jersey. See the latest severe weather alerts here.
The storms caused flight delays at LaGuardia, Kennedy and Newark airports, with LaGuardia flights delayed an average of more than six hours and flights at Newark delayed an average of nearly six hours. Delays at Kennedy were more than three and a half hours.
Raw Footage: Midsummer Hail Hits NYC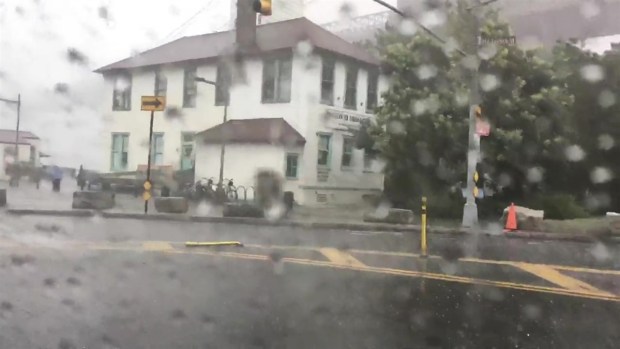 The storm toppled a tree onto a house in Caldwell as another tree fell on top of power lines in Totowa. A car in Woodbridge was also smashed by a tree. And in Saddle Brook, lightning forced a man out of his home when it struck a chimney, causing smoke to fill the attic

Thousands of PSE&G customers lost power in New Jersey and New York, including in Passaic, Orange and Rockland counties. Verizon said crews would be working through the night to fix utility poles toppled in Wayne, New Jersey.
Louis Santiago was working at a gas station when the power lines went down. "I was definitely scared," he said, adding that he and others hid at the gas station as the storms moved through.
Severe thunderstorm warnings were issued for a number of cities in New Jersey, Connecticut and New York, including the Bronx, where the Yankees had to delay the start of their 1:05 p.m. game, through early afternoon. In the Manhattan neighborhood of Washington Heights, water flooded the 1 train station at 181st Street.
Flash flood warnings were also in effect, and cars were submerged in water from Wayne to Paterson. Some workers were using a lift to get through a flooded street.
"Those people don't think it's a problem driving in the rain," said Janet Salerno, of Randall, said. "They are driving like it's a sunny day."
Dangerous cloud-to-ground lightning was also reported across the region, and one house in Saddle Brook, New Jersey, appeared to have been damaged by a strike. No injuries were reported.
Most of the shower and storm activity will settle down heading into the evening, but it will remain muggy and murky with areas of patchy fog possibly developing overnight, Storm Team 4 says.
The rest of the workweek will continue to feature hot, humid and stormy weather. Another round of showers and storms is forecast for both Thursday and Friday, and more flash flooding is possible in the afternoon on those days. There'll be a good mix of sun and clouds the rest of the day, with highs climbing back into the mid 80s.
Storms Topple Trees, Power Lines in New Jersey
Forecasters say there's a better chance for widespread showers and thunderstorms late Friday night into Saturday as a cold front approaches the tri-state area. Even though Saturday looks to start off a bit soggy, conditions will improve by the end of the weekend with highs in the low 80s and plenty of sunshine returning on Sunday.

5 NYC Pools Where You Can Swim for Free this Summer
Published at 12:32 PM EDT on Aug 2, 2017 | Updated at 11:47 PM EDT on Aug 2, 2017