UPDATE: Total Chaos Over 6 Inches? Some Call for NYC Mayor to Resign
The first snowstorm of the season to hit the New York City area brought several inches of heavy, wet snow that slowed the evening's commute to a crawl, completely paralyzing it in some spots.
Mass Transit Commuters Wait Hours for Rides Home Amid Storm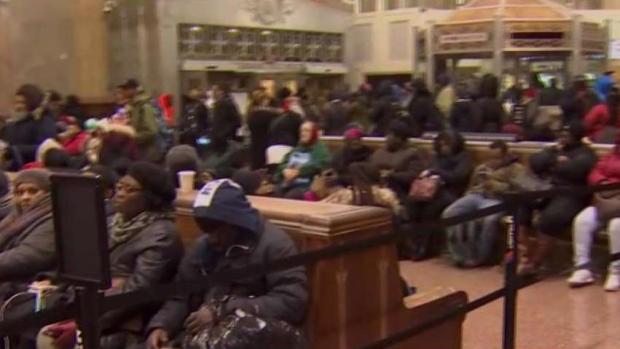 The snowfall Thursday downed countless tree branches throughout the city, causing traffic gridlock in some areas. Police advised people to stay indoors and avoid the roads, if possible, but it was too late for commuters trying to get home. Check the latest traffic and transit advisories here.
The Port Authority Bus Terminal had to be partially shut down due to overcrowding. Lines outside the terminal were stretching around the block even as the evening rush wound down. Officials say the poor weather made it difficult for buses to reach the terminal.
Early Wednesday, NJ Transit said bus riders should plan for extra travel time and expect delays and cancellations on Friday because "many bus operators worked past their normal end times.
Federal law requires a mandated rest period, which means some operators may not be available for morning service."
Extreme Overcrowding Closes Port Authority Bus Terminal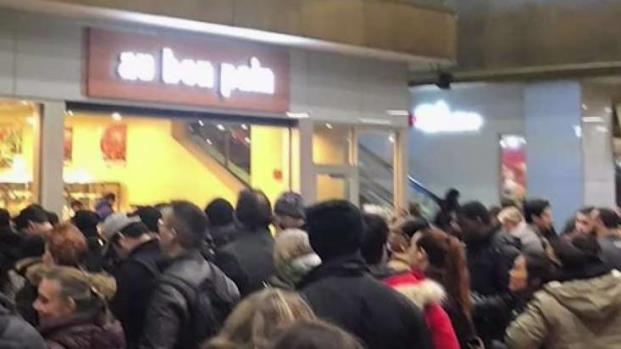 Newark's Penn Station was also a nightmare for many, packed wall to wall with exasperated commuters, who resorted to pushing and shoving amid the disorder and lack of communication. The Long Island Rail Road and New Jersey Transit also had systemwide delays.
Port Authority pic.twitter.com/JAtQ2ok2Hi

— JJ (@Jawwadhaq) November 16, 2018
LIVE on #Periscope: Newark Penn Station mayhem https://t.co/IsbxgesI5q

— Steve Bracco (@OneEyedWonder) November 15, 2018
.@News12NJ@CBSNewYork@NBCNewYork@ABC7 View from @NJTRANSIT bus at 16E tolls on NJTurnpike. 3+ Hours on Bus. Have not seen one plow or salt truck out at all thanks to @GovMurphy Elderly passengers getting sick. @PANYNJ@realDonaldTrump@njdotcom@NJDOT_infopic.twitter.com/MxBi8VWpdm

— Milez25 (@Milez25NYC) November 15, 2018
Martial law at Newark penn. Shame on you @NJTRANSITpic.twitter.com/qD3cPkakaP

— Andrew Gilberti (@AndrewGilberti) November 15, 2018
Stay away from @NJTRANSIT Port Authority is over crowded. 3rd and 2nd Floors are closed. pic.twitter.com/n88UttGNMj

— Eric Espino (@EricEspinoPhoto) November 15, 2018
Take a look at port authority! pic.twitter.com/SmZdBauC74

— christine (@weeniexm) November 15, 2018
NJTransit buses delayed. Port authority bus terminal flooded with waiting for buses on the first snow day of the season. pic.twitter.com/dRPgFzk8l4

— Ajoy Singha (@AjoySingha) November 15, 2018
Dear @NJTRANSIT You stink. Sincerely, me and all my friends from track 4 at Newark pic.twitter.com/jfUDdzBkC8

— Matt (@TVnewsMatt) November 15, 2018
A multi-vehicle accident on the George Washington Bridge added to the traffic nightmare. After sitting in bumper-to-bumper traffic, people bailed out of vehicles and started trekking over the bridge and snow-covered ramp back to Manhattan, filing toward the 178th Street exit.
The city's sanitation department says it had nearly 700 salt spreaders pre-deployed around the city by noontime, but the "afternoon snowfall was much heavier than had been forecast by all weather outlets requiring that we deploy plows," according to spokesman Vito Turso.
Snowiest November Since 1938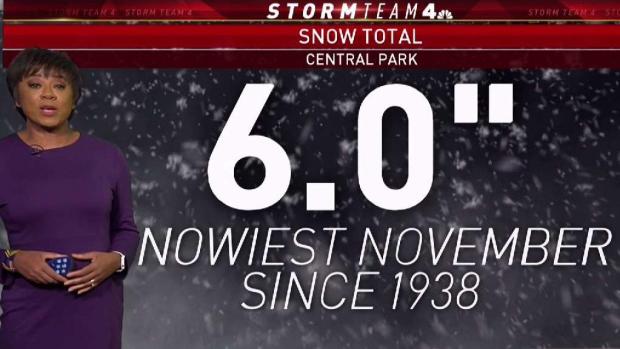 "Complicating issues was the fact that several bridges were closed, and traffic, particularly in the Bronx, upper Manhattan and on Staten Island, came to a halt with our snow clearing equipment stuck within," said Turso.
Storm Team 4 had predicted snow early in the week, with projected totals creeping up Wednesday into Thursday.
The sanitation department says more than 1,000 pieces of equipment will work through the night to clear all roadways for the morning's rush hour. Alternate side parking is suspended Friday.
Mayor de Blasio tweeted Thursday night: "First storm of the year hit hard and right at rush hour, downing trees and causing delays. @NYCSanitation plows and salt spreaders are making progress as traffic eases. They'll be out all night to get roads clear before the AM commute."
Storm Downs Trees Across NYC, Tri-State
In New Jersey, the Bayonne Bridge was shut down for hours (it has since reopened), all the major tunnels saw delays, and stretches of major highways -- including the Garden State, I-280, I-78, RT-10 and RT-130 -- were closed at the height of the storm. The Palisades Parkway was at a standstill at one point. And late Thursday night, all major arteries running through Newark were shut down, with police citing icing and collisions.
Flight delays crept up to over four hours at Kennedy Airport, and they weren't much better at Newark and LaGuardia airports.
Children were stuck for hours on school buses after dismissal. One News 4 reporter said her daughter had been sitting on her bus for over two hours, at one point completely stuck over the Harlem River. Another reporter said her daughter's afterschool bus was taking a two-hour journey for the Upper East Side to Murray Hill, and a counselor called parents to give them updates -- they reported MTA buses stuck all over the Upper East Side and streets closed everywhere.
@ABC7NY@fox5ny@NBCNewYork@CBSNewYork@PIX11News Traffic at a standstill on 207th st bridge! No traffic going across. No salt trucks. @BilldeBlasio@NYCSanitation acts like this is the first time NYC ever had a snow storm! pic.twitter.com/2btKNN8W6Q

— RedStarlight (@RedStarlight23) November 15, 2018
@abc7ny@NBCNewYork@CBSNewYork route 21 at I-78 interchange in NJ. Complete standstill. Shot this video aboard an Amtrak train. pic.twitter.com/piYG1dGLT8

— Don Ellerson (@bst_prt_wkng_up) November 15, 2018
Traffic on #Rt17 South in #Paramus is so slow this guy had no problem getting out of his car to clear it off near the #GardenStPlaza@northjersey#weatherapocalypse#getmeoutofthissnowglobe#NorthJerseypic.twitter.com/nj7qgrBwwz

— Kevin R. Wexler (@krwphoto) November 15, 2018
Car currently stranded on the #LincolnTunnelHelix. Traffic piling up. #Snow#LincolnTunnel#NJTraffic#Route495#NJWeather@NBCNewYorkpic.twitter.com/KQcQA9s3GU

— Jennifer Lynam (@jml8682) November 15, 2018
November 15, 2018
@NBCNewYork dangerous conditions in Queens #nyc#NorthernBlvd@NYCMayor@NYCMayorsOffice@nyc311@ABC7NY@fox5ny where are the salt sprayers or snowplows. pic.twitter.com/6wFDeQ1Kh0

— Raquel Kelly (@RockKelly) November 15, 2018
@NBCNewYork most of Passaic county is holding off on using plowing and streets due to the stormy conditions, making hills like mine dangerous to commute to pic.twitter.com/ziYKGqj5rf

— №!çk Kürtæ (@albaninn1) November 15, 2018
NYC was clearly not ready for this snow. Three busses to nowhere. @NBCNewYork#Snowvember#NYC#UES#TrafficAlertpic.twitter.com/RihiCS9E26

— Anne Marie Finlan (@AMFinlan) November 15, 2018
Crawling across the lower level of the #GWB. @NBCNewYork#snowpic.twitter.com/W2WXx83b5b

— Ray Villeda (@RayVilleda) November 15, 2018
Been on the Hutch for 2 hours is the same place - @1010WINS@NBCNewYork#firstsnow#Snowvember#hutch@JimCantorepic.twitter.com/DUHgYLANYI

— donna ferrari (@donna_ferrari) November 15, 2018
Companies out operating multiple motor vehicle accidents throughout the city. Please try to avoid driving if possible tonight. Please allow extra time if you do need to commute home from work @HackensackPD@ABC7NY@NBCNewYork@brian4NY@fox5ny@njdotcom@northjersey#snowpic.twitter.com/0nMwV570U9

— Hackensackfirenj (@HackensackFDNJ) November 15, 2018
The storm made this the snowiest November in 80 years, with 6 inches recorded in Central Park.