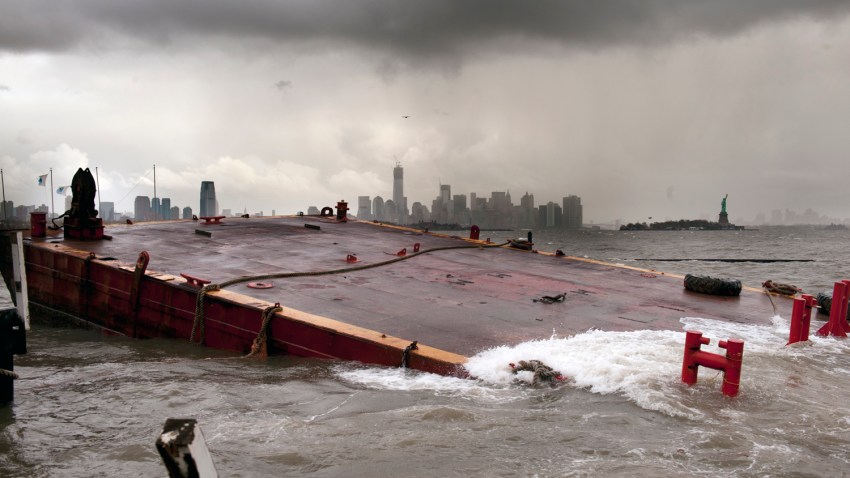 As we prepare for another hurricane season, it's impossible to not reflect on 2017's tropical fury, with record-breaking floods, historic winds, and crushing storm surge affecting millions of Americans. While the tri-state was spared last year, the memories of Superstorm Sandy and Tropical Storm Irene are still fresh in our minds, and we know that we are far from immune.
Storm Team 4 has helped to prepare this guide, which will show you what you need to know to stay safe in the event another tropical event approaches our area. And when you're done reading the guide, scroll down below for more helpful links.
Disaster Assistance
> Facts about sheltering in place (from the Red Cross): http://www.redcross.org/images/MEDIA_CustomProductCatalog/
m4340182_shelterinplace.pdf
> Downloadable/printable Hurricane Preparedness Checklist (from the Red Cross):
http://www.redcross.org/images/MEDIA_CustomProductCatalog/
m4340160_Hurricane.pdf
Disaster Supply Checklist (right-click to save a copy)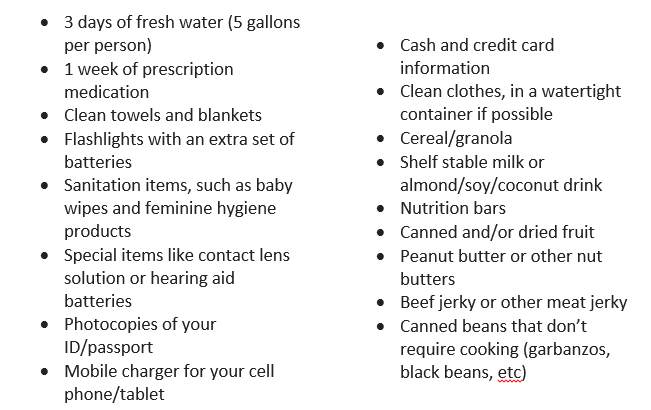 Local and National Emergency Notifications
New Jersey – ReadyNJ.com
Sign Up for NJ Statewide Alerts
Bergen County
Essex County
Hudson County
Hunterdon County
Middlesex County
Monmouth County
Morris County
Ocean County
Passaic County
Somerset County
Sussex County
Union County
New York - DHSES
Sign Up for NY-Alert
New York City Emergency Management
Sign Up for NotifyNYC
Dutchess County
Nassau County
Orange County
Putnam County
Rockland County
Suffolk County
Sullivan County
Ulster County
Westchester County
Connecticut – Dept of Emergency Svcs & Public Protection
Darien
Fairfield
Greenwich
Stamford
New Canaan
Norwalk
Bridgeport
Pennsylvania – ReadyPA
Utilities (May require account information)
> Report an outage to ConEd: https://apps.coned.com/cemyaccount/CSOL/ReportOutage.aspx?lang=eng
> Report an outage to Eversource (CT): https://www.eversource.com/customercare/ReportOutage
> Report an outage to JCP & L: https://www.firstenergycorp.com/outages_help/Report_Power_Outages.html
> Report an outage to NYSEG (Upstate NY): http://ebiz1.nyseg.com/cusweb/outagenotification.aspx
> Report an outage to PSE&G (Long Island & NJ): https://www.pseg.com/home/customer_service/outage_info/outage_grid.jsp
> Report an outage to ORU (Orange Rockland Utilities):
https://apps.coned.com/OR_Online/outage/electricoutage.aspx
Help Finding Flood Insurance
In many cases, the company that provides your homeowners insurance can also provide flood insurance through a WYO (Write Your Own) Policy program.
> Here's a list of companies participating in WYO:
https://www.fema.gov/wyo_company
Only communities that participate in the National Flood Insurance Program (NFIP) are eligible for individual flood insurance policies through the NFIP. Most communities in the Tri-State are participants. They include:
> In CT https://www.fema.gov/cis/CT.html
> In NJ https://www.fema.gov/cis/NJ.html
> In NY https://www.fema.gov/cis/NY.html
Assessing Your Risk for Flooding/Storm Surge
> Interactive storm surge inundation map: http://noaa.maps.arcgis.com/apps/MapSeries/index.html?appid=d9ed7904dbec441a9c4dd7b277935fad&entry=1
> FEMA flood map- Enter your address, see your flood risk: https://msc.fema.gov/portal/search#searchresultsanchor
How to Read a Storm Surge Inundation Map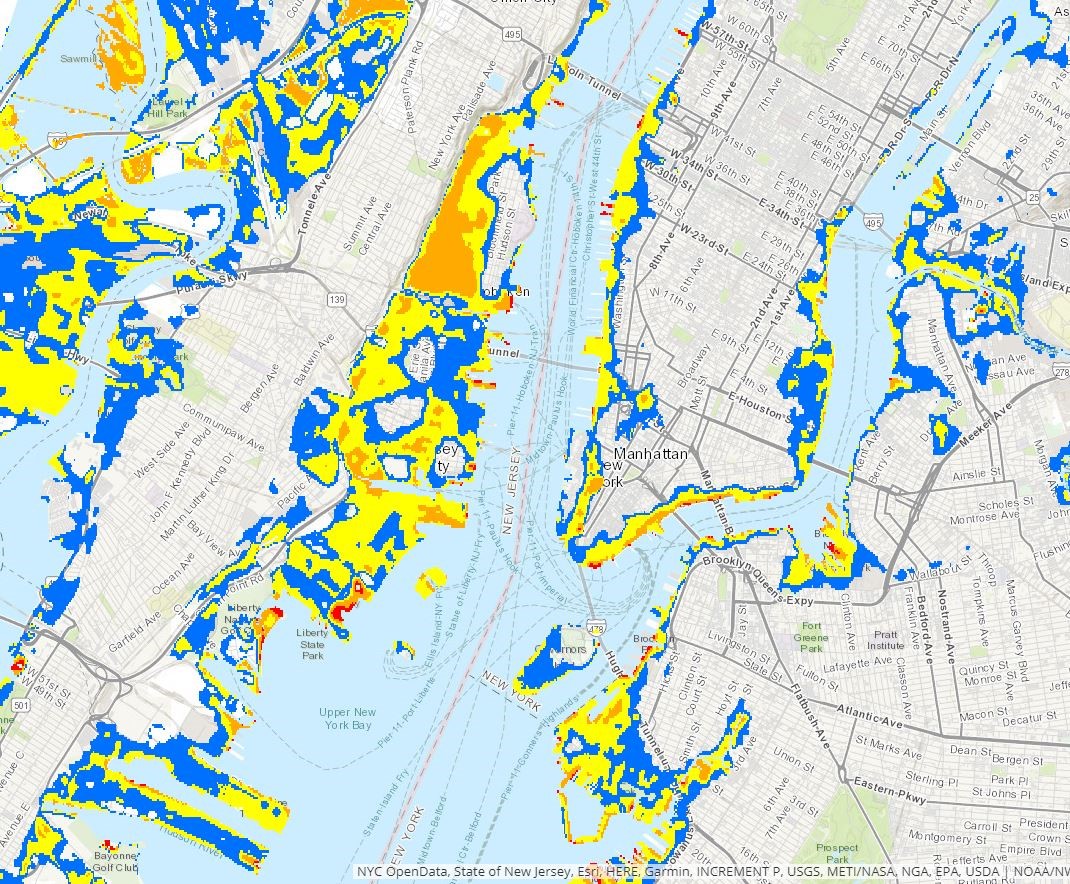 Key Terminology to Know
What does "100-year flood" mean?
"100-year flood" means that in a 100 year time span, a flooding event of that magnitude would be expected just once. It does not mean that the flooding event will definitely happen every 100 years.

What is "storm surge" and "storm tide"?
Storm surge is flooding caused by ocean water transported onto land by a storm, such as a hurricane or a Nor'Easter. Sometimes, storm surge is further enhanced by the astronomical high tide cycle, resulting in storm tide. This is when a normally high point in the tide cycle coincides with storm surge.
What does the "NHC forecast cone of uncertainty" mean?
The "forecast cone" encompasses the area most likely to be affected by a tropical system. Tropical storm conditions can, and often do, happen outside of the "cone of uncertainty." But the cone itself shows the area that the center of the storm is most likely to track. Historically, this cone is 60-70 percent accurate in encompassing the possibilities for the forecast track.