What to Know
Mayor Bill de Blasio says the city's eight public beaches and its public outdoor pools will all open on time this year -- June 26 for the pools and May 29, the Saturday of Memorial Day weekend, for beaches
Despite an accelerated vaccination rollout, officials urge caution; NY and NJ are among five states that account for 44% of all new U.S. COVID infections over the latest study period, Johns Hopkins says
The more contagious U.K. variant is now the predominant strain in the U.S., the CDC said Wednesday; viral spread linked to that and other variants has local officials urging continued caution
New York City Mayor Bill de Blasio announced Wednesday that the city's 14 miles of public beaches and its outdoor pools will all open on time this season after last year's pandemic-forced delay. That means in time for Memorial Day weekend.
The five boroughs' outdoor pools return Saturday, June 26, one day after the final day of school this academic year, while their eight beaches come back Saturday, May 29. Core COVID precautions and health guidance will apply at all locations.
Five of the city's 53 outdoor pools will be closed because of active reconstruction projects but the others will open -- a bevy of swim options compared with the more limited (and late) reopening of public pools last summer. Swim hours will remain the same: 11 a.m. to 3 p.m. and 4 p.m. to 7 p.m. daily, the mayor said.
The eight beaches -- Coney Island and Manhattan Beach in Brooklyn; Rockaway Beach in Queens; Orchard Beach in the Bronx; and Midland, South, Cedar Grove and Wolfe's Pond Park beaches on Staten Island -- will have lifeguards on duty daily from 10 a.m. to 6 p.m. starting that Saturday of Memorial Day weekend.
"These beautiful outdoor spaces mean so much to New Yorkers, especially after the year we've all had," de Blasio said in making the announcement. "We'll continue to follow health guidance to ensure the safety of everyone."
The mayor's announcement came one day after all New Yorkers age 16 and older became eligible to get the COVID-19 vaccine and the same day the city's first vaccine bus hit the road to bring potentially life-saving shots to essential workers.
The initial mobile bus started running in Sunset Park, Brooklyn, on Seventh Avenue between 53rd and 54th Streets, on Wednesday. The neighborhood is among more than two dozen communities identified as high priority targets because they were particularly hard-hit by the pandemic. It will venture to East Harlem and Williamsburg next; more buses and locations will be announced in the coming days, de Blasio said.
By early Wednesday, all the bus appointments for the day were taken. There is a wait list, officials say. The Sunset Park bus is expected to stay in that area for three days before moving to East Harlem and Williamsburg next.
Workers at the mobile clinic speak multiple languages and they'll be able to administer around 200 doses of the one-shot Johnson & Johnson vaccine, the mayor said. Restaurant and delivery workers will be prioritized the first week.
---
Not sure how the process works? Check out our handy tri-state vaccine site finder and FAQs here
---
New York City and New Jersey Vaccine Providers
Click on each provider to find more information on scheduling appointments for the COVID-19 Vaccine.
Data: City of New York, State of New Jersey • Nina Lin / NBC
"These are folks who have been heroic during this whole pandemic. They have been making sure New Yorkers are fed. They've been out there. They've been vulnerable. Obviously, a number of them happen to be undocumented folks. We need to reach them," de Blasio said in making the bus launch announcement.
Appointments can be scheduled by emailing vaccbus@roarnewyork.org or by calling 1-833-ROAR-NYC (1-833-762-7692). Walk-up appointments will also be accepted when available, officials said.
To expedite access for the most vulnerable, the city has also expanded its walk-up appointment pilot for seniors. That program, which allows New Yorkers age 75 and older to get vaccinated with an eligible escort of any age, will be available at 25 city-run sites this week, up from the previous three, de Blasio said. On Wednesday, de Blasio announced that the pop-up vaccination sites initiative has been very successful, prompting the city to announce additional sites at some consolutes, senior centers and NYCHA buildings. (Click here to see the full list of participating locations.)
New York on Tuesday joined the majority of the country in making vaccine eligibility to all adults statewide, including for 16- and 17-year-olds. The youngest require parental consent for shots; only the Pfizer-BioNTech brand is authorized for them. There are only 14 states that haven't fully expanded vaccine access as of Wednesday, including New Jersey. The Garden State will take that step on April 19, the same day President Joe Biden set a deadline for universal U.S. eligibility.
New York's latest expansion added 1.7 million people to the pool of eligible state residents, bringing the total near 16 million, health officials said.
As of Wednesday, more than one in five New York residents -- about 21.7 percent of the state population -- is now fully vaccinated against COVID-19, the latest data shows. More than 6.8 million New Yorkers -- 34.4 percent of the population -- have had at least one dose. In the city, 19.5 percent of the populace is fully vaccinated.
In neighboring New Jersey, about 21 percent of the population is fully vaccinated, while more than 35 percent have had at least one dose. Those two states are among five that account for 44 percent of all new U.S. COVID infections over the latest seven-day period available for study, Johns Hopkins data shows.
That's why both Gov. Phil Murphy and Gov. Andrew Cuomo, along with de Blasio, urge continued caution by their residents even amid the welcome accelerations to the national vaccination rollout. Murphy's health team recently shared moderate- and high-case scenarios for the state's COVID outlook the next few months. Those scenarios depend on certain assumptions, including vaccination rates and public behavior -- as well as the potential risk from lowering the collective guard.
Daily Percentage of Positive Tests by New York Region
Gov. Andrew Cuomo breaks the state into 10 regions for testing purposes and tracks positivity rates to identify potential hotspots. Here's the latest tracking data by region and for the five boroughs. For the latest county-level results statewide, click here
Source: ny.gov
In the worst-case scenario, the Garden State could set new single-day pandemic records for daily case totals into mid-May, though hospitalization and death rates would stay lower than their previous peaks. In a new best-case scenario shared for the first time Wednesday, core COVID metrics would hover around 4,350 new daily cases and 2,129 total hospitalizations through April 18. That best-case scenario is more similar to the moderate case than the latter is to the high one.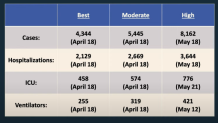 Murphy believes New Jersey's prognosis will fall somewhere between the first two, but was noncommital as far as major reopening steps the state might take over the next months. He warned the impact of public behavior couldn't be overestimated as the state's vaccine program tries to reach those most hesitant.
"It's why we are continuing to enforce our statewide mask mandate especially for indoor activities, where we know that transmission is more likely and also in the face of more transmissible variants that we know are among us," Murphy said. "It's also a reason why we moved up our vaccine eligibility timeframe aggressively, so we can now add more people to the ranks of fully vaccinated in a shorter time."
The variant first identified in the U.K. last year, the B.1.1.7 variant, has become the predominant strain in the U.S., CDC officials said Wednesday. It accounts for a growing share of new daily cases in New York City as well as in New Jersey, where 806 cases of the U.K. variant have now been identified in all counties.
Health Commissioner Judy Persichilli said Wednesday the state has been conducting genetic sequencing of only about 2 percent of positive COVID samples, which lends credence to the idea that variant prevalence is vastly underreported. She said Jersey would look to boost that to 5 percent next week.
While local officials have attributed some of the latest heightened spread to that and other more contagious strains, they say there's no sign of worse outcomes.
Heavy concentration of new virus cases in states that account for 22 percent of the U.S. population has prompted some experts and elected officials to call for Biden's administration to ship additional vaccine doses there. So far, the White House has shown no signs of shifting from its population-based policy.
Nationally, nearly 42 percent of U.S. adults age 18 and older have received at least one dose, while a quarter of the country's adult population is now fully inoculated, according to the CDC.
It's still unclear how long protection lasts for those who are vaccinated, the CDC says, though new research suggests Moderna's vaccine protection lasts at least six months. It takes about two weeks after the final shot to build immunity.
According to NBC News' latest count, there have been more than 31 million COVID-19 cases in the U.S. since the start of the pandemic, with the country seeing another million cases added in just over two weeks. More than 562,000 deaths have been reported as well.
Copyright NBC New York