New Yorkers age 75 and older and an eligible escort of any age now have more than two dozen sites where they can walk in and get vaccinated without an appointment, with Mayor Bill de Blasio adding a 26th option Thursday.
De Blasio said the initial pilot program at three 24/7 city-run sites -- the Brooklyn Army Terminal, Bathgate Contract Postal Station and Citi Field -- had proven successful as far as helping the most vulnerable New Yorkers get faster access to vaccines and will be offered at 26 sites citywide. See the updated list below.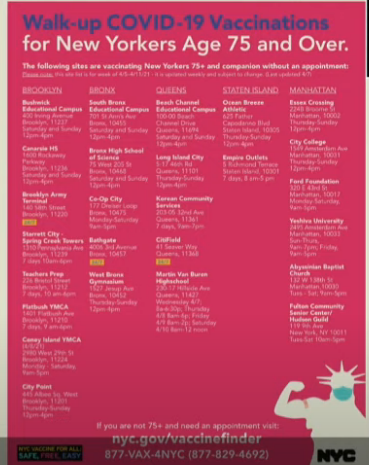 No advance scheduling is required. All qualifying New Yorkers have to do is show proof of age upon arrival at the site. While their accompanying party can be of any age, that person must also be eligible under state guidelines. More on those here.
The city offers free transportation to and from vaccine sites for adults who are older than 65 or have an ambulatory, visual, intellectual, or developmental disability. To reserve transportation, including ambulette and cab options, call 877-VAX-4-NYC. An operator will walk through eligibility and provide other options over the phone based on the caller's need, the city says.
De Blasio said earlier this week he could be open to expanding the walk-in option to younger New Yorkers as well, though that will be contingent on more supply. It's still possible that option could expand at some point in the coming months.
---
Not sure how the process works? Or when you might be able to get an appointment? Check out our handy tri-state vaccine site finder and FAQs here
---
New York City and New Jersey Vaccine Providers
Click on each provider to find more information on scheduling appointments for the COVID-19 Vaccine.
Data: City of New York, State of New Jersey • Nina Lin / NBC
New York state expanded vaccine access to all New Yorkers age 16 and older as of Tuesday, an influx that caused major headaches for those needing to schedule appointments. On April 19, New Jersey will make the same universal push, the same date President Joe Biden set a deadline for all U.S. states to do the same.
Copyright NBC New York