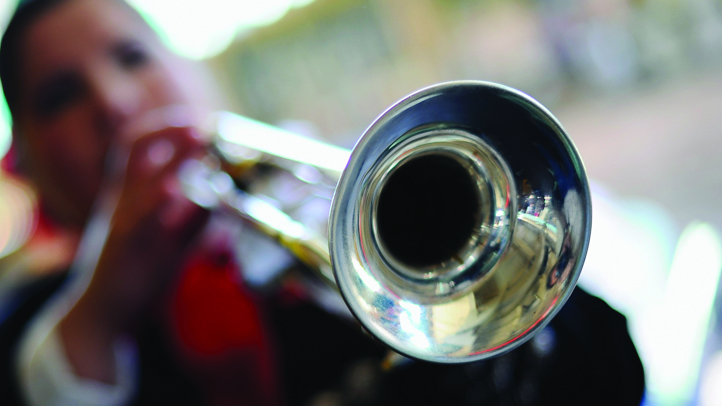 For the past eight years Brice Rosenbloom has worked hard to make a Winter Jazzfest lineup that dares fans to brave the unforgiving January cold.
Based on the 2012 schedule, which features such notables as Bill Laswell, The Vijay Iyer Trio, Marc Ribot's Ceramic Dog, Nels Cline Singers and the Steve Lehman Trio, it would appear that the Jazzfest producer and owner of the production company Boom Collective has done it again. (A complete schedule and lineup for the festival that begins Friday is available here and tickets are available here.)
Completely rejecting the idea of the jazz festival as a museum-like ode to the past, Rosenbloom has assembled a schedule of both old guards like Ribot and Laswell as well as new jacks like the Iyer Trio, DJ Spinna and Mostly Other People Do the Killing who are doing their best to blow the cobwebs off and push jazz in all its forms in new directions.
Nonstop Sound recently talked with Rosenbloom about his vision for the festival, his take on the current jazz scene and dealing with purists.
Nonstop Sound: So, what was planning this one like? What do you have in store for your fans this time, and how do you think it differs from previous Jazzfests?
Brice Rosenbloom: "Every year the planning is a bit different, but stems from the primary goal to expand the audience for jazz. And we're confident the scene is growing. Based on last year we anticipate having the good fortune to tackle the problem of a sold out capacity audience. The festival has been growing every year. We began eight years ago presenting 19 groups in one night on three stages at the old Knitting Factory in Tribeca, and have grown to presenting 65 groups over two nights in five West Village venues each night. This year we have centralized the festival check-in at the 159 Bleecker street pop-up retail location to expedite ticket processing and crowd control. We've had some growing pains in recent years, which have given us the opportunity to mature into a stable annual festival."
NS: When organizing this, what is your mindset? Are you trying to take a snapshot of where you feel jazz is in this current moment, or are you trying to assemble a collection of personal favorites?
BR: "Each year's lineup is very much a current snapshot of where we see the scene is at the moment and where it is going. We specifically reach out to artists that we feel are doing something interesting with the music, whether it's a young newcomer or a more established artist showcasing a new project. Fortunately more often than not the music is also in line with our musical preference."
NS: Following up on this — and I apologize for getting lofty on you — but what is your take on the current state of jazz? Where do you think the genre is, and where do you see it going?
BR: "We're fortunate to live and love in NYC where the music is booming and we've seen evidence that audiences are growing. Our goal is to help make jazz more accessible, and in line with the informal performance settings at Winter Jazzfest, we attempt to break down the stigma that jazz can only be seen in a concert hall or a stuffy formal jazz club. People want to go out and see good music in a comfortable setting. Some people want a challenging listening experience and some want to shake their a**. The festival and today's jazz scene offers both and everything in between."
NS: I realize you probably don't want to play favorites, but are there and up-and-comers or people who don't get the recognition they deserve that you particularly hope people see?
BR: "Well there really is so much strong talent this year, and yes it's hard to only recommend just a few. While we don't have traditional jazz festival headliners in our lineup, I'm sure many folks will be attracted to see the relatively bigger names on the festival such as Ravi Coltrane, David Murray, John Medeski, Marc Ribot, Nels Cline, Vijay Iyer and Bernie Worrell, but you really can't go wrong checking out some of the currently less known artists. Bassist Ben Williams performed as a side man in more sets than any other artist at last year's Winter Jazzfest and this year he's leading his own adventurous group Sound Effect at Sullivan Hall on Saturday night. Other young artists such as saxophonist Sharel Cassity and pianist Fabian Almazan are worth catching to get a sense of the future generation. There's also a few equal collaborative ensembles who are pushing the boundaries of jazz improvisation such as the group Sifter featuring venerable drummer Matt Wilson, guitarist Mary Halvorson and trumpeter Kirk Knuffke, and a group with a slightly heavier tone with bassist Shahzad Ismaily, drummer Ches Smith and Mat Maneri on violin."
NS: You have a very inclusive definition of jazz here, from more traditional types to funk-jazz people to noisy, avant-garde types. Do you ever get pushback from purists for throwing so wide a net? What do you say in response?
BR: "The one thing I'm not worried about is pushback from any one jazz perspective, whether it's from purists or others. I've always felt it's important as a respectful listener to have a broad acceptance of the many styles and interpretations of this music. Talented musicians are working and reworking the music today and using so many different influences whether from personal or borrowed experiences and the outcome has the potential to hit hard at the soul. Why try to limit that potential? Yes, we're looking for quality players that successfully say something and strike people with their music. That impact can come from a straight-ahead pianist, an avant-garde horn player or a masterful turntablist."
NS: Early January can be brutally cold. How do you get people to come out?
BR: "How can you stay away from so much talent! We offer a very economical opportunity to see dozens of groups at a package bargain price. The affordability encourages people to take a chance on the festival and have an open mind to allow themselves to stumble upon their new favorite band. And more importantly the energy of the scene truly is invigorating. When you have hundreds of musicians hanging out next to you all night on one of the coldest weekends of the year you know you're in the right spot."