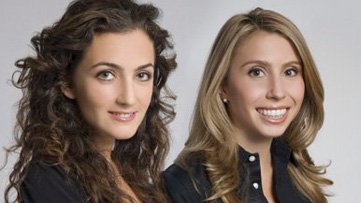 Jennifer Hyman and Jenny Fleiss were buds at Harvard Business School before launching their site, Rent the Runway. "Actually, we met on our very first day of class," laughs Fleiss, who, along with Hyman, received a $15 million investment from Kleiner Perkins in March of this year. The site -- the very first to allow customers to rent top-notch designer styles for approximately 10 percent of their retail price -- has found footing with a broad audience of women seeking luxury styles for formal occasions, or just fancy nights on the town. Now entering its second year in business, we caught up with Hyman and Fleiss to hear how the site's evolved since its launch, and what advice they would offer to young entrepreneurs.
Was fashion always something you were interested in on a professional level?
JH: I loved fashion. I've been a shop-aholic my entire life, and I'd worked in the luxury industry before, and in businesses that create experiences for women, so I think that fashion is a business that certainly always makes a women feel like Cinderella, or at least has that ability to, so that's what attracted me to the fashion industry beyond loving clothes.
JF: I grew up on 59th Street in Manhattan, so I was very much enmeshed in the Bergdorf's and Bloomingdale's shopping culture of New York, but my love of fashion has much more come out of the last couple years with Rent the Runway, and has been a way for me to experiment with new brands myself, whereas before I was sticking to a very narrow window of designers and now I can try a lot of different things.

Where did the idea for Rent the Runway come from?
JH: My sister Becky was having a close-full-of-clothes-but-nothing-to-wear moment, and she was about to attend a wedding and felt that she couldn't repeat any outfits she had in her closet because all of those outfits had been worn and she'd been photographed on Facebook in them, so I thought that designer brands should really want to acquire customers like Becky, who are really passionate about fashion and who will spend their money on buying brands, but this would be an excellent way—renting a dress would be an excellent way for both her to have an experience with an aspirational brand, and a brand to acquire a new customer earlier in their life cycle.

Who is the typical Rent the Runway customer?
JH: Our target customer is a 15 to 35 year old woman who is going to everything from prom to sorority parties to weddings to dates to baby showers. And we feel that all of those special life occasions are opportunities [for women] to experiment with new brands, and experience something with fashion where you feel beautiful and confident.

What do you see rented most often on the site?
JF: We have a fantastic collection of dresses -- we now have over 145 designers on our site -- and what we usually do, the first time a woman rents something from Rent the Runway, she's choosing something that's very special, New Year's Eve, [or something] for a wedding she's going to, it might be a long gown or something very fancy, and then the next time she rents she's also renting for a girl's night out, or a date, or something that's more casual because she realizes that Rent the Runway is just a fun way to incorporate fashion into everyday life. And I think another fun thing is that people typically rent things they wouldn't purchase, so the gold sequin dress, or the red dress, or the one-shoulder dress, things that go out of your normal comfort zone or that you wouldn't actually own usually.

How do your designers feel about their product being rented rather than purchased?
JF: They feel that we are helping them acquire a younger generation of customer, and that we are the entry into the brand, that we are making women fall in love with the quality of designer fashion.

Has the identity of the site changed, or evolved at all since you launched?
JF: We've added a lot of products to the site. We really listen to our customers and one thing they really wanted was accessories, so we first added necklaces, earrings bracelets and rings, and then we added handbags shortly afterward. They're really fun statement pieces that we can suggest how to wear with dresses but you can also wear them with something from home. And then we've added "fashion solutions," we found a lot of people were asking us "What sort of bra should I wear with a backless dress?" or "Where do I get the stockings on the model you have pictured?" So we started selling those items as well.
JH: We realized that what Rent the Runway really was was a one-stop-shop for your Cinderella Night Out, and that it wasn't just the dress, it was the complete outfit.

What advice might you give to a young entrepreneur?
JH: I would give the advice to, first, go for it. That there's nothing like waking up in the morning and being excited about your job and excited about what you're gonna do that day, and that people tend to be great at things they're passionate about. And the second piece of advice I'd give is to test it out. That you're never gonna have the solution right away, and it has to come from a series of really smart tests where you analyze the results and you innervate the business forward.

What about style advice?
JF: We have a team of stylists in house, and one thing great about Rent the Runway is for people like me who maybe don't have the best natural sense of style, it's really fun to have someone be able to give you ideas about what you can wear, how you can pair things together, so that's a really great service we offer women. So one thing I would advise is to try them out, and it is really fun to step outside your comfort zone and try a different style.

Any new plans to expand or projects on the horizon we should know about?
JF: We're always looking to expand and add new components to our site, really taking the pulse of our customers as they guide us towards what they're looking for. The company is also growing in terms of head count, and we just raised a round of financing from Kleiner Perkins which we plan to invest in technology, evolution and the growth of our team and also a warehouse to house the tens of thousands of fantastic dresses that we have.
JH: And back to your question on style advice -- my opinion is that women should experiment with fashion and figure out what makes them feel beautiful and confident, and utilize Rent the Runway as a way to do that. And at the same time build their permanent wardrobe smartly. I think it's best to invest in pieces you can have for years and years, and utilize Rent the Runway and accessories to switch up your style based on the trends of the season.