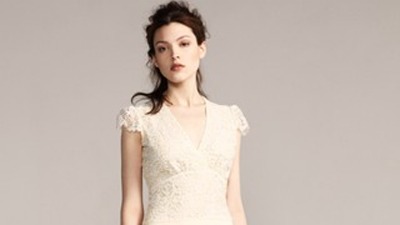 The fashion industry has been consumed, in recent weeks, by speculation over which designer will be the one tapped to create the dress of all dresses this year -- Kate Middleton's wedding gown.
While the current roster of potentials includes everyone from Sarah Burton for Alexander McQueen to royal favorite Bruce Oldfield, a newcomer was added to the mix today: Sophie Cranston.
HuffPo's royal correspondent, Yvonne Yorke, reports that Cranston -- the designer behind the label Libelula -- is the "little-known" designer she'd hinted about back in December. Yorke claims to have known about Cranston for months, but kept a lid on the story "in accordance with Palace wishes."
Cranston certainly has her fashion chops: She won the Designer of the Year Award at London's Graduate Fashion Week in 1999, then went on to work at both Alexander McQueen and Temperley. In addition, the Libelula website indicates that "bespoke wedding dresses" are now available in addition to the brand's ready-to-wear line. The brand's Fall/Winter 2011-2012 lookbook even features a long white dress with delicate lace sleeves (pictured).
In an interview with Vogue UK, Cranston said that she focuses on "flattering" shapes when she designs, and that she is "always influenced by vintage style and this season particularly by the Sixties and Seventies." She also told the magazine that a store is "in the future" since the website has done so well. (As of this posting, the website has been inundated with so much traffic after the report that it has since crashed.)
If, in fact, this royal wedding dress report is true, we'd wager Cranston will have more than a store in her future.