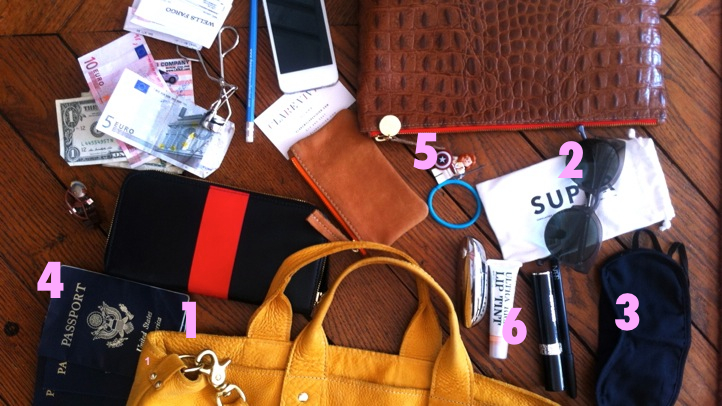 Since 2008, Clare Vivier has made a major splash in the fashion industry with her sleek, minimalist handbags and distinctive (often striped) leather accessories. Naturally, we couldn't wait to get a peek inside her own satchel—a bright yellow messenger of her own making. Here, Vivier lets us take a gander at how she's packing her essentials for a family excursion to Europe (and, yes, little Lego men are involved).

1. Handbag - "I use a yellow Clare Vivier Messenger as my carryall. Inside, there is always a CV bag inside a CV bag inside a CV bag—sort of like a set of Russian Matryoshka dolls. Right now, that includes an embossed croco flat clutch, a navy zip-around wallet and a camel zip card case."

2. Sunnies - "I've got a bit of a sunglasses addiction...Right now I'm into my grey RetroSuperFutures."

3. Eye Mask - "My very best friend on European holidays is my eye mask for overcoming jet lag quickly."

4. Passports - "I'm the keeper of the family passports."

5. Lego Dudes - "I am also the keeper of my son's Lego guys."

6. Duty-Free Beauty Essentials - "I'm a sucker for duty-free shopping at the international terminals. This time I purchased an uber-fancy Guerlain lipstick and a Dior Show New Look mascara."
Related Stories:
Purse Purge: Ilana Kohn Carries Cat Toys, Cover Girl Lip Stain
Purse Purge: Collina Strada Designer Carries Aesop Balms, Incense
Purse Purge: Dusen Dusen Stashes Bright Pink Shades and Printed Fabric Pieces