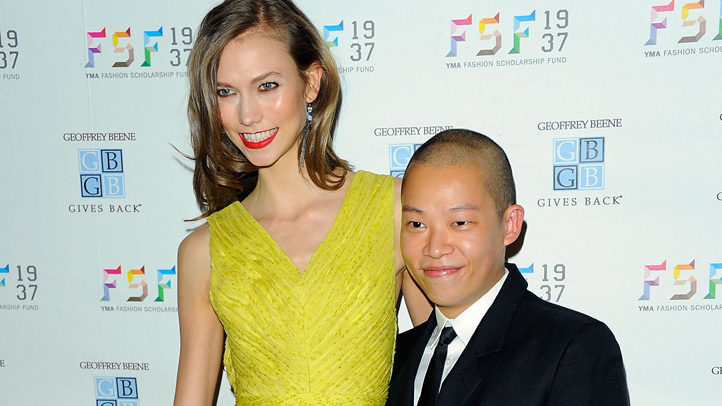 At last night's YMA Fashion Scholarship Fund gala at the Waldorf-Astoria, the night's honoree, Jason Wu, stressed that fashion isn't always fun, though he certainly seemed to be having a good time with model-of-the-moment Karlie Kloss on his arm.
"I'm excited to be his arm candy tonight," laughed Kloss. "Or he gets to be mine!"
Wu received the night's "Future of Fashion" award, and on the red carpet he stressed that he hoped to convey to the students in the audience that fashion wasn't always as glamorous as it looked.
"Things can get difficult sometimes, and things get challenging," said Wu. "Like any other competitive industry, it's not easy. You will run into obstacles. It's a very glamorous industry, but it's really about hard work."
Fellow designer Bibhu Mohapatra, however, felt Wu's work looked "effortless": "Jason gets it," he told us. "Jason knows who his woman is."
For Kloss, who has walked in Wu's show for a number of years, having to pick her favorite Wu gown was easy: a tk gown from his tk fall/winter collection. "It took up the entire runway. I closed the show and it was a show-stopper. It went from the toes of the people on one side of the runway to the toes of the people on the other side. If there were any small children running around, they would have been swept up in this train."
Wu, like many of the other designers who attended the gala, also applauded the students in the crowd for getting out there and interning. "[Our interns] always inspire me because they're there all time and always asking me for more things to do ... I applaud the kids that have that kind of work ethic because that's sometimes rare. To apply to come intern every day, especially during summer vacation -- that takes a lot of dedication."
Designer Bibhu Mohapatra, who originally came to the States to get a degree in economics before moving on to fashion, told us he feels design school is "like learnign a language." He's also proud of his good reputation with the various internship programs in the city. "[Parsons and FIT] send their good students to me," he said. "The students don't like mt ehf irst two weeks because I throw them into all manner of things ... Then after two weeks, they get it. They know what they like the most."
Yigal Azrouel tells his interns to always "believe in what [you] are -- not try to be someone else."
The night's chatter -- among students and professionals, alike -- inevitably turned to Wu's new Target collection, set to hit stores February 5. Kloss told us she had her eyes on a particular bag, though she revealed that her sister and friends were actually planning to camp out at a Target in the midwest.
What's the designer's advice for getting one's hands on the collection? "Camp out, I guess?" Wu laughed. "Or get your click on! There's a lot of exclusives on Target.com."