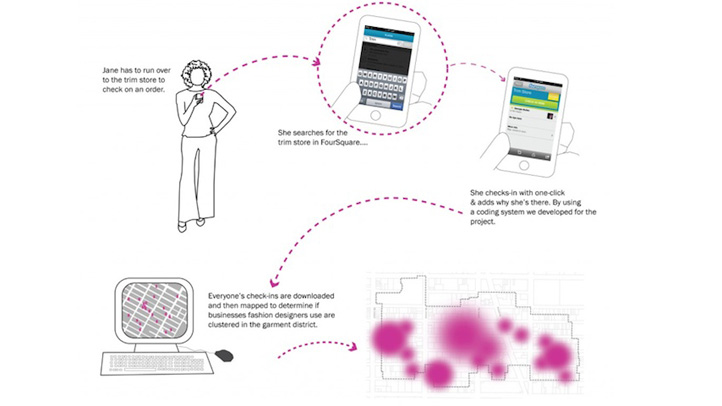 The fashion industry, its aficionados and even a significant contingent of New Yorkers have been following the plight of the Garment District in recent years, as it faces the threat of dispersal by crippling rezoning. Organizations like the CFDA and the Design Trust for Public Space have worked tirelessly to preserve the area, producing studies and appealing to city government for legislature to preserve the manufacturing center's role in the city's industry.
Enter Sarah Williams, director of the Spatial Information Design Lab at Columbia University, and Elizabeth Currid-Halkett, assistant professor at University of Southern California's School of Policy, Planning and Development. Under the philosophy that proximity breeds creativity, their forthcoming study, Check-In Fashion, aims to provide visual proof of the Garment District's importance to the industry with spatial maps and surveys of industry professionals' daily Foursquare check-ins.
"We think it's the little movements of fashion workers around the city, day-to-day, and the accessibility to all facets of the industry that add up to the significance of New York's position in the fashion world," says Currid-Halkett. " Much of this actvity might even be taken for granted but is critical to the city's position as a fashion hub. People have access to other creative people with great ease and that is what makes it possible for new York to be such a central player in the global fashion industry."
Here's how it works: Between July 18-29, a group of participants—all given anonymous usernames—will track their movements via Foursquare check-ins. "We're not simply looking at where the design houses are located, but where the employees go from 9 to 5," Currid-Halkett told WWD.
Sign-up is open for industry professionals, in addition to those enlisted from Nanette Lepore, Restore Clothing and Yeohlee Teng and elsewhere with the CFDA's help.
"At the heart of our research, we wanted to know: 'How much does spatial proximity matter in the day-to-day workings of the fashion industry?'" Currid Halkett says. "From our [previous research on a project that analyzed spatial proximity via Getty images of cultural events], we know that creative industries like to be near each other for parties and for different people to exchange ideas and work together at a moment's notice, but practically, how much does the geography of Manhattan and being near each other inform how work is done daily?"
It's a set of practical questions that Currid-Halkett and Williams are hoping to answer based on clear, concrete visual evidence: What, exactly, that evidence will show, however, remains to be seen.