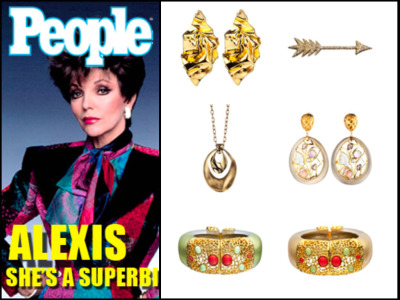 Dynasty's illustrious villainess Joan Collins serves as the muse for Alexis Bittar's new naughtily-named Superb*tch collection and as his date for the CFDA Awards on June 7.
Bittar will attend the gala as nominee for the Accessories Designer of the Year award, with Collins on his arm in all her Bittar-blinged-out glory. The out-of-the-little-blue-box designer has become king of a coveted opulent-but-wearable, joie de vivre collection of sparkle-encrusted resin, crinkled metals, giant gemstones, and a whole lof of chutzpah. For his spring campaign, the 1980s tabloid frenzy surrounding television's first prime-time soap family and specifically, their witch-in-residence, Alexis Carrington, icily pulled off by Collins, provided the frosted low-fi neon backdrop for Bittar's golden-glam Superb*tch collection.
The handsome Bittar and iconic Collins will surely light up the CFDA red carpet, but here's hoping for Council members that Bittar pulls in the win - if not, there's no telling what the super-you-know-what could do.