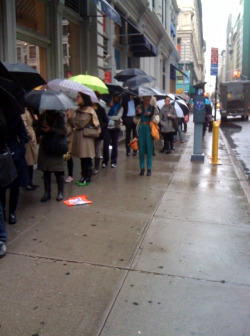 Our intrepid leader, fashion editor Laurel Pinson, embarked on the journey of a Wednesday to the Yves Saint Laurent sample sale this morning. It's moments of great strife, and great sample sales within a society that demonstrate the strength of its people. Read: it's pouring outside and still packed.
New York's finest women braved the bitter rain to get a chance at YSL RTW at prices between $75 (t-shirts, swimwear) and $650 (coats), plus Rive Gauche gowns between $800-$2,500, shoes and, for the early birds only, bags. Jeans are going for $150, sweaters for $250 and dresses for $300.
On her way in, Pinz snagged one dedicated shopper who was leaving after having arrived at 6:30am (6:30am!). She erroneously reported that shoes and bags were already gone, when, in fact, there were still "tons" of shoes to be had.
The crowd powers on despite the inclement weather (we'll be interested to see if those wimpy baseball players up in the Bronx still play their little World Series game tonight!), and from what we've seen from the ground so far, for good reason.