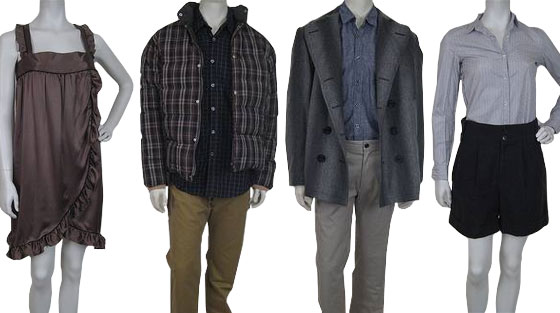 From left: Sunner ruffle dress ($110), Steven Alan plaid jacket ($150), Steven Alan plaid dress shirt ($59), Steven Alan chino twill pant ($56), Steven Alan peacoat ($83), Steven Alan reverse-seam shirt ($56), Steven Alan gray chino ($56), Reve Seam shirt
'Tis the giving season at Housing Works. After last week's successful vintage Yves Saint Laurent sale (which raised $17,000 for homeless and low-income New Yorkers living with HIV and AIDS), Steven Alan followed suit, donating more than 1,000 items to the nonprofit thrift shop. Stock includes more than just the Steven Alan's line itself, too, such as men's and women's clothes from Lulu, Willa, Sophie, Sea, and Reve Seam. Jackets are $150 (originally $450), peacoats are $83 (originally $249), men's shirts are $56 (originally $168), and a ruffle dress by Sunner is $110 (originally $320). Anything that doesn't sell on the Saturday, December 27, opening day will be spread out to the other Housing Works locations in the city. But if you like Steven Alan, plan on showing up on day one for this for this charity sample sale. Because you're a giver, we just know it.

Housing Works Thrift Shop, 143 W. 17th St., nr. Sixth Ave. (718-838-5050); December 27, 10–6.

Read more posts by Sharon Clott
Filed Under: retail therapy, sales, shopping, steven alan
Copyright NYMAG - NY Mag